New York Governor Says 'COVID Clouds Are Parting' as Cases, Positivity Rate Drop
New York Governor Kathy Hochul said Sunday that the state's "COVID forecast is improving" as it sees cases and hospitalizations from the decline.
"The COVID clouds are parting," Hochul said during a winter storm briefing on Sunday, NBC New York first reported.
"Overall, the prognosis, the forecast, for COVID is much brighter than it had been before."
New York was one of the first states to see a major uptick in COVID-19 cases as the new and highly contagious Omicron variant arrived in the U.S. But in recent days cases have started to drop.
According to state data, on Saturday, just over 51,000 people in New York State tested positive for COVID-19. The state's overall positivity rate for COVID testing was 12.9 percent.
"That is a dramatic improvement over our statewide average just a couple of weeks ago of 23 percent," Hochul said.
Even a week ago the number of cases was much higher: On January 8, around 80,000 people tested positive for the virus, and the state's positivity rate was at 19.9 percent.
During the briefing on Sunday, Hochul said that COVID-19 hospitalizations were decreasing as well.
But the governor noted that New York City was seeing more improvement than Upstate New York.
"Upstate is still lagging behind what we saw in New York City. New York City numbers are going down," Hochul stated, according to a transcript of her remarks.
"Hospitalizations are going down, but right here in Albany, the numbers are still high and Upstate New York, they're still high. So the lagging indicator will be the hospitalizations and sadly, more people dying in a couple of days, weeks," she added.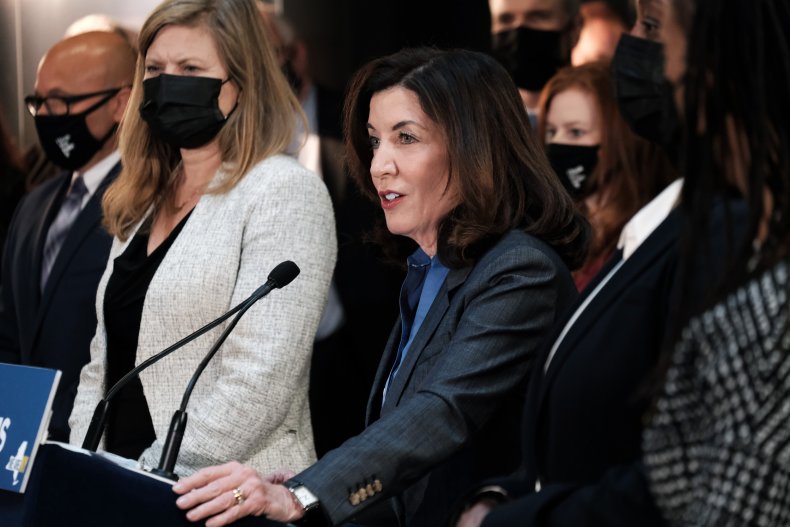 During the recent Omicron surge, COVID hospitalizations peaked on January 11, according to state data. On that day, the state reported 12,671 were hospitalized with the virus. On Saturday, there were 11,713 COVID patients in the state's hospitals, including 1,613 people being treated in intensive care units.
In late December, the state noted that the COVID-19 hospitalization rate for children had quadrupled in three weeks.
An updated report from the state about pediatric hospitalizations released on Friday found that between early December and early January, the number of people under the age of 18 being treated for the virus in hospitals increased seven-fold. For those over the age of 18, they increased three-fold.
"Analyses suggest the relatively greater increases in hospitalizations for children may be due to reduced vaccine coverage combined with modestly reduced vaccine effectiveness against hospitalization for children 5-17 years, and the absence of vaccines for children 0-4 years," the report states.