NYC COVID Hospitalizations Quadruple Over 3 Weeks for Kids, Just a Third Vaccinated
The number of children in New York City hospitalized due to COVID-19 quadrupled over the past three weeks as the number of Omicron-related cases soared, according to the state's health department.
The New York State Department of Health issued a health advisory to warn about the increasing number of hospitalizations on Friday. In a statement, the department noted the majority of pediatric hospitalizations are among those who have not received the COVID-19 vaccine.
About half of the admissions are children younger than five years old, and are therefore ineligible to get vaccinated, according to the statement. When it comes to older children, there have been some breakthrough hospitalizations — though the majority remain unvaccinated.
No fully vaccinated children ages five to 11-years-old have been admitted into a New York hospital since December 19, according to the statement. They first became eligible to take the vaccine in November.
About 23 percent of admitted patients ages 12 to 17 years old were fully vaccinated, according to the statement.
Across New York, about 16 percent of five to 11-year-olds and 71 percent of 12 to 17-year-olds have been fully vaccinated against the virus. Meanwhile, about 27 percent of 5 to 11-year-olds and 64 percent of 12 to 17-year-olds have received at least one dose of the vaccine, according to the health department.
Most of the increase in pediatric hospitalizations is concentrated in New York City and its surrounding areas, the statement said.
Acting New York State Health Commissioner Dr. Mary Bassett warned in the statement: "The risks of COVID-19 for children are real."
"We are alerting New Yorkers to this recent striking increase in pediatric COVID-19 admissions so that pediatricians, parents and guardians can take urgent action to protect our youngest New Yorkers," Bassett wrote. "We must use all available safe and effective infection control, prevention and mitigation strategies. Protect your children who are five years and older by getting them fully vaccinated and protect children under five by making sure all of those around them have protection through vaccination, boosters, mask-wearing, avoiding crowds and testing."
As pediatric hospitalizations in New York rose, so did the number of cases in the overall population as the Omicron variant takes hold in the state. On Thursday, 44,431 people in New York tested positive for the virus. Three weeks earlier on December 2, that number was 11,242, according to data from the state's health department.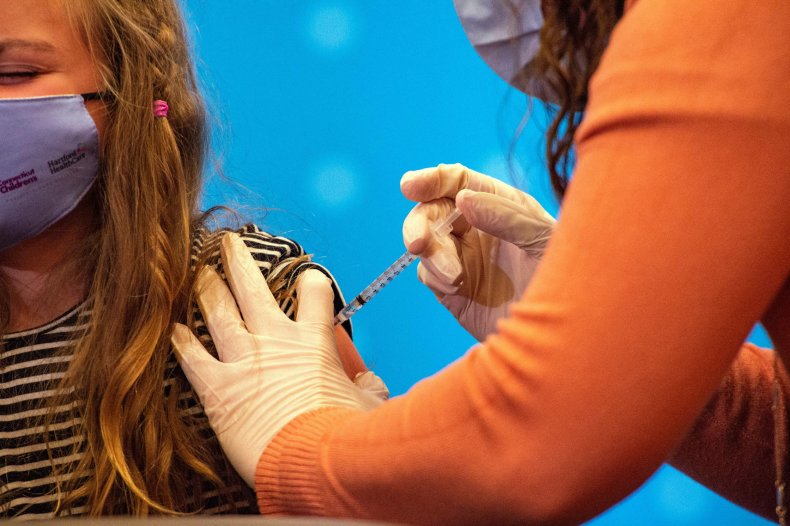 Still, thousands of hospital beds remained open across the state. Twenty-two percent of beds were open as of Thursday, according to the health department's data.
For much of the pandemic, health experts believed children were less likely to develop serious illness due to the virus, though some have still fallen ill or died. According to a report by the American Academy of Pediatrics, 169,964 pediatric COVID-19 cases were reported from December 9 to December 16, while 1.8 to 4.1 percent of hospitalized patients were children.
The rising number of cases has prompted some school officials to pivot to remote learning in the weeks following winter break with the aim of limiting the virus' spread among children.
In total, more than 1,000 children in the United States have been killed by the virus.