New York Hospital Staff Applaud George Floyd Protesters, Who Shout Back 'Thank You'
Protesters demonstrating against the death of George Floyd and hospital workers still battling the COVID-19 pandemic expressed their mutual admiration on the streets of New York City on Tuesday.
A video posted to Twitter shows a crowd of nurses and doctors in personal protective equipment gathered outside a hospital, a location of NYU Langone Health, cheering as a group of protesters pass through the street. Many of the protesters, almost all wearing face masks, can be seen cheering the hospital workers in return, with some shouting "thank you."
"We applauded them, and they applauded us," NYU Langone Health said in a statement to Newsweek. "A demonstration of mutual respect."
Not long ago, a large number of New York residents gathered outside their homes to cheer in support of health care workers, who have been under unprecedented strain due to the pandemic.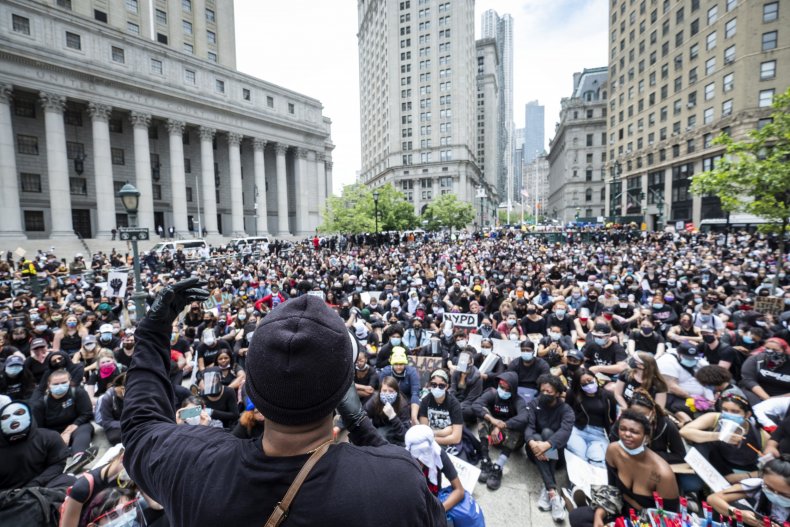 Protesters are seeking justice in May 25 death of Floyd, a black man who died in Minneapolis, Minnesota after a white police officer kneeled on his neck for an extended period while ignoring his calls for help. Demonstrations grew throughout the U.S. and around the world after viral video of the killing sparked widespread outrage.
Health care workers have cheered on protesters in multiple locations, with New York's Memorial Sloan Kettering Cancer Center the site of one gathering on Tuesday. Another video posted to Twitter shows a group of nurses outside Washington, D.C.'s Howard University Hospital applauding passing protesters on Saturday.
Medical professionals standing outside New York's Mount Sinai West and Houston's Texas Medical Center showed their support by observing 8 minutes and 45 seconds of silence—the amount of time former police officer Derek Chauvin had his knee pressed against Floyd's neck, according to the criminal complaint charging Chauvin with Floyd's murder and manslaughter.
In addition to offering their collective support, some hospital staff members have reportedly followed up long shifts caring for COVID-19 patients by traveling directly to demonstrations to aid protesters injured by police tear gas or rubber bullets. Others have offered online medical advice for protesters.
Several leading organizations representing the U.S. medical community have suggested Floyd's killing was the product of a public health crisis brought on by racism and police brutality. The American Medical Association (AMA), the largest group representing doctors, was one of many to recently condemn the killing and express support for racial justice.
"Excessive police force is a communal violence that significantly drives unnecessary and costly injury, and premature morbidity and death," AMA President Dr. Patrice Harris and Board Chair Dr. Jesse Ehrenfeld said in a statement on Friday. "Our country—our society—demands more."
Update 6/3, 4:23 p.m.: This article has been updated to include a statement from NYU Langone Health.