New York Mayor Bill de Blasio strongly criticized his predecessor, billionaire Democratic presidential candidate Michael Bloomberg, saying that he is "masking" his lifetime of support for "those in power" by spending hundreds of millions on campaign ads.
Bloomberg, a former Republican, launched an unconventional Democratic presidential campaign in late November. Instead of campaigning in early voting states, Bloomberg has spent more than $400 million of his $60 billion fortune on television ads nationwide, specifically targeting Super Tuesday voting states, where his campaign hopes to get a significant boost next month.
As Bloomberg has surged to third or fourth place nationwide in several recent polls, the former New York city mayor has faced significant criticism from fellow candidates. Senators Bernie Sanders and Elizabeth Warren have argued that the billionaire is attempting to buy the election, saying that his actions are counter to Democracy. De Blasio, who also launched a failed presidential campaign last year, endorsed Sanders on Friday and has now taken aim at Bloomberg.
"It's important for people to understand what's happening here," the New York mayor said Monday during an interview with CNN. He then criticized Bloomberg for "using an inordinate amount of money" to convince Americans to vote for him.
"What it is masking is a lifetime of supporting those in power, he's the epitome of the power structure," De Blasio said. The Sanders supporter went on to note that his predecessor had done some good things during his tenure as New York's mayor, but had also caused a lot of harm.
"He's one of the richest people in the world and he pursued policies in New York City that made income inequality worse, that helped developers and big real estate folks and Wall Street at the expense of working people," he said.
Bloomberg has already spent about $418 million on television ads since launching his campaign in November, which is about $100 million more than all other Democratic presidential candidates combined. It's also approximately 10 times as much as Sanders—the current Democratic frontrunner in the race—has spent, with his campaign's total at about $42 million.
"He thinks he can buy this election," Sanders said of his billionaire competitor at a Nevada event this past weekend. "Well, I've got news for Mr. Bloomberg—the American people are sick and tired of billionaires buying elections!"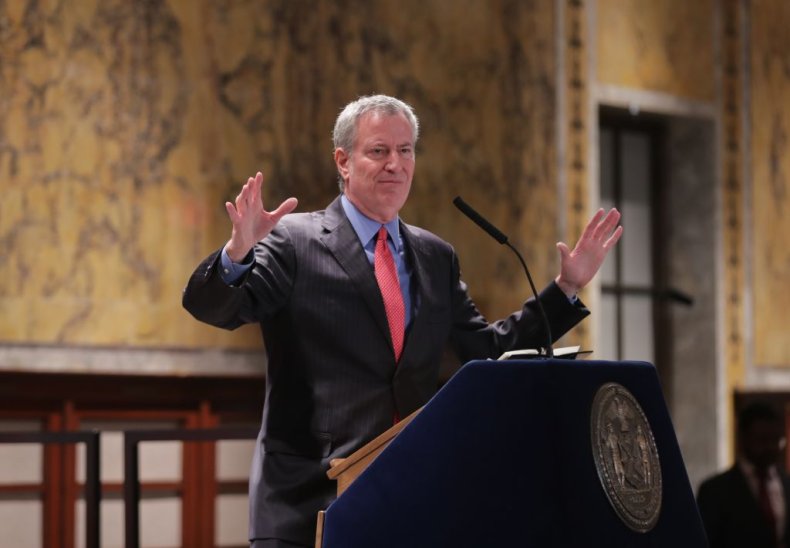 Former Vice President Joe Biden, who is still polling second in most national polls despite poor finishes in Iowa and New Hampshire earlier this month, took aim at Bloomberg as well.
"Sixty billion dollars can buy you a lot of advertising, but it can't erase your record," he said during an interview with NBC News Meet the Press on Sunday. Biden noted that Bloomberg's policies as mayor of New York had a harmful impact on minority communities.
The billionaire businessman has faced mounting criticism over his expansion and defense of the highly controversial "stop and frisk" policing strategy during his tenure as mayor. While he apologized for the policy shortly before launching his presidential campaign, he had defended it for years, even suggesting that minorities are inherently more likely to commit crimes. Bloomberg has also faced criticism for his treatment of female employees, many of which have filed lawsuits over what they say are misogynistic and sexist remarks.