TikTok Won't Display Legal Weed Safety Ads—Here's Why
Officials in New York penned a letter to TikTok in a bid to see the app allow weed-focused advertisements to aid the ongoing education campaign on legalized marijuana after the social media platform allegedly rejected them.
The New York State Office of Cannabis Management (OCM) sent the letter on Monday, penned by executive director Chris Alexander, pleading with the social media giant to re-think its "blanket ban" on drug-featuring ads on the app. The board argued in the letter that the advertisements are an essential part of the public health campaign and TikTok is the one way they can speak directly to young people about the risks.
When the state legalized marijuana for individuals over the age of 21 in March 2021, the state established the OCM and required education campaigns on the legalization and the impact of cannabis use on public health and safety. According to Rolling Stone, New York has seen an influx in public health ads around the city, including warnings of the risks of smoking while pregnant and reminders to be cautious of where you smoke.
The OCM is running TV ads and social media campaigns but found no luck when attempting to run ads on one of the biggest social media platforms.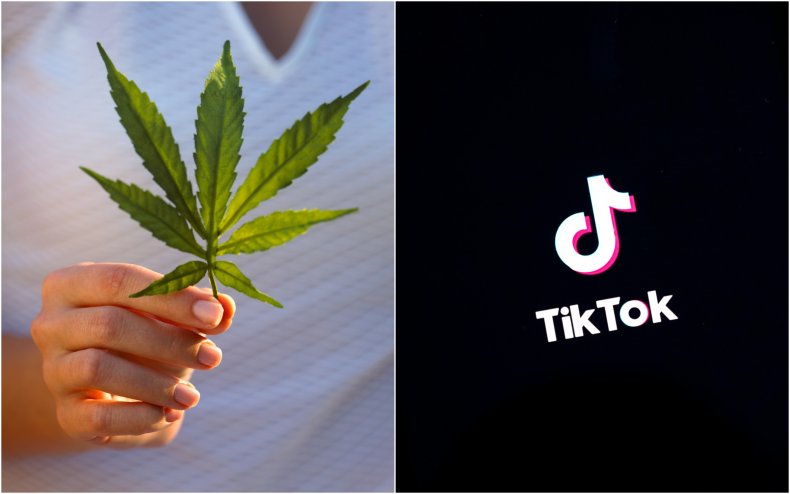 Why TikTok Won't Run Legalized Weed Advertisments
TikTok's advertising policy bans the "promotion, sale, solicitation of, or facilitation of access to illegal drugs, controlled drugs, prescriptive drugs, drugs for the purpose of recreation, homeopathy, enhancement, performance, including weight loss."
The OCM published the exact reasoning it believes TikTok won't run its ads in the letter, writing: "When we tried advertising on TikTok, we were informed you do not take cannabis ads of any kind, including ones from government accounts promoting health and education. We presume this is tied to the section of your Industry Entry Advertising Policy restricting 'depiction or featuring of drug-related works, symbols or images' but we know our colleagues at the New York State Department of Health have run paid advertisements on TikTok as part of their public health campaigns."
Earlier in the year, TikTok enforced a huge crackdown on content on the app too, including the content users are greeted with on their "For You" page (FYP). On February 8, the company issued a statement from its head of trust and safety, Cormac Keenan, as it unveiled updates to community guidelines.
These include "strengthening our dangerous acts and challenges policy, broadening our approach to eating disorders, adding clarity on the types of hateful ideologies prohibited on our platform, and expanding our policy to protect the security, integrity, availability, and reliability of our platform."
As an app primarily for young people, and with a large number of children using the app, the social media platform faced huge pressure to safeguard the app and its content.
What Does the New York State Office of Cannabis Management Want?
Alexander directly asked TikTok to "please reconsider your current blanket ban on advertisements using the word 'cannabis' on TikTok."
The letter cited TikTok's primarily young audience, with one report suggesting that 75 percent of users are between the ages of 18 to 34. For the OCM, 18-21 is a "critical" age group when it comes to education on marijuana legalization as "brains are still growing and our messaging provides information on the risks they face at that young age if they use it."
"Our public health education campaign also delivers the message that it's both unsafe and illegal to drive while impaired by cannabis, another important message for this age group where decision-making often leads toward risk-taking," wrote Alexander.
The executive director told Rolling Stone that he hopes "additional pressure can get them to waive their no cannabis advertising policy for this cannabis education program. They're trying to do this one-size-fits-all approach. It just doesn't work here, and it's frustrating our mission."
Newsweek reached out to TikTok and the New York State Office of Cannabis Management for comment.