TikTok creators could soon find their videos falling out of popularity as the app rolls out significant changes to what appears on the For You page.
Challenges and trends spread like wildfire on the platform, but part of the success of certain videos—and accounts—is the fabled FYP. Creators often add the hashtag "FYP" in an attempt to make it on to the hallowed feed, which is curated for each user.
TikTok states: "Part of the magic of TikTok is that there's no one For You feed—while different people may come upon some of the same standout videos, each person's feed is unique and tailored to that specific individual."
The feed adapts based on user interactions, hashtags, captions and even language and country preference, and has always attempted to remove spam or duplicated content.
Now TikTok is going one step further to bolster the FYP recommendations, setting out clear guidelines over what will be excluded from the feed.
On February 8, the company issued a statement from Cormac Keenan, its head of trust and safety, as it unveiled updates to community guidelines.
These include "strengthening our dangerous acts and challenges policy, broadening our approach to eating disorders, adding clarity on the types of hateful ideologies prohibited on our platform, and expanding our policy to protect the security, integrity, availability, and reliability of our platform."
The new rules will take effect on March 7. The guidelines have been expanded to 13 sections, excluding the introduction, with some existing topics reworked.
Some of the new topics include "violent extremism," "integrity and authenticity," "copyright and trademark infringement" and "ineligible for the For You feed."
Under the new system, any content uploaded by someone under 16 won't appear on the FYP. This restriction remains in place until the uploader turns 18.
TikTok is also tightening the rules on sexual content, saying anything "overtly sexually suggestive" won't be recommended.
"This would include content that depicts implied nudity, sexualizes body parts, or is blatantly erotic or sensual (e.g., strip teases)," TikTok said.
Tobacco and alcohol are also coming under scrutiny. The company said: "Content promoting, mentioning, or depicting alcohol products consumed by persons of legal drinking age but done so in a dangerous fashion may not be eligible for recommendation.
"Content depicting the use of tobacco products by adults or mentioning controlled substances is not eligible for recommendation."
Anything related to the use of these products by a minor will automatically be excluded.
Dangerous stunts and sports "performed by non-professionals" will also be looked at, and the jump scare is being reviewed.
The company noted that "shock value" isn't for everyone, saying: "Content that can cause discomfort, shock or disgust to viewers may be ineligible for the FYF, including scary effects, jump scares, makeup that realistically replicates gory wounds, or depictions of bodily functions." In the future, some videos may have an "opt-in" setting or a warning.
In a bid to crack down on spam, content that "tricks or manipulates" viewers for likes, followers or comments will be ineligible for the FYP.
Anything with a visible watermark or logo, or QR code, is getting the chop, as well as "low quality content" such as "extremely short clips, static images, and exclusively-GIF based videos"—which could potentially spell the end of montages.
In a bid to promote original content, anything "imported or uploaded from TikTok, other platforms, or other sources including television, movies, or webcasts, [where] the user has not added new, creative edits" will be deemed unoriginal, and not on the FYP.
The changes were picked up by TikToker Sean, posting as @seansvv, who examined them in detail in a two-part series.
Sean said: "A few no-nos which are absolutely not acceptable on TikTok, any multi-level marketing, phishing or Ponzi schemes."
In a reference to the sexual content restrictions, the TikToker joked: "So if you're relying on the sweatpants imprint to get you views, that's not going to help you anymore, sorry."
The clip posted by Sean on Wednesday has already amassed more than 4 million views and can be seen here. His earlier video on the changes has been watched more than 1.6 million times. Newsweek has reached out to Sean for comment.
Many TikTokers have voiced their opinions on the changes, with Mouthy Medic joking: "Isn't TikTok 60 percent unoriginal content and 39 percent thirst traps?"
Chantellefen wrote: "They need to stop adding new guidelines and improve their reporting system. I've been banned so many times for sexual content for pictures of kitten."
Blue diamond kinnie pointed out: "But what if low quality content is my sense of humor."
Ashur G aid: "Bruhhh I'm so nervous the 'shock value' part is gonna kill my account- might have to get a bit more subtle with spooky stuff."
Sandysprosium thought: "Maybe they'll finally stop letting companies repost my videos as their ads."
Kelsey Childs asked: "What does this mean for the true crime creators?"
TikTok is one of the most downloaded apps in the world and has soared to stratospheric heights of popularity since its launch in 2017.
The video-sharing platform, owned by Beijing-based tech company ByteDance, came into its own over the COVID pandemic, with users able to post, edit, duet, stitch and share short clips. In 2020, it was downloaded 315 million times, according to Statista. This doubled to 656 million in 2021.
Some of its top-performing videos amass billions of views, which translate into a massive pay-out for the app's biggest stars. The graph below, provided by Statista, shows the biggest paid creators of 2021. The list is topped by Charli D'Amelio with earnings of $17.5 million.
TikTok told Newsweek on Friday that users might not have opted in to see what it called "graphic content" on their For You feed, so it recommended that creators not post anything resembling gory wounds or scary effects.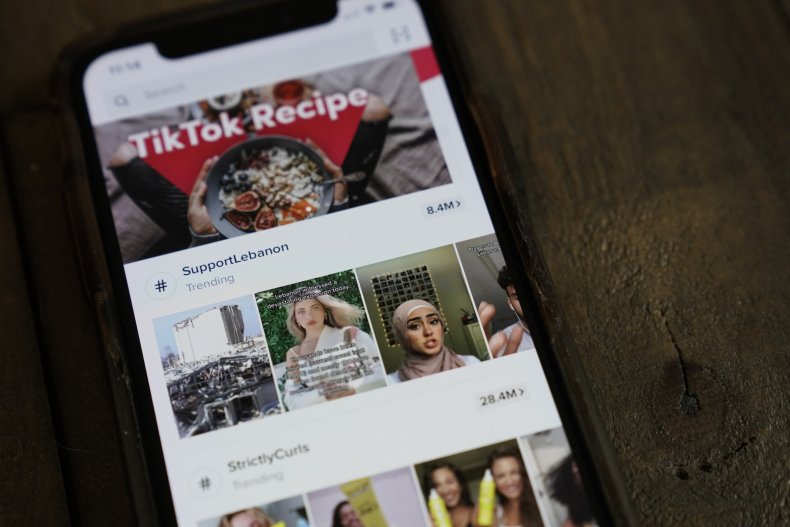 Update 02/18/22, 10:50 a.m. ET: This article was updated to add a comment from TikTok.