New York Stops Short Of Abandoning Mask Mandates, But Eases Back Some Rules
New York is easing some of its COVID-19 policies as the state continues to see a decline in cases and hospitalizations but has yet to abandon all mask mandates.
Governor Kathy Hochul made the announcement at a Wednesday press conference that the state will let its mask mandate for some indoor businesses, which had been facing a legal challenge, expire the following day. Hochul's decision comes as several Democrat-led states begin to pull back requirements as the Omicron wave appears to be subsiding, with over half of states seeing major declines in new cases. Mask and vaccine requirements have been a contentious debate between Democrats and Republicans amid the pandemic.
However, face coverings will still be required in several places: schools, state-regulated health care facilities, public transportation, homeless shelters, prisons, nursing homes and domestic violence shelters. Plus, counties, cities and businesses will still be allowed to impose their own rules when it comes to the virus.
Delaware, New Jersey, Massachusetts and other states are setting timelines to do away with mask requirements in schools, and California is also lifting its indoor mask mandate this month, according to the Associated Press.
While the New York governor said the state was trending in the right direction, she warned the "fight is not over."
"I want people to know: this pandemic is not over. It is not over," Hochul said during the press conference. "That's why we're still going to maintain protections for vulnerable populations in areas where people are very contracted because I want people to feel safe."
In the Empire State, new infections, hospitalizations and deaths are decreasing compared to two weeks ago. In New York City, the positivity rate is 4.29 percent—a significant decline from 14.91 percent experienced 28 days ago, according to the New York Department of Health.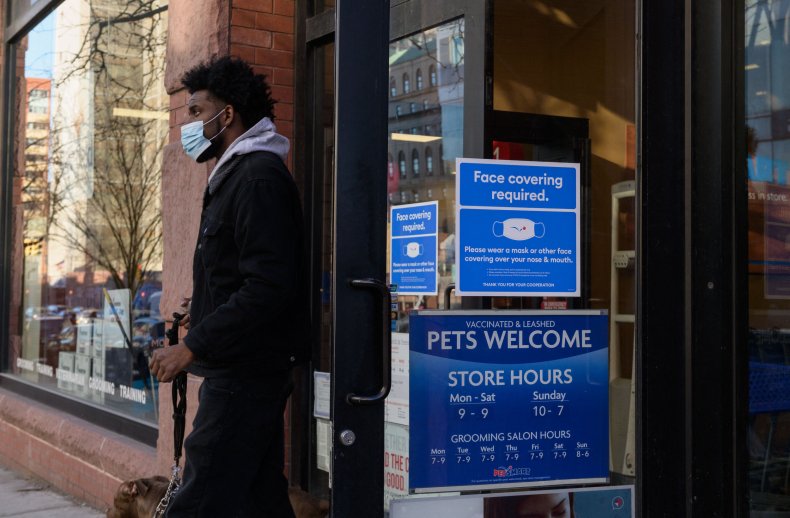 While Democratic areas are now changing their stance as the Omicron wave eases, the U.S. Centers for Disease Control and Prevention (CDC) has said their recommendations have not changed. The agency is still advising that people wear masks in indoor settings, including schools for students ages 2 and older, staff, teachers and visitors regardless of vaccination status.
CDC director Rochelle Walensky said during Wednesday's White House COVID-19 briefing that the agency will continue to recommend people wear face coverings indoors in areas where there's a high risk of transmission.
During the briefing, Walensky was asked if people should be listening to the CDC or their governors when it comes to masking.
"We've always said that these decisions are going to have to be made at the local level," Walensky responded.
Heather Briccetti Esq., president and CEO of the Business Council of New York State, approved of the governor's decision.
"As protecting public health remains our top concern, we also appreciate the Governor's efforts to assure that state policies reflect ever-changing COVID levels," she said. "Throughout the pandemic, employers have taken the necessary safety precautions and followed state and federal guidelines to ensure the safety of their employees and customers. We hope new policies will encourage New Yorkers to continue to support New York businesses still recovering from the pandemic."