A New York student has been held in the United Arab Emirates (UAE) since mid-July and could face jail after being accused of "assaulting and insulting" Dubai airport staff following "humiliating" treatment.
Elizabeth Polanco De Los Santos, a New Yorker studying business arts at Lehman College while working as an operations manager in retail, said she faced a painful and degrading search when she went through security at the Dubai airport while traveling with a friend.
The 21-year-old student was instructed to take off a medically needed compressor after undergoing surgery, according to Detained in Dubai, an organization aimed at helping victims of injustice in the Middle Eastern emirate.
"She is under the most incredible stress which is impacting her physical and mental health, disrupting her entire life and scarring her long term. This is simply no way to treat visitors," Radha Stirling, CEO of Detained in Dubai, told Newsweek. "It's outrageous."
In an effort to comply with airport security, Polanco De Los Santos agreed to take off her compressor, which goes around her waist, stomach and upper chest.
"I was feeling uncomfortable and afraid. I felt really violated," Polanco De Los Santos told Detained in Dubai.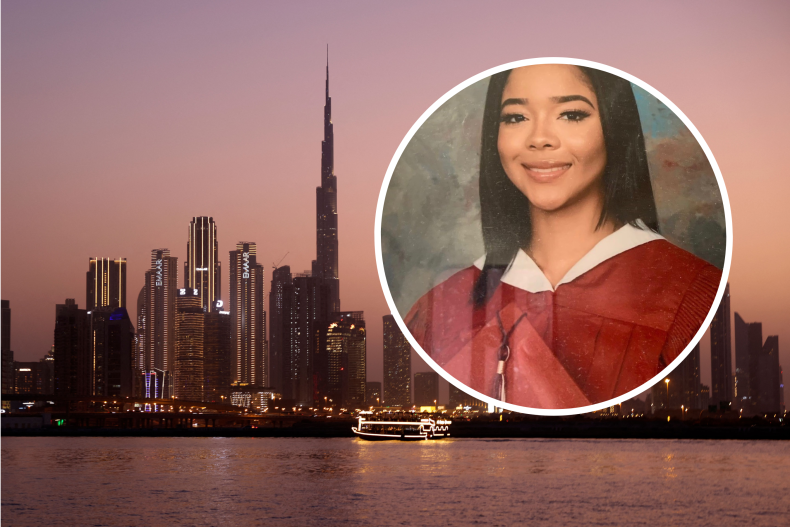 Following the uncomfortable search, which was clear, Polanco De Los Santos needed help getting her compressor back on, which is when she gently touched one of the security women in an effort to guide her out of the way in order to reach her friend, Detained in Dubai reported.
Officers then said Polanco De Los Santos could not leave and was being detained for "touching the female customs officer" during the search. She was kept in the room for several more hours while the woman filed a complaint against her.
Polanco De Los Santos has been in Dubai since July 14, unable to leave the country, as she was placed on a travel ban. Detained in Dubai has also reported that judges ordered her on August 24 to pay a AED 10,000 fine (a little more than $2,700). While the New Yorker could have paid that fine, customs officials appealed her sentence.
"They have affirmed they want Elizabeth in jail and were dissatisfied with the court issued fine which would have seen Elizabeth leave the UAE. Unfortunately, the complainants are expecting an offer of financial payment to close the case and the fact that criminal cases can be resolved with payment only serves to encourage frivolous complaints and the abuse of visitors," Stirling wrote in an email on Sunday.
This comes after Tierra Allen, a driver who runs the popular Sassy Trucker account on TikTok, and many others have continued to face the same fate with months in Dubai awaiting a difficult legal process that can leave victims broke, traumatized or jailed. Palanco De Los Santos's mother is pleading with customs officials and Dubai authorities in hopes that they allow her daughter to leave the country.
"As a family, we are really struggling and my daughter needs to be home to continue seeing her doctor. I've been in tears, I don't understand why she could be held in the country this long. She really regrets going to Dubai and is desperate to come home. We are calling on the US Embassy and our local representatives in New York to help us," Polanco's mother told Detained in Dubai.
Detained in Dubai has also confirmed they are supporting Polanco De Los Santos' case in an effort to bring her back to the states.
"We are reaching out to Elizabeth's representatives, Congressman Ritchie Torres and Senators Charles Schumar and Kirsten Gillibrand for assistance. Congresswoman Sheila Jackson Lee and Senator Ted Cruz recently became very proactive in their support for Tierra Allen when she was held in Dubai. Elizabeth hopes her members will show the same support," Stirling said.
In response, the U.S Department of State has made a statement to Newsweek in regards to Polanco De Los Santos' case.
"The U.S. Department of State and our embassies and consulates abroad have no greater priority than the safety and security of U.S. citizens overseas. We are aware of the detention of a U.S. citizen in Dubai. When a U.S. citizen is detained overseas, the Department works to provide all appropriate assistance. Due to privacy considerations, we have no further comment," U.S Department of State told Newsweek in an email on Sunday.
In addition, Jacob Long, communications director for Representative Ritchie Torres, a Democrat who represents the South Bronx, told Newsweek in an email on Sunday that he was "checking with" district staff regarding the case.
However, Detained in Dubai maintains that without diplomatic intervention, Palanco could continue to face several more months waiting for an outcome of her trial. She could potentially face hefty fines and years of imprisonment.
Newsweek reached out to the UAE embassy, Dubai Customs and the press representatives for Schumer and Gillibrand for comment via email.