New York Teacher Put on 'Leave Without Pay' for Refusing Vaccine
Tom Wiermann, a physical education teacher who worked at M.S. 101 in the Bronx for 20 years, is now unemployed following his refusal to get vaccinated against coronavirus ahead of New York City's vaccine mandate.
Federal workers and contractors have been ordered by President Joe Biden to be vaccinated, while companies with more than 100 employees require vaccines or weekly tests. The mandate has faced backlash and numerous legal challenges have been mounted against the order.
News12 reported that on Saturday Wiermann received a letter from the Department of Education saying he was put on "leave without pay" for not complying.
Wiermann detailed his reasons for refusing to follow the directive in a lengthy post on Facebook on September 28, elements of which have been automatically disputed by a fact-checked article attached to the post.
The headline to this link accompanying the physical education teacher's post states: "COVID-19 vaccines go through many tests for safety and effectiveness and are then monitored closely."
Wiermann, who Newsweek has contacted for comment, wrote: "This coming Friday, unless the United States Supreme Court intervenes, my 20-year career as a [sic] NYC teacher will come to an end as I am refusing to give in to the vaccination mandate.
"For those that think 'science' is the reason Mayor DiBlasio has given this decree, think again. I had COVID last January and still have antibodies today. Antibodies which are stronger than anything the vaccines can offer.
"In addition, vaccinated teachers and students (unvaccinated and vaccinated) who test positive for COVID but are not showing any symptoms can teach and attend school. You read that right. They can have COVID and still come to school.
"What is this about then? It can only be one thing. Power through submission. Just so you all know. The NYC DOE [New York City Department of Education] told us to get vaccinated or be put on leave. Doing so prevents us from collecting unemployment and getting another job.
"They also wanted to take our benefits away, but our feckless union was at least able to secure that for us for one year."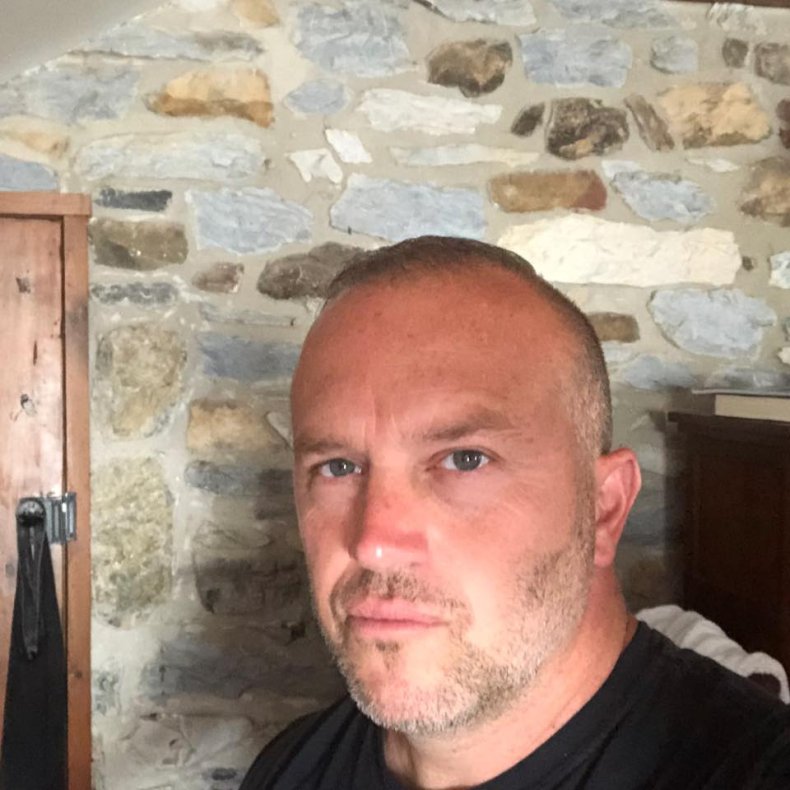 A statement by the United Federation of Teachers (UFT) emailed to Newsweek reads: "Members who are not vaccinated by Oct. 1 but do not qualify for a medical accommodation or an exemption will be placed by the DOE (Department Of Education] on leave without pay effective [Monday] October 4, 2021 through Nov. 30, 2021.
"Once placed on leave, the member must be offered two options, both of which include one year's health coverage."
"Option One" involves "Unpaid Leave," while Option Two" is described as "Severance."
UFT has announced 97 percent of its members had received at least one vaccine dose as of Monday, October 4.
Wiermann also voiced his concern that New York City Mayor Bill de Blasio's mandate may result in a staff shortage.
He wrote: "DiBlasio emptied NY jails citing 'COVID concerns' yet is literally attempting to starve healthy teachers and staff who just want to do their jobs.
"So many people have been sitting around collecting government checks for the past year yet teachers willing to work are being shown the door. This is evil.
"Am I angry? You bet I am. This is a direct assault on our freedoms. I say 'our' because yours are next. Don't believe me? Talk to some of your nurse friends. See what they have to say.
"Tyranny comes in many forms and disguises. This time it's 'for your safety'. Just wait till they come after your guns and deem your religion as intolerant or a danger."
Despite some of the PE teacher's claims contradicting official guidance, Wiermann's concerns over the repercussions of minority workers' refusal to get vaccinated have been echoed by experts.
Mark Cannizzaro, president of the Council of Schools Supervisors and Administrators, has said principals were having difficulty finding enough staff to replace unvaccinated workers, despite a surge in vaccinations last week.
Cannizzaro, who has been approached by Newsweek for further comment, sent a letter to de Blasio calling on the city to delay the deadline for the vaccination mandate to allow the DOE to develop a reasonable contingency plan to address the looming staffing shortage that created in schools last week.
He wrote: "Our union has been consistently supportive of the city's efforts to encourage vaccinations, and our membership has the highest percentage of vaccination among municipal labor unions.
"Though it is impossible to know exactly how significant the staffing shortages will be, as you know, any shortage, especially during a pandemic, is a threat to the health and safety of both students and school personnel."
The latest Center for Disease Control and Prevention data shows New York has experienced 173 coronavirus deaths in the past seven days.