The New York Times Is Eliminating the Public Editor Role—Just When It Needs It the Most
The New York Times is killing off the public editor.
The position, I mean. Not the editor herself. Liz Spayd, who has served in the capacity since last July, will exit the newsroom safely and intact, but Friday will be her last day—and she's not going to be replaced. This is part of a larger downsizing effort (the paper is offering buyouts to newsroom employees and substantially reducing the number of editors), but it's also an unceremonious end to a position that has, for more than a decade, held the publication's journalism to account and provided a glimpse behind the curtain at the nation's most prestigious newspaper.
In a staff memo, Times publisher Arthur Sulzberger Jr. wrote that the public editor's "responsibility has outgrown that one office." Instead of replacing Spayd, the Times will open up most of its articles to reader comments. "When our audience has questions or concerns," Sulzberger said, "we must answer them ourselves."
Spayd's abrupt departure is not entirely shocking. Her aptitude for the job seemed questionable, and her columns have been widely criticized. (Remember the one where she caved to an alt-right harassment campaign and rebuked a reporter for a jokey tweet about Bow Wow?)
Related: Are we living in a golden age of stunt journalism?
But the insinuation that a comments section might reasonably replace a public editor (who, at his or her best, can sift through hundreds of queries and investigate journalistic lapses) seems optimistic at best and delusional at worst. Journalists routinely ignore comment sections, for good reason, since they are often overwhelming and full of racist gibberish. A public editor exerts authority within the newsroom and helps translate insular controversies (the 2016 Gay Talese kerfuffle, for instance) for readers outside the newsroom. And while any random commenter can criticize or insult a reporter, not every commenter can get a genuine answer out of that reporter's boss when needed. The public editor is imbued with license and authority to critique the paper in the service of improving the paper.
It's also a terrible time to eliminate the position. Under Trump, the mainstream media is being aggressively delegitimized on a daily basis. Newspaper journalism is both as significant and as embattled as it's ever been. The Times's ability to hold the administration accountable relies on its ability to convince readers that it's holding itself accountable—to convince the country that it's not "fake news," as Trump frequently charges, and that it is getting the story right.
The public editor is an essential buffer and a beacon of transparency. Newspaper scoops, such as the Times's recent ones involving Trump and Russia, have deep ramifications. And as the administration lurches further into the unknown, journalists are also entering unknown territory and bound to make some mistakes. Every trivial mistake is going to be regurgitated by Sean Spicer at a press conference to cast doubt on the media's credibility. Transparency is going to be important.
It was surely important in 2003. The public editor position was established that year in response to a massive, confidence-shaking crisis at the Gray Lady: the Jayson Blair scandal. Blair, a 27-year-old reporter, was discovered in 2003 to have plagiarized, lifted quotes and fabricated interviews in dozens of national reporting assignments. He resigned, but his misdeeds had wide-ranging reverberations; in a deeply reported post-mortem, the Times itself described the scandal as "a profound betrayal of trust and a low point in the 152-year history of the newspaper."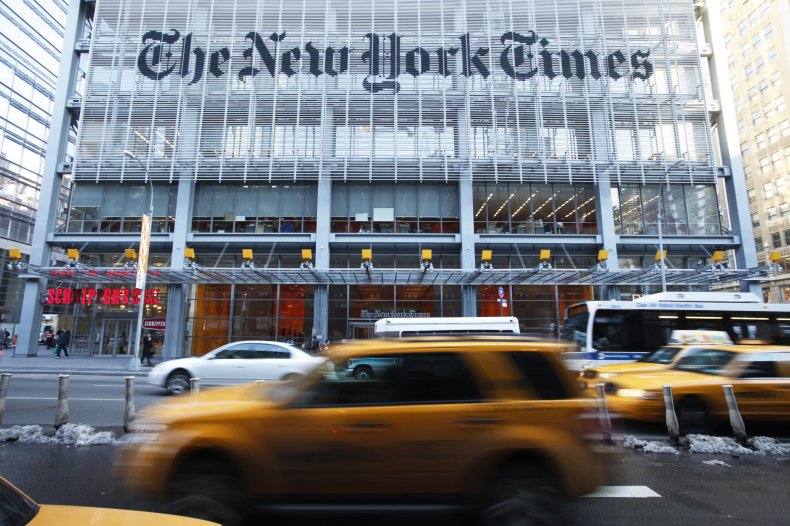 Enter Daniel Okrent, who was appointed the first public editor of The New York Times in October of 2003. It was a rough job, Okrent tells me. "It was like being internal affairs. Nobody wanted to see me coming. Everybody I talked with was angry, both inside and outside the paper. People had complaints about the coverage, so they're all angry. Then I take the complaints to people inside the paper, and they're angry having to put up with this guy."
Back then—aside from a handful of niche blogs—there was no instant feedback for news outlets. Media criticism had a longer gestation period. Twitter didn't exist, and Facebook was still a few months away from birth.
Reporters and editors regarded Okrent with suspicion. He describes the collective attitude as: "Who the hell is this guy who's never worked in newspapers [but is] getting a platform in our own paper, underneath our logo, to criticize us?"
Over time, the Times seemed to warm up to the public editor. "They saw, after a year and a half, that it was still their paper, and what I said did not affect their jobs or how they were regarded by management," Okrent says. "I was just a pain in the ass in print or online."
His term lasted two years. Okrent was succeeded by Byron Calame in 2005, who was replaced by Clark Hoyt in 2007, who was replaced by Arthur S. Brisbane in 2010, who was called a "muttonhead" by media critic Jack Shafer. Margaret Sullivan took over in 2012 and enjoyed the longest tenure of any public editor; she took the paper to task for everything from neglecting to cover the Flint water crisis as aggressively as it could have to failing to take Bernie Sanders seriously. When the paper came under criticism for poor word choices in reporting on slain teen Michael Brown in 2014, Sullivan brought clarity and perspective to the situation.
Related: Why is The New York Times launching a column to say nice things about Trump?
Okrent says he's sad to see the position go, though he doesn't want to speculate as to Sulzberger's reasons for eliminating it. "He may have very good reasons, but I think it's a shame."
He declined to comment on Spayd's tenure, but Okrent did express concern about the paper's vulnerability without a public editor.
"My biggest concern about this is how it'll be used by the paper's enemies," he says. "The paper has many enemies, as it always has had, but the intensity of the combat is much greater now than it used to be. For the enemies to be able to say, 'See, the paper doesn't want to be accurate, doesn't want to be fair, they're afraid that they're going to be exposed,' they can go on and on, using this to discredit the paper. And that's a shame.... One of the things that the public editor gave the Times is at least the patina of showing an openness, a willingness to be criticized."
In a series of tweets, Margaret Sullivan reacted to the decision with similar ambivalence.
I asked Sullivan whether she thinks the Times is making a mistake by axing the role. Reached by email, she answered: "It's regrettable but understandable."
At least every ex-public editor has their memories. Not all of them are happy.
"It was the most interesting job I ever had," Okrent says, "but without question the most difficult one."