New York Manhole Explosion: What We Know About Times Square Videos of Panic
There was panic in New York's Times Square on Sunday night after an explosion from a manhole sent people fleeing.
A loud bang was heard in the busy part of the city just before 7 p.m., with images and videos from the scene showing tourists and locals running through the streets of Manhattan after hearing a loud boom.
It was later confirmed that the bang was the result of a manhole explosion near 215 W. 43rd Street, with smoke also coming from two other manholes, the New York City Fire Department (FDNY) told Newsweek.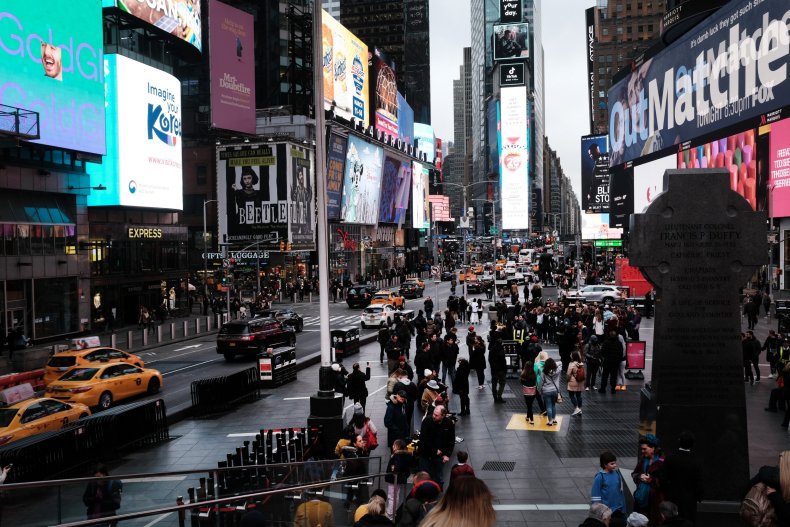 Con Edison said that the explosion was the result of a cable failure.
"At this time, there have been no customer outages, and no reports of injuries or property damage. Our crews remain on location," the energy company said in a statement.
Emergency services evacuated people close to the scene as a precaution following the manhole explosion.
Firefighters also searched surrounding buildings for elevated carbon monoxide levels, which were discovered at an 18-story office building on 229 W. 43rd Street. Firefighters then began venting and mitigating the cellar and sub-cellar of the building, which used to house to The New York Times.
A number of people who heard the explosion described the panic they and others felt following the bang.
"It was like a big black cloud, that's what it was like," a roasted nut vendor named only as Faris told the New York Daily News. "There was a lot of gravel all over the place. We all just ran."
Another witness, Lavier Pounds, told CBS News: "Once I seen the fire, the cops are telling me to back up. I slowly start backing up, but still I started, like, then again, I started proceeding, like, to the fire and then it actually exploded right in front of me and that's when I was just, like, I started running."
Twitter user @qauitafor also described how she feared the explosion may have been an attack on New York to coincide with the Christian celebration of Holy Week, which began on April 10, known as Palm Sunday.
"Feeling relieved. With it being the start of holy week, I was very scared. When I say my whole apartment shook, my goodness! Hoping to get more details on the manhole explosion," she tweeted.
Firefighters left the scene of the explosion by around 9 p.m. There are still no reports of any injuries or damage to buildings as a result of the explosion.