New York Transit's 'Current State of Decline is Wholly Unacceptable,' Governor Cuomo Says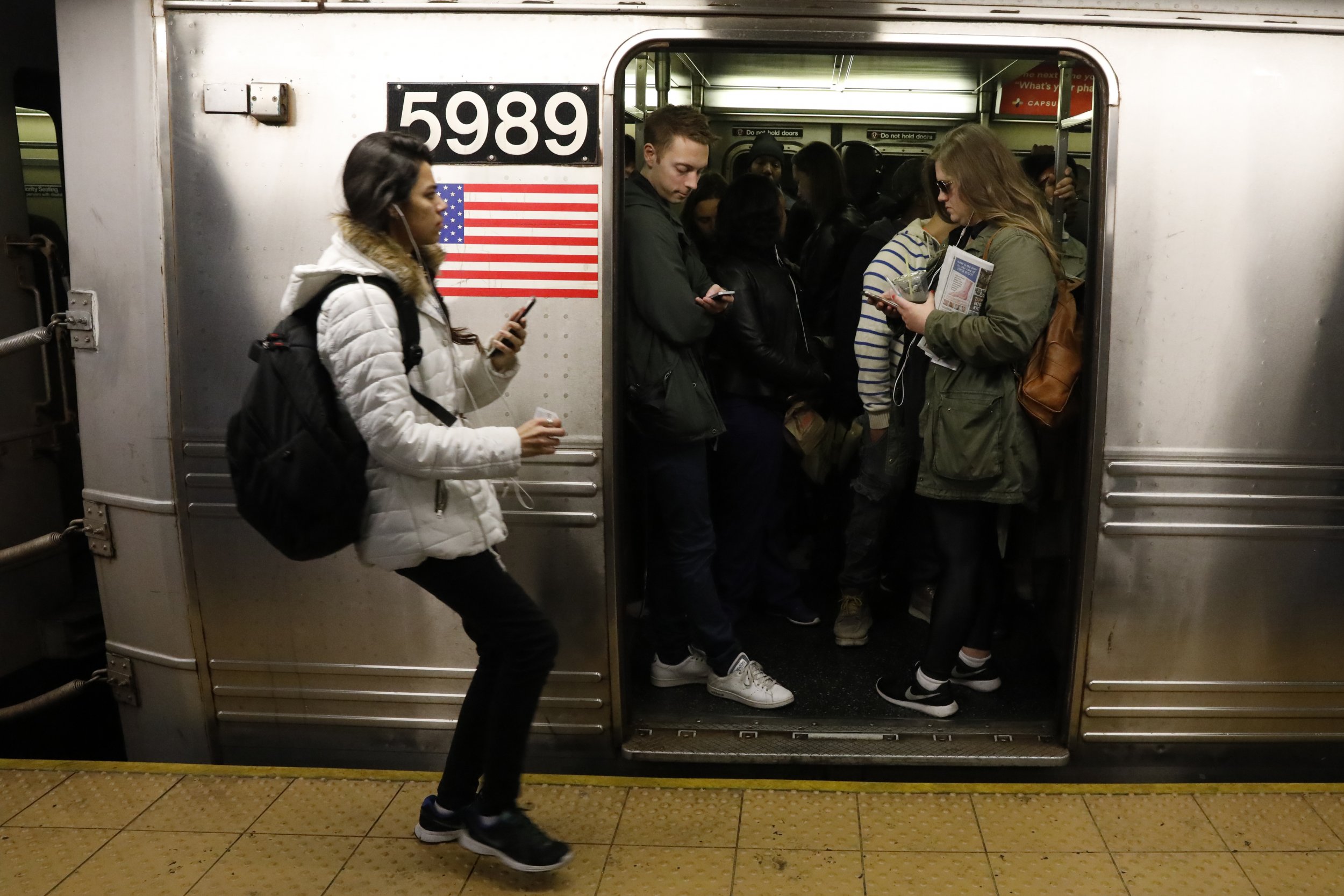 Updated | New York Governor Andrew Cuomo has declared a state of emergency for the Metropolitan Transportation Authority (MTA) following a subway derailment on Tuesday that left at least 34 injured. Problems with the subway system are hardly new.
"The system was worse in the 70s and the 80s. It was the symbol of urban decline. Graffiti on the trains. Crime in the subway system. That's all true," Cuomo said on Thursday. "But it's also true that the current state of decline is wholly unacceptable. And we're going to do something and we're going to do something about it now."
The governor announced that he would issue an executive order on the matter during remarks he made Thursday morning at a conference for the MTA Genius Transit Challenge, which, ironically, is a competition that seeks "innovative solutions to modernize and improve reliability of New York City's subway system." A winner in each of three categories—improving the subway's signal system, rapidly deploying modern subway cars and increasing communications infrastructure—wins a $1 million prize.
The move would "allow us to expedite many of the normal government processes," Cuomo said. "One of the processes we're going to expedite is the MTA procurement process. I'll ask the comptroller and the attorney general for a special team to expedite the process," he added. "But it will no longer be a tortured exercise to do business with the MTA."
Cuomo has ordered MTA chairman Joe Lhota to assess the system's capital needs within 60 days and pledged another $1 billion in state funds to the MTA Capital Plan. He also has ordered the New York State Public Service Commission to complete an assessment of the power supply to the subway system from Con Edison within 90 days.
"If there is a power outage and if Con Ed is responsible, they are going to be fined heavily for the delays that they have been causing New Yorkers," Cuomo said.
The governor's announcement comes just days after the subway derailment in Harlem, but that's just one of several recent incidents that have highlighted the problems the commuter system faces. Earlier this month, an F train stalled in a tunnel, leaving crowded cars with no air conditioning and some without lights. Delays across the system have increased in recent years due to overcrowding and other factors, The New York Times reported in a recent piece that declared "every New York City subway line is getting worse."
"We know the system is decaying and we know the system is decaying rapidly. I think of it as a heart attack—it happens all of a sudden and the temptation is to say, well something must have just caused it. No, a lifetime caused it. Bad habits caused it. Lack of exercise caused it. Smoking caused it. Cholesterol caused it," Cuomo said. "This has been caused over decades, we understand that. But, the delays are maddening New Yorkers. They're infuriated by a lack of communication, unreliability, and now accidents."
On Thursday, the same day that Cuomo made his announcement about the state of emergency for the MTA, a track condition left hundreds of Long Island Rail Road commuters stranded for hours. One tunnel into Penn Station had to be closed, causing delays and cancelations.
"New Yorkers are not by their nature, patient people. They shouldn't be, especially when it comes to this," Cuomo said. "We need ideas outside the box because frankly, the box is broken."
Cuomo himself has come under fire for the state of the system. "A month after Governor Cuomo said he would take responsibility for fixing the subway, he hasn't delivered a plan for how to improve service," the advocacy group Riders Alliance wrote. "Subway riders aren't going to accept this sort of regular failure. We are fighting back, and we will hold the governor accountable."
The governor's office released the text of the executive order a few hours after Cuomo's remarks. Since Executive Law allows him to "suspend specific provisions of any statute, local law, ordinance, orders, rules, or regulations, or parts thereof, of any agency during a State emergency, if compliance with such provisions would prevent, hinder or delay action necessary to cope with the disaster," Cuomo suspended until further notice a list of more than a dozen laws that might impede improvement to the MTA.
"More than five million customers use the MTA's rail and subway system every day, its highest ridership in history, many of whom have no other means of affordable and safe transportation to meet their daily needs," Cuomo explains in his order. "Consistent, efficient and safe mass transportation into and out of the City of New York is necessary for the sustained viability of New York State's economy and and the protection and livelihood of the State's residents and visitors."
Lhota seemed to agree with Cuomo on the assertion that change and improvement were crucial. "The subway system was and can be the crown jewel of the city of New York.… I am under no illusions of challenges we face," Lhota said at the same conference on Thursday. "New Yorkers deserve a safe, reliable and viable subway system. That is our goal. That is our charge. That is what we must do."
This post has been updated to include additional comments from Cuomo's Thursday speech and from the text of the executive order.