New York Unveils Gun Violence Memorial as SCOTUS Prepares to Take Up Second Amendment Case
A new gun violence memorial was unveiled in New York City on Monday to commemorate the thousands of lives lost annually in New York state.
Former Congresswoman Gabrielle Giffords' advocacy group, Giffords, brought their regional tour to Manhattan's Battery Park, where 1,050 vases were displayed to represent each New York resident who died from gun violence last year.
Over the previous year, gun violence has risen 29 percent in the state. Data shows that in New York, someone dies from gun violence every 11 hours and gun violence is the third leading cause of death for children.
"One-thousand and fifty New Yorkers lost their lives because of a bullet from a gun. Yet, instead of action, the gun lobbying and Republican legislators are doing everything they can to weaken the gun laws that we already have on the books," former Congresswoman Debbie Mucarsel-Powell of Florida, who lost her father to gun violence, said at a Tuesday press conference.
"This memorial reminds us that Congress has let down each and every one of the families that has lost a loved one because its failure to enact meaningful gun control legislation," New York Representative Jerry Nadler added.
The new memorial follows the national installation unveiled at the National Mall in Washington, D.C., which was covered in 40,000 flowers representing the number of Americans who die from gun violence each year.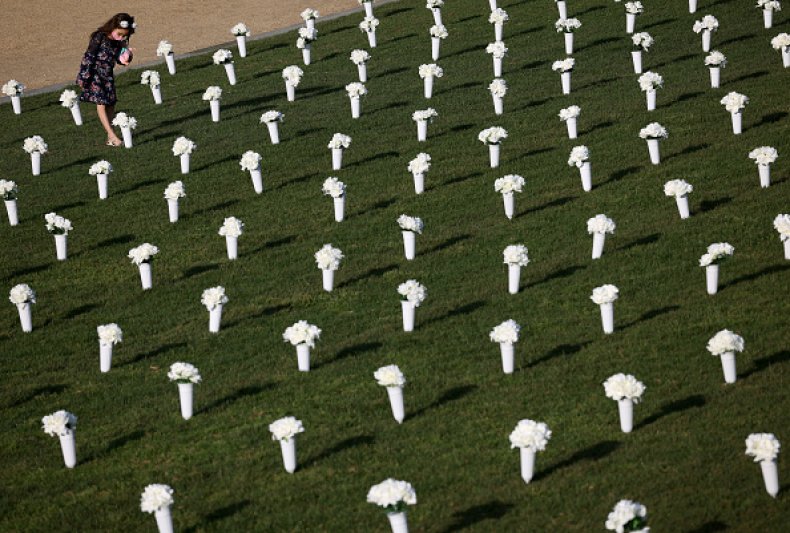 The installation, which will be open to the public until Friday, comes as the Supreme Court prepares to hear its first major Second Amendment case, which is coming out of New York, for the first time in over a decade.
In 2008, the high court ruled for the first time that people have the constitutional right to have guns in their homes for self-defense.
On November 3, justices are expected to take up New York State Rifle & Pistol Association v. Bruen, a case brought forward by New York gun owners who are challenging a state law that requires a special license in order to carry guns outside the home.
The 2nd U.S. Circuit Court of Appeals held that the New York law does not violate the Second Amendment.
New York State Attorney General Letitia James wrote to the Supreme Court that "the law is consistent with the historical scope of the Second Amendment and directly advances New York's compelling interests in public safety and crime prevention."
James warned that to rule in favor of the law's challengers would "jeopardize the firearm restrictions that all States and the federal government have adopted to protect the public in sensitive places where people typically congregate."
A series of mass shootings in March also renewed a push to pass national gun reform legislation.
Congressional Democrats have aimed to require universal background checks in hopes of reducing gun violence across the country, but the bill has stalled in the Senate, where most Republican senators seem unwilling to support the legislation.