Major League Baseball team the New York Yankees announced Thursday that its Twitter feed would publish tweets focusing on gun violence following the mass shooting at an elementary school in Uvalde, Texas—much to the frustration of some fans.
Ahead of its game on Thursday with the Tampa Bay Rays, the baseball team announced it would not be giving play-by-play updates on social media as it usually does.
"In lieu of game coverage and in collaboration with the Tampa Bay Rays, we will be using our channels to offer facts about the impacts of gun violence," the Yankees said in a statement. "The devastating events that have taken place in Uvalde, Buffalo and countless other communities across our nation are tragedies that are intolerable."
The Tampa Bay Rays also announced that they would be doing the same and issued a statement condemning the attack on the Robb Elementary school that resulted in 21 deaths—19 children and two teachers.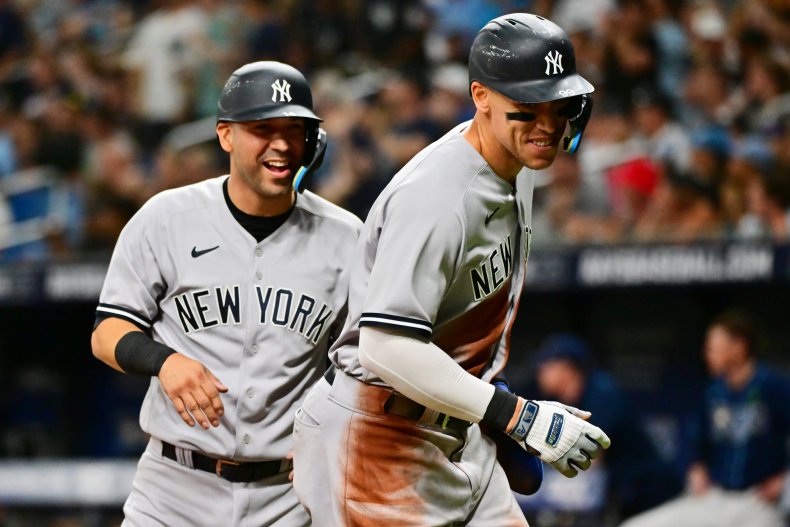 While the majority of tweets to the Yankees appeared to be positive, some sports fans took issue with the baseball team speaking about a topic that is considered widely political.
The Insurgents podcast host and activist Jordan Uhl shared some of the reactions from fans, saying there were "absolute meltdowns happening in the Yankees replies."
Some fans demanded that the Yankees' Twitter page only tweet about the baseball game and defended the use of guns, claiming they would be unfollowing the page.
Former New York Mets player Leonard Kyle Dykstra replied to one of the tweets from the Yankees and dubbed the "woketard" sheep.
"F*** these woketard sheep employees who never played the game who are joyously accepting orders from the evil, corrupt ones to leverage the sport for 'the agenda' and who are ruining a great legacy for the fans those of us who actually played the game at the highest level," Dykstra tweeted in all caps.
Non-profit conservative news media watchdog Accuracy in Media also responded to Yankees decision to tweet about gun violence, tweeting: "Oh the irony. New York is lecturing us about gun violence."
Los Angeles Criminal Defense Lawyer David Wohl also asked that the sports team stick to baseball rather than conversations about guns.
"Semiautomatic sporting rifles, which you falsely label 'assault weapons' are also far more useful in self-defense when on is attacked by a psychopath with a deadly weapon. Stick to baseball you hacks," he tweeted.
Following the shooting, the debate over gun control in the United States has been reignited. President Joe Biden addressed the issue in a speech on Tuesday following the school shooting in Uvalde and said it was time America stood up to the gun manufacturing industry. Biden also reflected on the frequency of mass shootings in America in his speech.
"It's been 3,448 days—10 years since I stood up at a high school in Connecticut—a grade school in Connecticut, where another gunman massacred 26 people, including 20 first-graders, at Sandy Hook Elementary School," he said. "I am sick and tired of it. We have to act. And don't tell me we can't have an impact on this carnage."
Newsweek reached out to the New York Yankees for comment.
Uncommon Knowledge
Newsweek is committed to challenging conventional wisdom and finding connections in the search for common ground.
Newsweek is committed to challenging conventional wisdom and finding connections in the search for common ground.
About the writer
Gerrard Kaonga is a Newsweek U.S. News Reporter and is based in London, U.K. His focus is reporting on U.S. news, politics, world news, local news and viral videos. Gerrard joined Newsweek in 2021 and had previously worked at Express Online. He is a graduate of Brunel University. Languages: English.
You can get in touch with Gerrard by emailing g.kaonga@newsweek.com.