New Yorker Confronts Workers Catcalling Her at 8:30am Saying 'I Have Pepper Spray'
A New Yorker has been praised for confronting men who catcalled her as she walked alone one morning, defiantly telling them "I have pepper spray."
While the practice is nothing new on the streets of the Big Apple, one woman, Riana Singh, an account executive, decided to take matters into her own hands.
Singh shared a clip to TikTok at the end of last month, which she captioned: "Tired of the bulls*** so I respectfully gave them a piece of my mind."
The clip has been viewed more than a million times, as Singh explained in the on-screen caption: "I called out the workers who catcalled me today in NYC... here's how it went."
The 26-year-old was filming as she went about her daily business, with her Instagram saying her account is dedicated to the "daily adventures as a 20something yr old lifestyle blogger."
But as she walked past a group of men wearing hi-vis jackets, in midtown around 5th Avenue and 35th Street, she captures one of them saying "damn baby." This time she didn't let it slide, as she turns back and challenges him.
She says: "Do you think that actually works? Does it look like I want to have someone talk to me right now?" He's seemingly taken aback, and she repeated herself saying: "I just said does it look like I want to have someone talk to me right now.
"Like saying damn baby. Like do you guys have children or daughters, because if I had a daughter, I wouldn't want some man at like, what is it 8:30 a.m., to go up to her when she's by herself.
"She probably feels like there's not a lot of women on these streets, it's like kind of uncomfortable. So I like, appreciate the work you guys do, like you guys are building the city literally, but I just don't want someone to say damn baby to me in the morning like that."
As she's talking there's a chorus of "you're right," "that's cool" and "okay alright" from the men, as they seem suitably chastised.
But Singh drives home her point, warning them: "So if you could take that and maybe implement that in your life, that would be amazing because a lot of women are fearful for their lives when they walk the streets and I want them to be safe.
"Like I have a taser and pepper spray and I don't want to use it."
Singh told Newsweek she'd just finished her morning coffee, and was heading to Madison Square Park to read a book before starting work.
She explained: "I started recording because I was walking down a street that had a large number of construction workers and I had a feeling that someone was going to talk to me because as I was approaching a group of three workers and they were all looking in my direction, hence why I pulled out my phone to record the interaction in case something was said.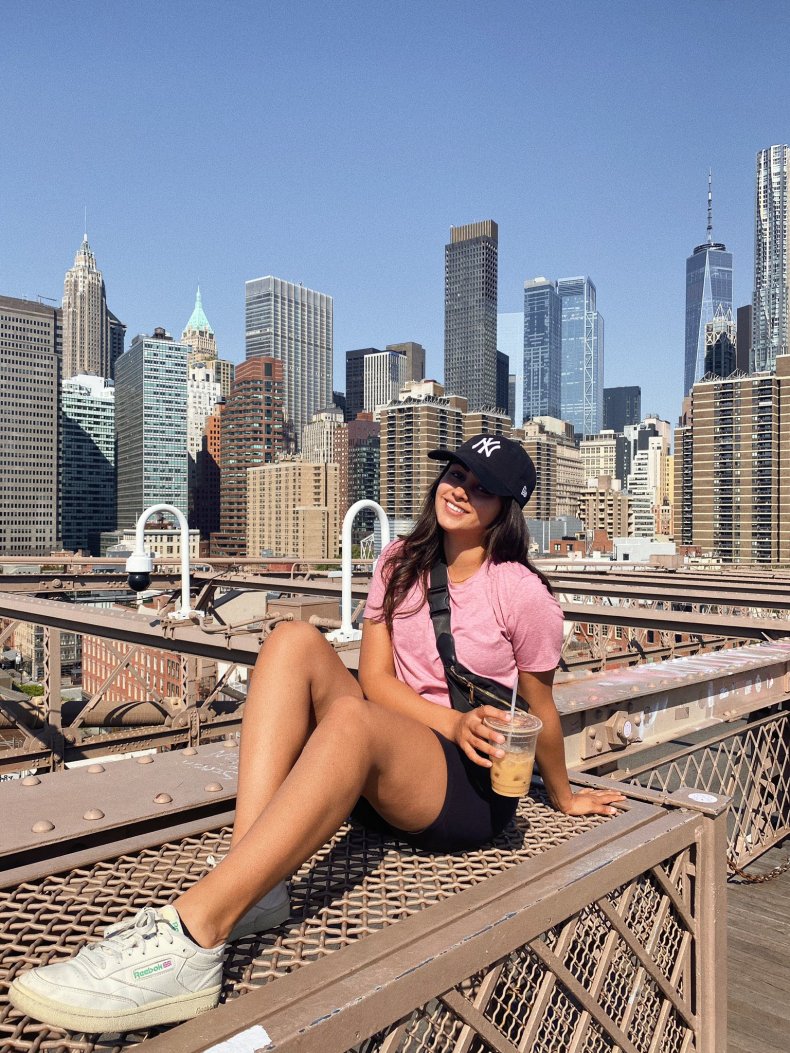 "Unfortunately it does happen to me a lot. Especially because I am generally alone early mornings when I go on my coffee walks, and the city tends to be a bit quieter before 8 a.m."
Singh says on that particular day she was "fed up" with being catcalled, adding she'd been in a similar situation the day before with a truck driver, which is why she confronted the trio.
Singh explained: "Before I have shrugged off similar comments, or yelled back an occasional 'gross,' but for the most part I have not engaged.
"I was just feeling fed up with feeling helpless when I walked alone on the streets, and became tired of hearing the same advice of 'keeping my head down' and 'just ignore it.' I didn't want to pretend I didn't hear the words and notice the looks."
And it seems she got their attention, adding: "Two of them had their jaws dropped the ENTIRE time! The one who said 'damn baby' looked so shocked that I turned around to say something... he was definitely not expecting it. The man who was responding back to me was the visibly eldest one in the group, and he seemed apologetic for the action of his peer. He was also the one who mentioned he has two kids and wants women to feel safe on the streets."
Ultimately she's proud of herself, but says she wouldn't do it again, and hasn't walked down the same street since.
"I was proud of myself that I somewhat eloquently, and calmly, responded back to the men and shared why what they did was wrong. What I really feel proud of is the strategy I put forward, and my talk track of hopefully taking a different approach to get through to them.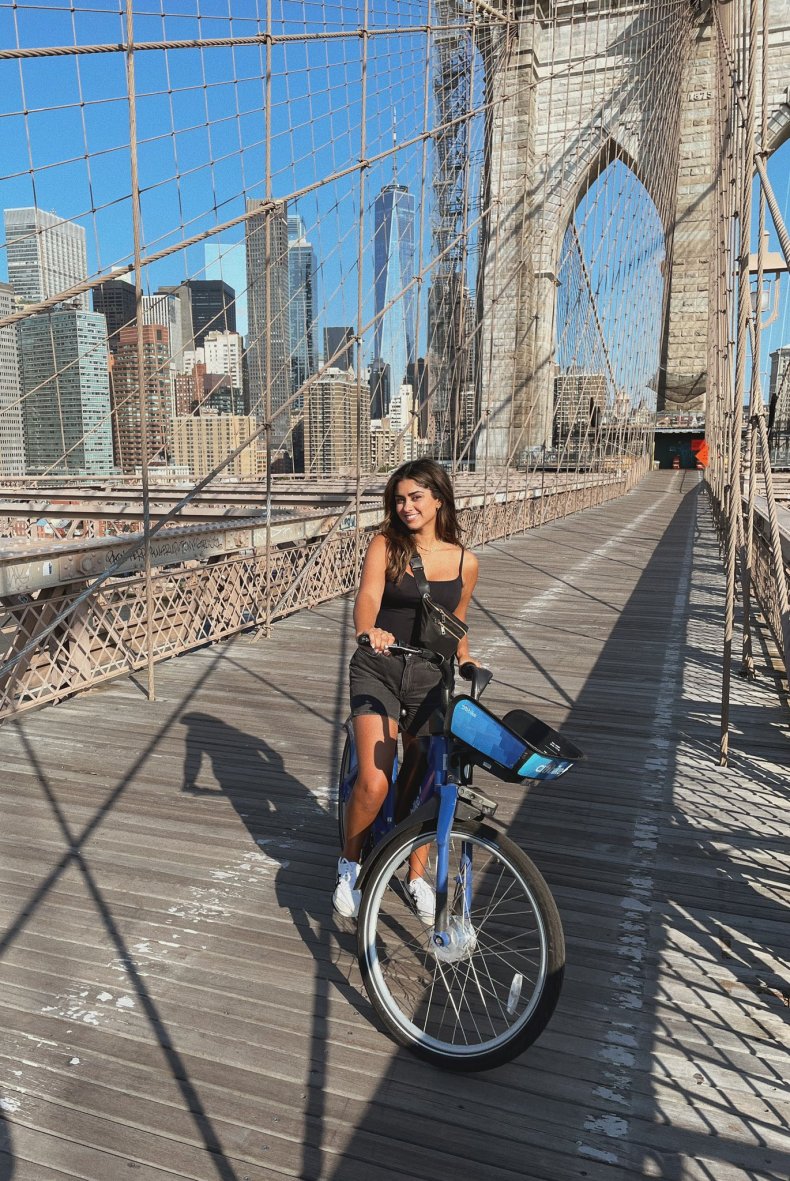 "It was a very emotionally exhausting experience, and I don't think I would do it again. While I have zero regrets of how I handled it, I know that not all people could be as receptive as the group of three were, and there are also safety concerns to think about too," she said on reflection.
Singh, who has lived in New York for four months, revealed she welled up due to the experience, saying: "I shed a few tears after I left the conversation. Half because I was shocked it happened and the other half because I was proud of myself."
In the comments some women claimed they'd be "scared to do this," to which Singh replied: "Completely understand. I mainly did this because it was during the day, lots of people around and I had pepper spray."
While Singh confirmed she was only carrying pepper spray, not a taser, both weapons are legal in New York.
She told Newsweek: "I had just pepper spray and a birdie alarm with me that day, and I kind of freestyled saying I had a taser (I think that was just the nerves kicking in.) I try to take them everywhere I go, unless I am with my partner then I do not feel I need the products as much."
The New York City handgun laws state: "U.S. District Court Northern District of New York has Ruled that Stun Guns and Taser Ban in N.Y. Pen. Law 265.01 (1) is Unconstitutional. Handgunlaw.us was hearing that NY would make rules concerning the Possession and Carrying of these devices but has seen no attempt by NY to do so. NYC Administrative Rule 10-135 would be Unconstitutional also. So possession and carrying are legal until/if New York makes Administrative Rules governing their possession and carrying."
And the website for Oswego, the state university of New York, confirmed: "Penal Law Sections 265.20 and 270.05 have been amended to permit persons over the age of 18 years, and who have not been convicted of a felony or a crime of assault, to purchase and possess a self-defense spray of a type authorized by regulations of the department of health... Any spray containing tear-gas remains illegal."
Numerous people praised her bravery in the comments, with Becca saying: "We shouldn't have to ask them if they have wives or daughters to get our point across. We really have to do that? No."
Jenarae thought: "This was amazing and I was so annoyed that it seemed like they were almost not listening and just brushing it off."
Prem Tripathi raved: "That takes some serious determination, good for you! There is no place for this obnoxious behavior."
"Wow thank you for standing up for yourself and for all of us," Chelsey Amaro commented.
While Kara added: "The fact that you even thanked them for the work they did after they harassed you. You are too kind and I'm so proud of you."
Update 8/5/21, 4 a.m. ET: This article was updated with comment from Singh.