New York mayor Bill de Blasio has said those who want access to the best his city has to offer need to prove their vaccination status.
Coming fully into force next month, those who want to eat inside, go to the gym or visit a theatre in the Big Apple will need to show that they have received at least one dose of a vaccination.
In a press conference Tuesday, de Blasio promoted the Key to NYC Pass, which while not being touted as a vaccine passport, is believed to be the first such scheme in the U.S.
As of Wednesday, around 28.2 per cent of adults in New York are still not vaccinated, which is similar to rates across the U.S. and the initiative to nudge people towards COVID-19 jabs will start in the next couple of weeks.
"It's time for people to see vaccination as literally necessary to living a good and full and healthy life," the mayor said.
Here are some of the key points of de Blasio's plan:
What Is the Key to NYC Pass, and How Does it Work?
Not a specific document, the Key to NYC Pass is simply the policy of requiring proof of vaccination for workers and visitors to venues such as restaurants, gyms and theatres.
To gain entry, people can provide the NYC Covid Safe app, which stores an image of a person's vaccination card.
They can also show New York state's Excelsior app which confirms full vaccination status against city and state records, although the app has been criticized for its technical glitches.
The Centers for Disease Control's (CDC) paper vaccine card is also acceptable.
The mayor has not announced how the city will deal with vaccinations like AstraZeneca or Sinovac, which may be common among international tourists.
Children who are younger than age 12 will be exempt from the rule because they are not eligible to be vaccinated.
De Blasio emphasized that the city is "going to open up to you" for the vaccinated while those who are unvaccinated, "will not be able to participate in many things."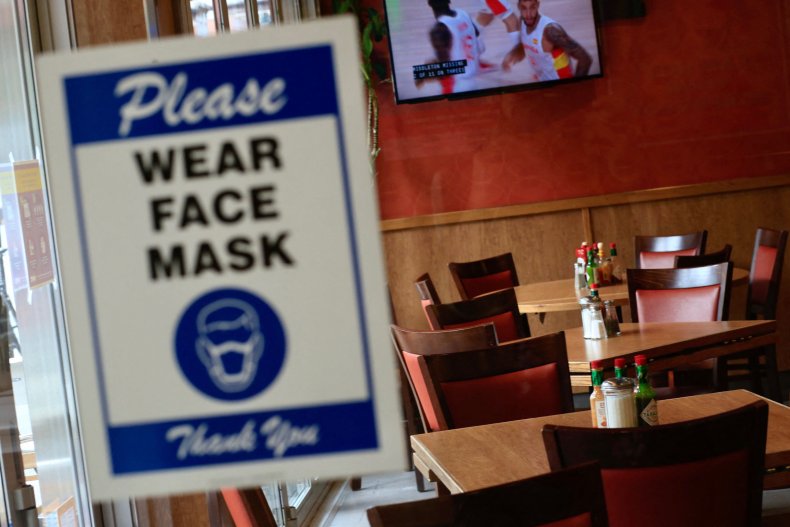 When Does it Come Into Effect?
De Blasio said the details of the policy were being fine tuned and would be announced and implemented in the week of August 16 and start in earnest four weeks later.
This, in his view, would allow time for feedback, educate people about the scheme, as well as liaise with businesses and "making sure everyone understands the new approach."
The New York Times reported the city will issue a health commissioner's order and a mayoral executive order to legally put the vaccine mandate in place.
Full enforcement and inspection will start the week of September 13, which will be the first full week after Labor Day, when schools are expected to go back and when activity in the city will be on the up.
How Have Businesses Reacted?
There has been a mixed reaction to the move even though there is broad support for increased vaccinations.
The National Restaurant Association said verifying vaccination status was not like checking a customer's ID before serving them a drink.
"Without training, our staff members are expected to check the vaccine status of every customer wanting to eat inside the establishment," said Larry Lynch, the association's senior vice president of science and industry.
Tilman Fertitta, chairman and CEO of Landry's, which operates several restaurants in New York City, criticized the plan being announced before it was finalized. "They should not have told us what we're doing until they laid out how we were going to do it," he told CNBC.
However, Manhattan restaurant owner David Burke backed the plan, telling Fox Business in a statement that "if this is one of the ways that is going to keep us from getting shut down, fabulous."
Meanwhile, the NYC Hospitality Alliance said in a statement that the mandate "will be a very difficult step and controversial for some."
"However, it may ultimately prove an essential move to protect public health," it said, adding that would ensure New York did not have to bring in new occupancy restrictions and shut down orders that "will again devastate small businesses and workers."
Newsweek has contacted the New York City mayor's office for comment.