A New Yorker has shared a glimpse of the Sex and the City reboot—including Carrie's outfit—as filming takes place on the streets of the Big Apple.
The 10-part series was officially confirmed at the beginning of the year, when the three returning leading ladies—Sarah Jessica Parker, Kristin Davis and Cynthia Nixon—shared a video to Instagram. Reminiscent of the original six seasons, which aired from 1998-2004, a typewriter spelled out "And Just Like That," which was revealed as the name of the series, after the iconic SATC was ditched.
While Samantha Jones, aka Kim Cattrall, won't be returning to the cast, some things are the same—namely incredible outfits on the streets of Manhattan. In the original seasons, and films, Carrie's wardrobe was iconic, from the Christian Dior Daily dress to her bird-like fascinator when Big jilted her at the altar.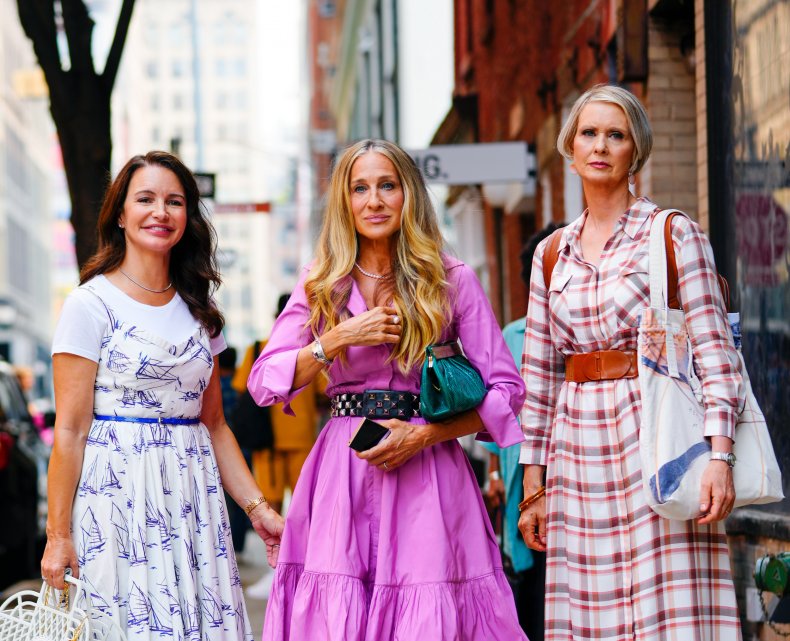 And nothing has changed, as Carrie pranced along the sidewalk in a purple shirt dress, thought to be from Carolina Herrera, which she teamed with a trademark clutch, in green, and black stilettos. While she was sporting the same belt that she wore in the Sex and the City movie.
Miranda wore a floor-length brown plaid dress, which she teamed with a brown leather belt, bag and wedges. While mom Charlotte wore a floaty dress adorned with a boat print, with a white T-shirt worn underneath, which she teamed with a white cage bag and matching sandals.
A New Yorker apparently caught a glimpse of the trio filming a scene right outside their house, as Parker, 56, strutted along a street rigged with cameras and lights. She turns a corner and runs into a café, where Nixon, 55, and Davis, 56, can be seen waiting, before it appears as if the scene is cut, as Parker stops dead in her tracks.
The fan, called Tygerlily, shared a clip to TikTok on Tuesday, and added the original theme song to the footage. "And just like that... Carrie Bradshaw was outside my window," the fan captioned the video, which can be watched here. It has been viewed nearly 4 million times.
She added a follow-up clip, showing Nixon and Parker waving from the window of the café, although it's not clear exactly who they spotted. Numerous people raved over the sighting, as they shared nostalgia from 20 years ago.
DD admitted: "I literally thought it was a lookalike at first. . . not the real deal!"
"The dress. The walk. The bag," gushed Giana Patterson.
Stellato Sweeta commented: "Cannot wait for this series. Samantha or not, I'm still supporting and probably going to enjoy just as much. Nostalgia and escapism."
Lauren admitted: "This music always gives my brain a crumb of serotonin."
While Kay added:" You just gave us all an exclusive sneak peek."
The hotly anticipated series, which is to consist of ten 30-minute episodes, doesn't have a release date yet. As well as Miranda, Charlotte and Carrie, other familiar faces returning are Big, played by Chris Roth, and Stanford Blatch, played by Willie Garson.
And Big's second wife Natasha, portrayed by Bridget Moynahan, has also been spotted on set, prompting speculation of a juicy storyline involving her.
As filming gets underway fans have been treated to glimpses of the iconic New Yorkers, as Parker shared an official shot from the set earlier in July to her Instagram.
And in the teaser clip shared back in January, she captioned the post: "I couldn't help but wonder... where are they now?"
The show, an adaptation of the book of the same name by Candace Bushnell, was a smash hit when it first aired, as it followed the ups and down of four 30-something women dating in New York.
Carrie, who wrote a sex column, narrated the episodes. The show picked up a slew of awards in its six-year run, including eight Golden Globes and seven Emmy Awards.
Newsweek reached out to Tygerlily for comment.