New Yorkers March on the Brooklyn Bridge in Response to String of Anti-Semitic Incidents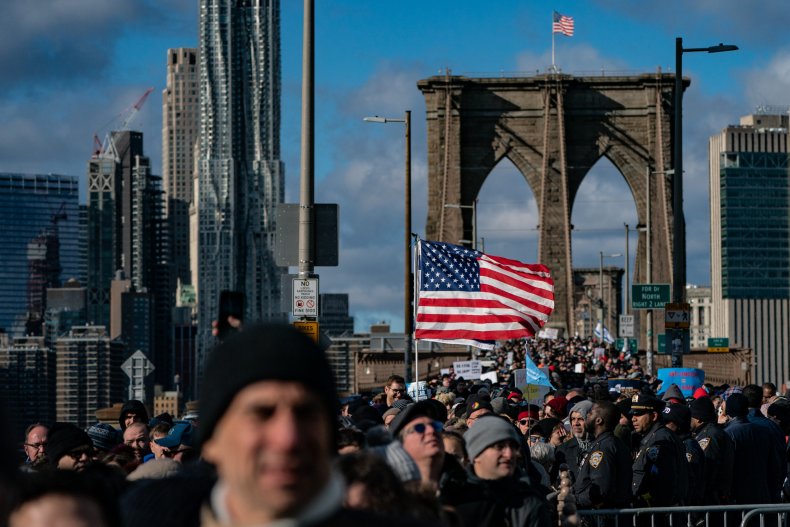 About 25,000 people marched on the Brooklyn Bridge on Sunday in solidarity with the New York area's Jewish community, which has seen several anti-Semitic attacks over the past few weeks.
Called the No Hate. No Fear. march, the event was organized by the UJA-Federation of New York in response to a string of recent attacks apparently targeting Jews. Among those incidents was the December 28 stabbing of five people as they attended a Hanukkah celebration at a Hasidic rabbi's house. Prior to that, an attack on December 10 at a kosher deli in Jersey City, New Jersey left three civilians dead.
The march began around 11 a.m. at Foley Square in Manhattan and ended with a rally at Cadman Plaza in Brooklyn, reported local TV station WPIX. The crowd numbered about 25,000, according to the New York Police Department.
According to Michael S. Miller, the executive vice president and CEO of the Jewish Community Relations Council of New York, the march drew "thousands upon thousands of New Yorkers [and] Jews who have come from across this country and from around the world," to say they were opposed to hateful acts and fear-mongering in their community.
USA Today reported that the march consisted of members from many different groups. Among them were the Anti-Defamation League, IfNotNow, the New York Board of Rabbis, the American Jewish Committee, and the Pentecostal Church of Jesus Christ in Brooklyn.
"We are here because we believe strongly about the need to create awareness of anti-Semitism," Carole Benson of National Jewish Council of Women said. "It affects not only us, but everyone."
New York Governor Andrew Cuomo spoke to the crowd before the march commenced. In his speech, he decried anti-Semitism and racism as "anti-American" and contrary to the values of New York City. The governor said it was the government's duty to protect the people of the state, and that effective policy—not just thoughts and prayers—were needed to do that. Therefore, he explained that he would be working toward the implementation of some new policies to combat hate and keep people safe.
Cuomo told the crowd that he plans to propose a state law that would classify hate crimes as domestic terrorism. He also said the state would increase the presence of the state police and hate crimes task force among "vulnerable communities," and collaborate with schools and houses of worship to ensure that hateful sentiment does not bubble up in them.
"We are going to work with schools all across this state to make sure our young people are educated on our history and our diversity and the strength of that diversity," he said. "We'll be working with faith leaders—because from every pulpit, every podium to every congregation in this state, we have to be condemning these acts."
Additionally, Cuomo said that New York would make $45 million available to non-public schools and religious institutions, so that they could augment their security.
New York Senator Chuck Schumer also delivered remarks, saying that he would propose $360 million to protect houses of worship and another $100 million "to help coordinate with local police groups to fight hate crimes."
Among the participants at the march included New York Congresswoman Alexandria Ocasio-Cortez, who tweeted her solidarity with the Jewish community: "It was truly incredible this morning to join thousands of New Yorkers coming together against antisemitism and in active fellowship, allyship, and support for our Jewish brothers and sisters."
The city's mayor, Bill de Blasio, tweeted Sunday in regards to the march:
"We're facing an anti-Semitism crisis, and not just in this city. It's happening across our country and planet. We can't ignore it or hide from it — we have to confront it. We have to stand in solidarity with our Jewish community and reject hate with one clear voice," he wrote.