Outrage at Bar Offering Corona Beer Deals During Coronavirus Outbreak Caused by 'Snowflakes,' Says Owner
A bar in New Zealand has dismissed accusations on social media that it was being flippant about the deadly coronavirus outbreak, by offering a promotion on Corona beers "while the pandemic lasts."
The death toll in China from the disease has risen to 132 and the number of confirmed infections has gone up to 5,700. There have been five cases in the U.S. and others confirmed in over a dozen other countries, according to USA Today.
For some Facebook users, the tone of the advertisement by The House on Hood bar in the North Island city of Hamilton, about 70 miles south of Auckland, jarred with the seriousness of the disease, which has put a number of cities in China into lockdown.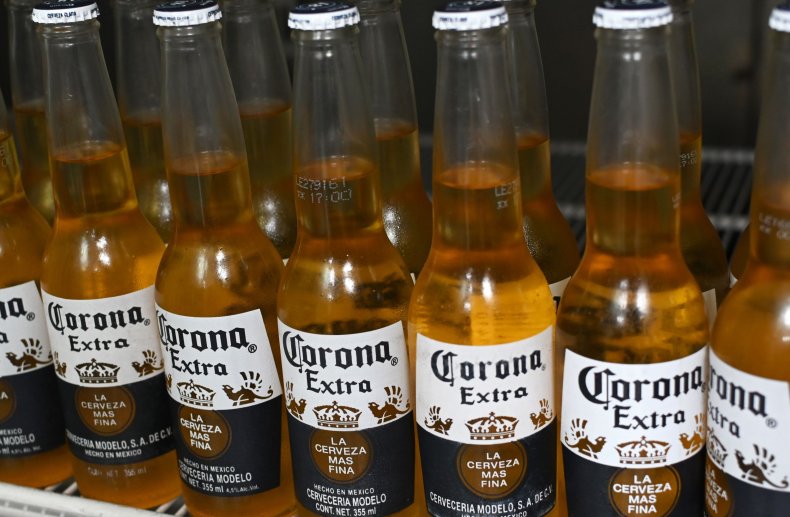 The advertisement on its Facebook page shows two men in medical suits and masks holding up bottles of the renowned Mexican beer, with the slogan, "Catch some Corona at House this summer, just [6.50 New Zealand dollars ($4.20)] every day while the pandemic lasts."
On its Facebook page, it added the message: "Virus or no virus, we still think Coronas are pretty great...Mention your Corona-loving mates to let them know about this great deal and you could be sharing a free one-metre pizza this Friday at House."
The advertisement has got considerable traction in New Zealand, which has not yet been hit by the virus, with over 500 people posting messages of discontent underneath the ad as of Wednesday.
Greg Bowden wrote: "Living in Asia, many of my clients are Chinese and I can assure you it's nothing to joke about. Sure, I get it. It's a small and harmless play on words to almost everyone who reads it in NZ because you are so far removed from the situation, for now.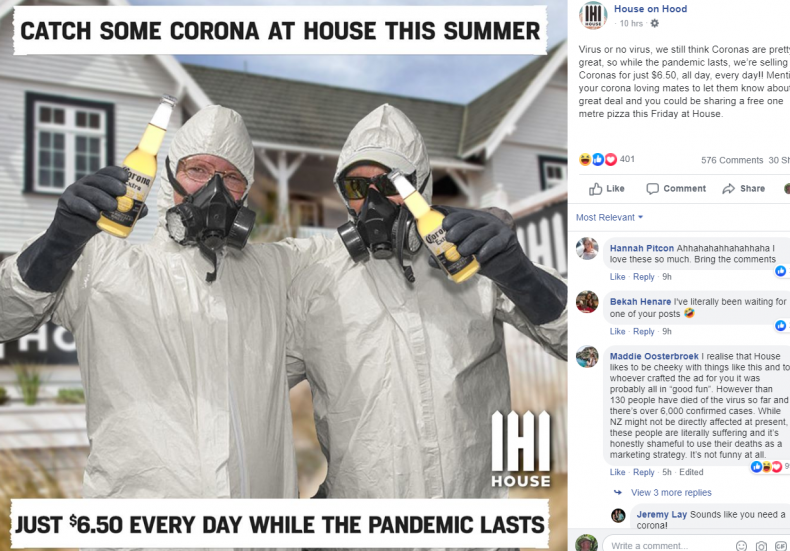 "What if some foreign bar started "jokingly" making fun of the Christchurch shooting. How would you feel about that?" he added.
Maddie Oosterbroek wrote: "While NZ might not be directly affected at present, these people are literally suffering and it's honestly shameful to use their deaths as a marketing strategy. It's not funny at all."
Another wrote: "Didn't like at all. Worst advertisement ever...you guys are making fun of it..shameful marketing."
There was also some praise though, with one person labelling it the "best marketing ever" and another saying, "Love it! Pure genius."
Newsweek has contacted the House on Hood bar. The drinks company Lion, which is the New Zealand distributor of Corona told Newsweek in a statement it "was unaware of the promotion prior to it launching and we do not condone it.
"We will be asking that it is discontinued," it added.
Meanwhile, John Lawrenson, CEO of the Lawrenson Group which owns the bar, defended the advertisement.
In a statement to the New Zealand Herald, he said: "The great thing about living in today's society is that there is a small but loud minority of people who get offended by everything and I can always rely on them to get triggered.
"So I'd just like to say thanks to all the snowflakes for the free advertising and thanks to everyone else with a sense of humour who liked the post."
This story has been updated to include a statement to Newsweek from the beverage company Lion.