Kindergarten Teacher Blasted for Not Caring for His Own Newborn: 'Poison'
The mother of a five-week old baby whose partner allegedly refuses to help look after their daughter has received a storm of support from users on Mumsnet.
In a post shared on the online forum under the username Becca95, the new mom said her baby has colic, a condition where a healthy baby cries continuously for no obvious reason, most common during the first six weeks of life.
"She's in pain and I can't help her, all I can do is cuddle her," the mom said, explaining that her partner of eight years - a teacher who currently has eight weeks off work, "won't take turns in the night" to help cuddle the baby. "When he does he's mad that I've asked him to," she said.
Waking up in the afternoon, her partner allegedly declines to help when the mother asks him to prepare the baby's bottle, feed her or watch her, stating he "he needs his breakfast" or he "spends ages washing up."
One day, when the mom had been up with her "unsettled" baby since 6am, she asked her partner if he'd "mind watching her [as] I've not had a coffee or anything to eat" at 3pm.
He allegedly replied: "I want to go to Tesco [a supermarket chain in the U.K.] before it closes..."
The mom then said: "Right, I'm going to Costa [the coffee shop]...alone," but stood outside the house with her coffee in a flask instead for an "agonizing" 55 minutes.
The user went back into the house to find her baby "inconsolable" and cuddled her, telling her partner "she can pick up on this toxic environment," to which he allegedly replied, "she would do when her mum [mom] f**ks off for 3 hours."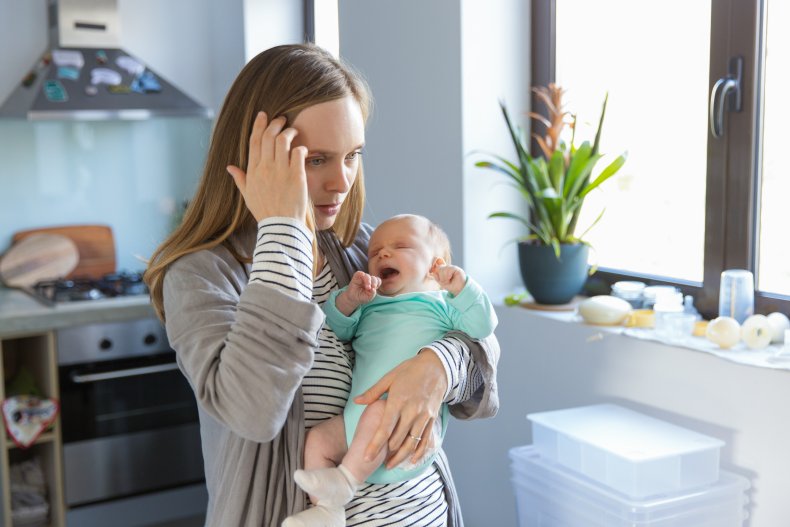 According to the mother, the partner later said that if she's "going to complain about it," she "[shouldn't'] have become a mother," adding that she "wasn't ready to be a mother."
In a later post, the mom said it was her partner "who initially wanted to try for a baby. I'm 27 and he's 40 and was worried about his age."
The mother told her partner to leave and said: "When I stop needing you it's one thing, but when she stops needing you [you're] nothing but a squatter."
The partner allegedly replied: "If you want someone who goes out and cheats or slaps you about then go and get it, it could be worse."
Newsweek has contacted the original poster, Becca95, for comment.
According to the American Psychological Association, research across families from all ethnic backgrounds suggests that "fathers' affection and increased family involvement help promote children's social and emotional development."
A 2016 Pew Research Center study found that most Americans (71 percent) believe it's "equally important" for newborns to bond with their mother and their father. Around a quarter (27 percent) said it's more important for new babies to bond with their mothers, while two percent said it's more important for them to bond with their dads.
A February 2021 study of first-time fathers in the U.K. with a child under the age of two, published in the peer-reviewed journal Healthcare, found that the men were "highly appreciative of the care their partner and baby received but consistently reported a lack of father-specific support throughout their journey to fatherhood.
"This ranged from generally poor communication with healthcare professionals to being ignored and side-lined in maternity settings where they continued to be treated as visitors before, during and after the birth of their baby," the study said.
Several users showed support for the new mom in the latest Mumsnet post, while criticizing the "awful" and "inconsiderate" father.
One user said: "All honestly, sounds like he's being super inconsiderate and is making you feel guilty for even asking for help?..."
Another wrote: "He sounds like a dick. You may as well be a single parent if that's his attitude! You got this, you don't need an extra baby to look after."
A third added: "...basically your husband sounds awful!"
And a fourth agreed: "He's a complete pr*ck. You need to be kinder to yourself in terms of making sure you get enough to eat and drink..."
If you have a similar family dilemma, let us know via life@newsweek.com. We can ask experts for advice, and your story could be featured on Newsweek.