Newsmax Anchor Apologizes to MyPillow's Mike Lindell For Storming Off
A Newsmax anchor has apologized for storming out of an interview with MyPillow CEO Mike Lindell, blaming confusion over the topic of the segment.
A clip of Bob Sellers went viral this week after he left a live interview segment with fervent Donald Trump supporter Lindell, who insisting on talking about election voter fraud.
In the footage, Sellers becomes increasingly frustrated with Lindell, who repeatedly raises his voice while talking about the election, despite the anchors trying to discuss the topic of his Twitter ban and cancel culture.
At one point, Sellers appealed to the show's producers, asking: "Can we get out of here please?"
He continued: "I don't want to have to keep going over this. We at Newsmax have not been able to verify any of those allegations that you're..."
Lindell claimed both his personal Twitter account and his MyPillow business account were banned because he has "100 percent proof" of voting fraud during the presidential election.
The clip already has 10.2 million views.
However, Sellers has now addressed the controversy and called Lindell a "friend" of the network.
"If you watched American Agenda yesterday, you may have seen something out of the ordinary happen during an interview with Mike Lindell, the CEO of MyPillow," Sellers said on Wednesday afternoon. "Mike is a friend of this network, and we were supposed to discuss Twitter's decision to ban him and the impacts of cancel culture on his business."
He blamed the incident on confusion over the discussion's topic—voter fraud or cancel culture.
"Mike thought that we were to talk about vote fraud in the recent election. It's a topic we have covered extensively on Newsmax," the host said.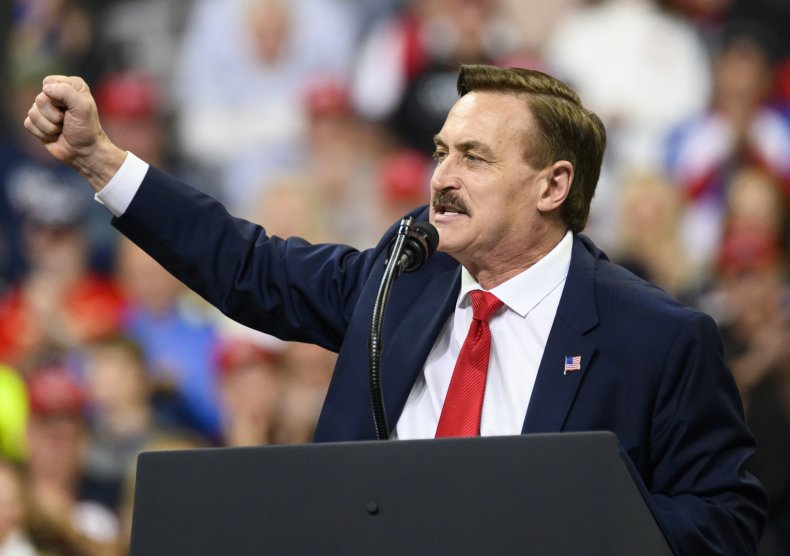 "I was frustrated that we couldn't focus on the current, very pressing issue of free speech and cancel culture and, in hindsight, there is no question that I could have handled the end of the interview differently," he added.
"We at Newsmax have not been able to verify any of those kinds of allegations," Sellers said as Lindell again spoke out against Dominion on his show. "We just want to let people know that there's nothing substantive about them."
During an appearance on Fox News' Tucker Carlson Tonight on January 26, Lindell made baseless claims that Dominion Voting Systems had "hired hit groups and bots and trolls" to get him "canceled."
Retailers including Bed Bath & Beyond, Kohl's, H-E-B and Wayfair have stopped stocking MyPillow products.