California Gov. Gavin Newsom has expanded a drought emergency in the nation's most populous state as officials fear a dry spring could lead to another devastating wildfire season.
The Democratic governor's April 21 emergency declaration now applies to 41 of California's 58 counties, covering around 30 percent of the state's nearly 40 million residents. According to the U.S. Drought Monitor, much of California is experiencing an "extreme drought."
At Monday's announcement, Newsom said he was acting to address "acute water supply shortfalls" in the state, and called on Californians to do their part by conserving water.
"With the reality of climate change abundantly clear in California, we're taking urgent action to address acute water supply shortfalls in northern and central California while also building our water resilience to safeguard communities in the decades ahead," Newsom said.
"We're working with local officials and other partners to protect public health and safety and the environment, and call on all Californians to help meet this challenge by stepping up their efforts to save water."
Rep. Jim Costa, a California Democrat, accompanied Newsom to the news conference at the San Luis Reservoir.
"This is a bad situation that with climate change is only getting worse," he said. "We're staring down at what could be disastrous summer and fall, with the potential of communities running out water and fires."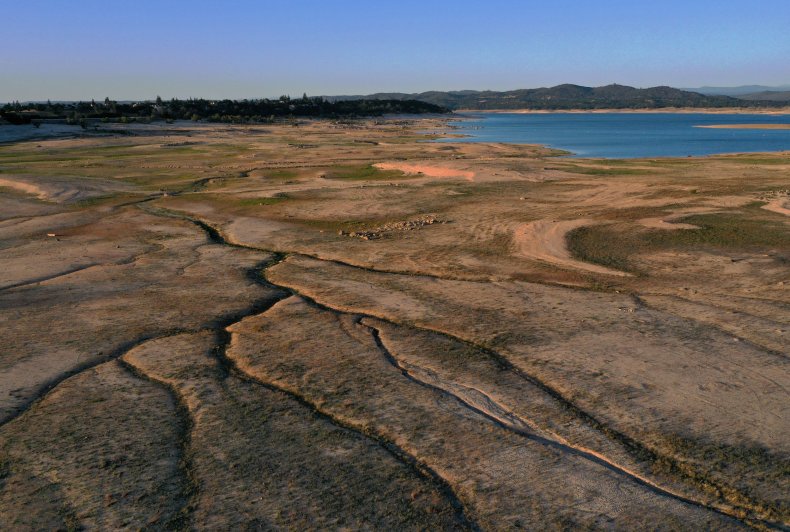 Newsom on Monday also proposed spending $5.1 billion on water projects over four years, as well as another $1 billion to help Californians pay overdue water bills.
Th proposing spending plan has been shaped by lessons learned during the 2012-2016 drought, Newsom's office said.
It includes $1.3 billion for drinking water and wastewater infrastructure, with a focus on small and disadvantage communities.
Other projects would tackle groundwater cleanup, help farmers reduce irrigation water use, and improve water supply security, among other things.
"This expanded #drought declaration should have happened weeks ago," former Congressman Doug Ose tweeted Monday.
"Playing politics like this with people's livelihoods doesn't do anybody any good."
Ose, a Republican, is running to replace Newsom in a fall recall election that was partly triggered by growing frustration over his handling of the coronavirus pandemic.
But Newsom's fortunes could be boosted by a $100 billion economic recovery package, dubbed the California Comeback Plan, that is proposing direct payments of up to $1,100 for a majority of Californians.
Newsom's plan will expand the Golden State Stimulus program to middle class families, so two-thirds of Californians will receive a stimulus check of at least $600, according to his office.
Taxpayers making up to $75,000 a year would get a $600 direct payment. An additional $500 would be spent to families with dependents, including undocumented families.
Another $7 billion in aid would also be made available for those who need help paying rent or utility bills under the plan.