Newsom Issues Stricter COVID Measures After Supreme Court Tells Judges to Review California Limits on Places of Worship
California Governor Gavin Newsom announced a regional stay-at-home order on Thursday as the state reported an additional 18,591 confirmed cases of COVID-19, according to the state's department of health.
The governor's new plan goes into effect for California regions where ICU capacity falls below 15 percent. Residents in those areas will be expected to remain home for three weeks as bars and personal care services close. Restaurants will move to takeout only and retail will operate at 20 percent capacity.
Although no areas in the state currently face such a serious hospital conditions, health officials said some regions could hit the threshold as soon as this week.
As of December 3, California has reported more than 1 million coronavirus cases and over 19,000 deaths.
During a Thursday news conference, Newsom said that a thousand Californians have lost their lives to the virus in the last 14 days.
"We are pulling that emergency brake," Newsom said.
"If we don't act now, our hospital system will be overwhelmed," he added.
Los Angeles is already under a strict lockdown from Mayor Eric Garcetti who prohibited public and private gatherings of people from more than one household on Tuesday. Residents have been ordered to refrain from participating in all nonessential activities.
Despite Supreme Court rulings in the past week against statewide limits, Newsom does not seem to plan on easing up on his coronavirus restrictions.
Hours before he announced the introduction of his regional stay-at-home plan, the Supreme Court ordered federal judges in California to reexamine the governor's capacity limits on indoor worship services.
Pasadena-based Harvest Rock Church had asked the court to overturn Newsom's prohibition on indoor worship, arguing it unconstitutionally impaired religious liberty.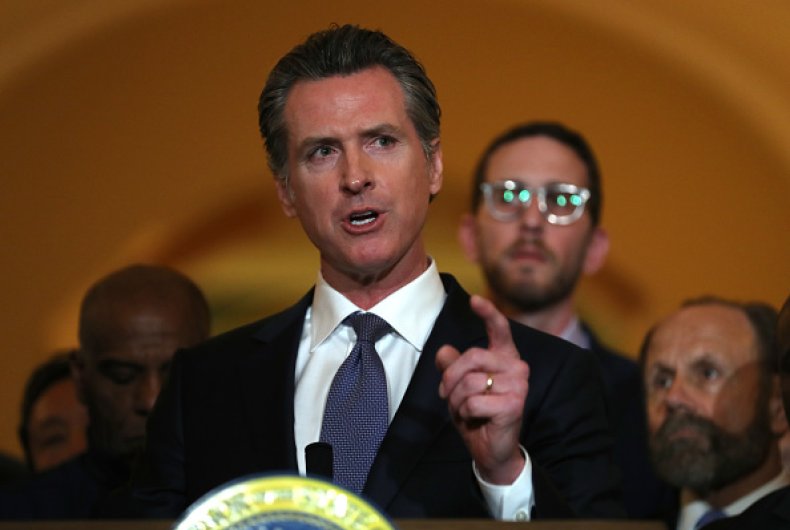 A week ago, Justice Amy Coney Barrett played her first decisive role since her confirmation to the Supreme Court, joining the majority in a 5–4 decision that lifted restrictions on churches and synagogues in New York City ordered by New York Governor Andrew Cuomo.
In a brief, unsigned order, the court told California judges on Thursday to reconsider Newsom's limits on worship services, which are even tighter than Cuomo's.
The order comes at odds with earlier decisions made concerning churches in the state. In late May, with Justice Ruth Bader Ginsberg still on the bench, the high court rejected a similar religious liberties challenge. Chief Justice John Roberts cast the deciding vote allowing state officials to issue capacity limits to restrain the coronavirus pandemic.
Under Newsom's new lockdown announcement, religious institutions would be limited to outdoor services only.
The governor said he would divide California into five geographic regions—the Bay Area, Southern California, Greater Sacramento, Joaquin Valley and Northern California.
Pasadena Mayor Terry Tornek told Newsweek he was disappointed by the direction the court moved in and that he supported the decision of Newsom and other state health officials.
He said the city met with religious groups early on in the pandemic to inform them about how COVID-19 may impact churches and other houses of worship.
"Early on, we met with the ministers and we talked with them about the realities of this virus and the dangers that it represented for their congregants. We've had terrific cooperation from the vast majority of the churches, large and small, in the city," Tornek said.
"They have really gone out of their way to educate their parishioners in terms of what this is about, but we have a few exceptions," he added, referring to Harvest Rock Church.
The mayor said although the governor's regulations may become stricter, he is hopeful that many worshipers will still take extra precaution when it comes to practicing their faith.
"I think frankly, most churches, regardless off what the courts have to say, will continue to observe the guidelines that we've laid out," Tornek said. "Beyond that, I think most of the public will be leery of going back inside in numbers in the way that's been suggested."
Newsweek reached out to Newsom's office for comment but did not hear back before publication.