Newsom Redirects California Heat Wave Issue by Pointing to Texas Coal Usage
In the face of a challenging heat wave in his state, California Governor Gavin Newsom called out Texas for its heavy use of coal, saying its use of the fossil fuel has worsened climate change and extreme weather events in both states.
Newsom made the remarks Wednesday in a speech outlining emergency measures he's taking in response to soaring temperatures expected to strain California's electrical grid. The Democratic governor of the nation's most populous state, Newsom responded to critics of California's embrace of renewable energy by pointing to Republican-led Texas' ongoing use of coal.
"In the state of Texas, year to date, they have consumed some 22.9 million tons of coal, polluting the planet, making conditions worse, impacting climate, exacerbating the very conditions they're trying to mitigate in terms of their energy reliability," Newsom said.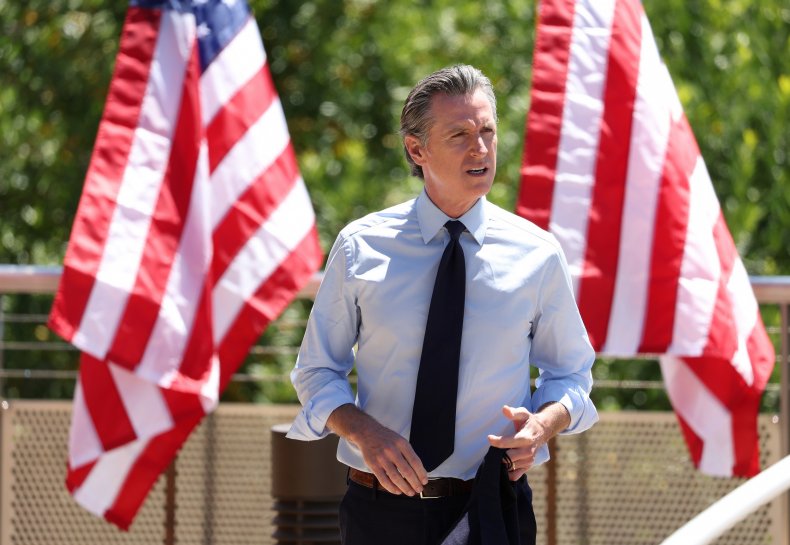 California, by contrast, had consumed just 18,000 tons of coal during that time period, Newsom added.
Large swaths of California are expected to face blistering temperatures over 100 degrees over Labor Day weekend, with the National Weather Service forecasting that some areas could break heat records.
In response to soaring temperatures, the California Independent System Operator (ISO), the state's grid director, issued a "Flex Alert" from 4 to 9 p.m. Wednesday. The alert asked Californians to voluntarily conserve energy in response to high electricity demand, primarily for increased use of air conditioners.
ISO warned a day earlier of coming Flex Alerts, drawing criticism from conservatives saying that the state was telling residents not to charge their electric cars days after regulators banned the sale of new gas-fueled vehicles by 2035.
During his speech Wednesday, Newsom stressed he didn't intend for his remarks to "demean" and that he was "deeply empathetic to the challenges" facing other states. He said his goal was to address criticisms that California's transition to clean energy was causing the Flex Alerts.
Newsom said Texas has enacted three emergency proclamations recently and mentioned the 2021 blizzard that left large portions of the state without power.
Droughts in California have reduced the state's hydropower capacity, Newsom said, adding that to make up for demand, his administration is working with the state's industrial sector and businesses to lessen demand. For example, he said, ships along the California coast are permitted to keep their engines running to avoid consuming energy from the state grid.
Newsom pointed to California's ongoing issues with droughts as well as floods that have struck places from Missouri to Pakistan as evidence of climate change.
"We, all of us, have been trying to outrun Mother Nature, but it's pretty clear that Mother Nature has outrun us," he said. "The reality is we're living in an era of extremes: extreme heat, extreme drought."
Newsweek has reached out to Texas Governor Greg Abbott's office for comment.