Newsom's Advice for Voters to Skip Candidate Question 'Miscalculated': Recall Proponent
California Governor Gavin Newsom's advice for voters to skip the second question they will be presented with on the forthcoming recall election ballot is "miscalculated" and could be "detrimental" to the Democrat's efforts to remain in office, said one of the individuals leading the charge to remove him.
Californians will be asked to vote on two questions in the September 14 recall election. The first is whether they want Newsom to remain in office or be removed before the official end of his term. The second question asks voters which of the 46 candidates who qualified for the ballot they would prefer to replace Newsom if he is recalled.
Newsom will remain in office if more than 50 percent of voters cast their ballots in favor of keeping him. But if more than 50 percent say they want him removed, the recall candidate who receives the greatest number of votes will become his successor.
Newsom and members of his campaign have encouraged Californians to vote "no" on removing him from office and said voting on the second question regarding recall candidates is not necessary.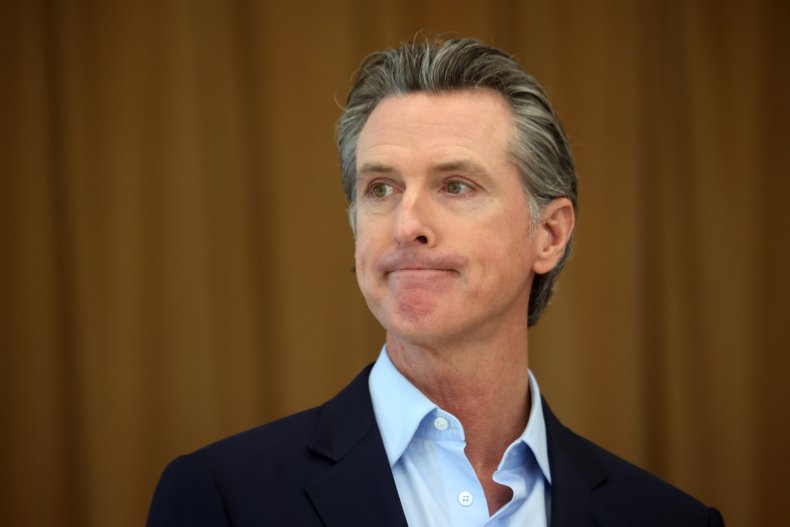 "We're just focusing on 'no' on the recall, leaving the rest blank," Newsom told reporters Monday, according to Politico.
"Leave it blank," Newsom campaign spokesperson Nathan Click said of the second ballot question, according to the Los Angeles Times. "Voting no on the recall is the only way to block the Republican power grab and prevent a Republican takeover of California."
California voters are allowed to vote on both recall ballot questions regardless of whether they want Newsom removed. As California Secretary of State Shirley Weber's office said in a tweet sharing information about the upcoming recall election, "You can vote yes or no on the recall and still vote for a replacement candidate."
Orrin Heatlie, the lead proponent of the Recall Gavin Newsom campaign, said it is "kind of surprising" to him that Newsom's team would advise voters against filling out the second portion of the ballot.
"If he is replaced, you'd think that the Democrats would want to weigh in on who they would want to replace him with," Heatlie told Newsweek on Tuesday.
While Newsom's campaign has said the recall effort is largely driven by "Trump Republicans," Heatlie and other recall advocates have disputed this characterization. Of the 46 candidates who qualified to run in the recall election, 24 are registered as Republicans, nine as Democrats, two as members of the Green Party and one as a Libertarian. Ten are listed as having no party preference. Despite the registered Democrats on the recall candidate list, the Democratic Party has largely unified behind Newsom ahead of the recall challenge.
In an article published Monday by the Los Angeles Times, Kim Alexander, the president of the California Voter Foundation, raised concerns about voter confusion with just over one month remaining until the recall election. Only one other gubernatorial recall effort in California succeeded in qualifying for a ballot, resulting in the ouster of Democrat Gray Davis in 2003.
Heatlie questioned whether the Newsom campaign's advice for voters to skip the recall candidate question could result in lower voter participation overall.
"I think that his strategy is miscalculated, and I think it's really going to be detrimental to his cause," Heatlie said. "From my perspective, I think that it would cause people to not cast a vote at all. And that may really hinder his chances of success."
As one of the people who have driven the recall petition from the beginning, Heatlie said he wants voters to support Newsom's removal from office. But for those who intend to support Newsom and vote "no" on the first question on the recall ballot, he said, they should explore all of the qualifying recall candidates and pick the one they'd most like to see in office.
"I would recommend that those people who still—after all that, would like to see him stay in office—at least, you know, look at the list of names," Heatlie said. "Educate yourself on the people that are running for governor and then pick the person of your choice to replace this governor if he were to be elected out of office."