Orphaned Baby Bear Lost in Lake Tahoe After Facility Escape
A young black bear has been missing for five days since escaping from his enclosure at a California care facility in South Lake Tahoe on February 9.
Wildlife officials are working to locate the missing animal, which they believe may have gone into hiding.
"The bear is about a year old, healthy and weighs approximately 50 pounds, has some fat reserves and survival skills so it's not in any immediate danger necessarily," Peter Tira, information officer for the California Department of Fish and Wildlife (CDFW), told Newsweek.
"His young age combined with the time of year and the winter conditions in the Lake Tahoe Basin are not ideal for an orphaned young bear such as this to be out on the landscape and we would prefer to bring the bear back into care."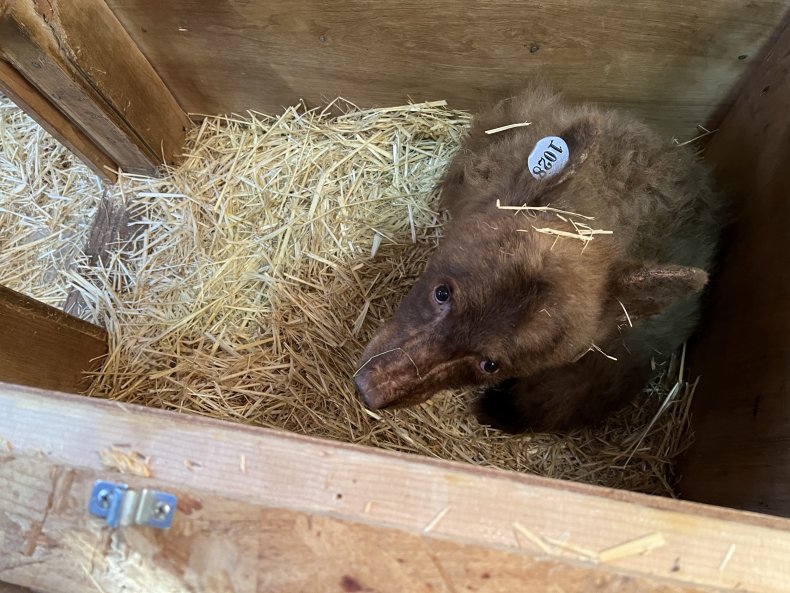 The orphaned 13-month-old bear was on its own when it was rescued from the Seiad Valley in Siskiyou County in December 2022. At the time he was too young to be on his own, and weighed only 24 pounds, Tira said. Found to be in otherwise good health, the bear has since been undergoing rehabilitation at the Lake Tahoe Wildlife Care facility and has gained around 30 pounds.
While wildlife officials had planned to eventually release the bear back into the wild, winter is not a good time for a young bear to be out on its own. "There is a great deal of snow in the Lake Tahoe Basin right now so foraging and finding food could be a challenge for a young bear such as this without a mother sow around to look after it," Tira said.
This yearling has built up enough energy reserves to last him a "good while" in the wild, Lake Tahoe Wildlife Care said in a Facebook post. The rescue center described the young bear as a "hider." "He spent most of his time solo inside his den area," the post said.
As a result, Tira said the CDFW suspects that the cub is currently in hiding and will remain hidden until he gets hungry. "At that point, it will move about in search of food and that may be our best opportunity to locate it," he said.
The bear is no risk to humans and is in fact very afraid of people. "We ask that people not approach it so as not to push the bear deeper into hiding," Tira said.
The CDFW has asked the public to keep an eye out for the young cub. However, Tira said that they were not asking people to actively hunt for the animal or form search parties. "We're asking, simply, that folks keep their eyes open for this young bear with a metal ear tag (1028) in its right ear and report the sighting either to the California Department of Fish and Wildlife at (916) 358-2917 or Lake Tahoe Wildlife Care at (530) 577-227.
"It's ideal if the reporting parties can maintain visual contact with the bear as they call to report," added Tira,
Do you have an animal or nature story to share with Newsweek? Do you have a question about bears? Let us know via science@newsweek.com.