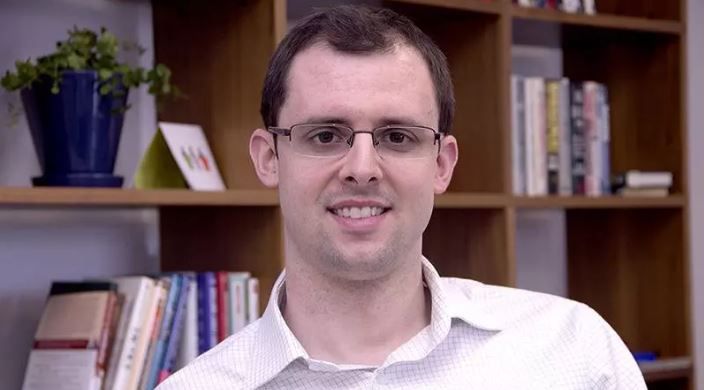 Updated | The founder of the media company that owns Newsweek has stepped down as chairman two weeks after investigators raided the company's headquarters as part of a long-term financial fraud probe.
Etienne Uzac, co-owner of Newsweek Media Group, is joined by his wife, Marion Kim, the company's finance director, who will also step down, the company said.
The announcement comes amid an ongoing grand jury investigation by the Manhattan District Attorney's office that started at least 17 months ago and appears to include an examination of the company's finances, according to sources familiar with the matter.
Uzac did not respond to requests for comment, and Kim declined to comment.
Investigators from the Manhattan DA's office raided Newsweek's offices in downtown Manhattan on January 18 and seized 18 computer servers as part of the probe. Authorities are not looking at Newsweek's editorial operation but its parent company's finances, including loans the company took out to purchase the servers, according to sources with knowledge of the investigation.
The probe is also focused on a potential "money trail" between former Newsweek Media Group executives and Olivet University, a California-based Christian college with close ties to company officials, according to the New York Post. Uzac is among four top executives with connections to the school, which has denied any link to the DA's investigation. According to federal tax records, he was the treasurer of Olivet from 2006 to 2010 and served as the school's vice chairman in 2011.
In recent years, IBT Media Inc., later renamed Newsweek Media Group, paid the school more than $2.8 million for licensing and research-and-development agreements, tax records show.
Newsweek Media Group has declined to answer questions about the district attorney's raid, as well as the Olivet agreements, saying only that "the recent visit by the DA's office was not related in any way to R&D or licensing." In a January 18 statement, the company said investigators were seeking to "obtain technical information about the servers." It added, "Consistent with its expressed policy regarding law enforcement, Newsweek Media Group, a responsible media company, will continue to cooperate with the DA's office to the fullest extent."
On Thursday morning, BuzzFeed News published a story that claimed "the publisher of Newsweek and the International Business Times has been engaging in fraudulent online traffic practices that helped it secure a major ad buy from a US government agency." BuzzFeed based some of its reporting on an outside study by a fraud-research consulting firm, Social Puncher. Newsweek Media Group later said in a statement that it has not engaged in the fraudulent activity described in the story. "The report cited by BuzzFeed News mischaracterizes Newsweek Media Group's business behavior as unethical and distorts the truth," the statement said.
Uzac grew up in France and South Africa and got the idea to launch a digital publication called International Business Times while studying at the London School of Economics, according to his LinkedIn page. He and Johnathan Davis, a UCLA engineering major, whom Uzac reportedly met through a campus Christian fellowship, started the IBT website in 2006 using money from family and friends. Uzac sold ads, while Davis was the programmer and writer, and the site was making $2 million a year by 2010, the pair told The New York Times.
IBT grew quickly from that point as Uzac and Davis sharpened their search engine optimization strategy, and traffic grew by 1,200 percent in 2010, they have said. "We can immediately see how people are finding the content, whether it's through the websites, whether there's better positioning on the front page or on the section pages," Davis told Editor & Publisher in 2012. Today, the rebranded company, Newsweek Media Group, claims to have 80 million unique visitors to its 19 websites, according to the company's website.
But questions about the company's finances have long dogged IBT Media, which bought Newsweek from IAC, an internet and media company, in 2013. The company missed payroll and laid off large numbers of employees in 2016, and in May 2017, the company was hit with a federal tax lien for failure to pay the IRS more than $400,000 in taxes. Uzac stepped down as chief executive and became chairman in July 2016, while Dev Pragad, who owned and ran Newsweek International in London, took over as chief executive of Newsweek Media Group.
Both Uzac and Davis, who still own parts of Newsweek Media Group, also appear to have large debts, public records show. The IRS filed a $1.2 million lien against Uzac in December 2017, while it filed an $800,000 lien against Davis in October that year, according to public records. Both men also have large debts to other creditors, according to the records.
In a sign of the financial struggles faced by Uzac and Newsweek Media Group, public records also show Uzac, along with the company, owe about $180,000 to a firm called Kings Cash Group LLC, which offers loans to companies with "bad credit or other blemishes on their financial histories," according to its website.
Newsweek Media Group is also facing personnel challenges. On Monday, the company placed its chief content officer, Dayan Candappa, on an immediate leave of absence in response to a news report that he was dismissed from his previous job after a subordinate filed a sexual harassment complaint against him.
The media organization said just last week that a shakeup in its leadership over the past year and a half had helped put the company on better financial footing. "Under new management, Newsweek Media Group has made a rapid recovery from the difficulties of 2016," the company said in a statement. "The company clocked up a record audience and revenues in recent months and is in the midst of an ambitious expansion of its newsroom."
This story has been updated to reflect a BuzzFeed News article on the publisher of Newsweek and the International Business Times, as well as Newsweek Media Group's statement.