Newt Gingrich Says Liberals Push 'Cult of Anti-White Racism'
Former Speaker of the House Newt Gingrich has said that liberals push "a cult of anti-white racism" and said they were a "militant minority" who had embraced openly racist views.
Gingrich, who was Republican speaker of the House from 1995 to 1999, spoke to Sean Hannity on his radio show for Premiere Radio Networks on Monday and took aim at what he described as "liberal ideology."
He was promoting his latest book, Defeating Big Government Socialism, and Hannity asked him about the House Select Committee investigating January 6, 2021 as well as riots in the summer of 2021.
"You're up against, as you've heard me say before—you know, way back in 1972, Theodore White wrote that the liberal ideology had become a liberal theology, and that's what you're up against," Gingrich said.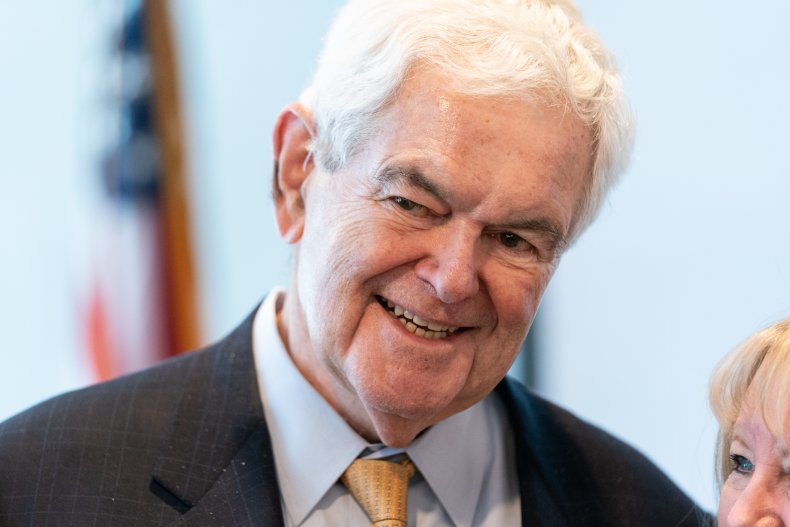 He was referring to political journalist and historian Theodore White, who argued in 1972 that Democrats had adopted a "liberal theology" when they introduced a quota system to ensure that women, Black people and young people would be represented as delegates at the party's 1972 convention.
Gingrich said: "This is now a religious cult. And it's a complicated cult, it's a cult of environmentalism, it's a cult of transgenderism. It's a cult of income redistribution. You've got a whole list of things.
"It's a cult of anti-white racism," Gingrich went on. "I mean, the things people now write and say that are just inconceivable, they're just overtly racist. And I think that this is where we are. We have to recognize you have a militant minority that, if it can, will impose itself on the entire country."
Hannity described Gingrich's new book as "timely" and perhaps the former speaker's most important.
Gingrich's website describes the book as explaining "how Americans must confront Big Government Socialism, which has taken over the modern Democratic Party, big business, news media, entertainment, and academia."
He has previously described the January 6 committee as "a show trial in the Soviet tradition wherein the outcome was decided, and the spectacle was meant to educate the public on the authority's version of truth."
Gingrich has also branded the Select Committee's proceedings "totalitarian" and compared them to the actions of Russian revolutionary and Bolshevik leader Vladimir Lenin.
The former speaker of the House is best known for his 1994 "Contract with America" that saw Republicans win control of the House for the first time since 1954.
Gingrich also mounted an ultimately unsuccessful bid for the Republican presidential nomination in 2012 and went on to support former President Donald Trump's election campaigns in 2016 and 2020.
Newsweek has contacted Newt Gingrich's website for comment.