Bannon Agreeing to Jan. 6 Testimony 'Gimmick' and 'Ploy': Legal Experts
Legal experts quickly shed doubt on the value and credibility of right-wing strategist Steve Bannon agreeing to testify before the House select committee investigating the January 6, 2021, attack against the U.S. Capitol.
News first broke Sunday that Trump in a Saturday letter waived executive privilege he had claimed over Bannon's testimony. The former Trump administration official's attorney also sent a letter to the committee saying that his client is "willing to, and indeed prefers, to testify at your public hearing."
The news was seen as a significant reversal, as Bannon has been a harsh critic of the House select committee as he continues to be a staunch defender of the ex-president.
Last year, he was subpoenaed by the investigators, but refused to comply. In November, Bannon was indicted by a grand jury convened by the Justice Department for contempt of Congress after a criminal referral was approved in a majority vote by the full House chamber. A federal judge last month declined to dismiss the contempt charges, so the former Trump adviser is headed to trial later this month.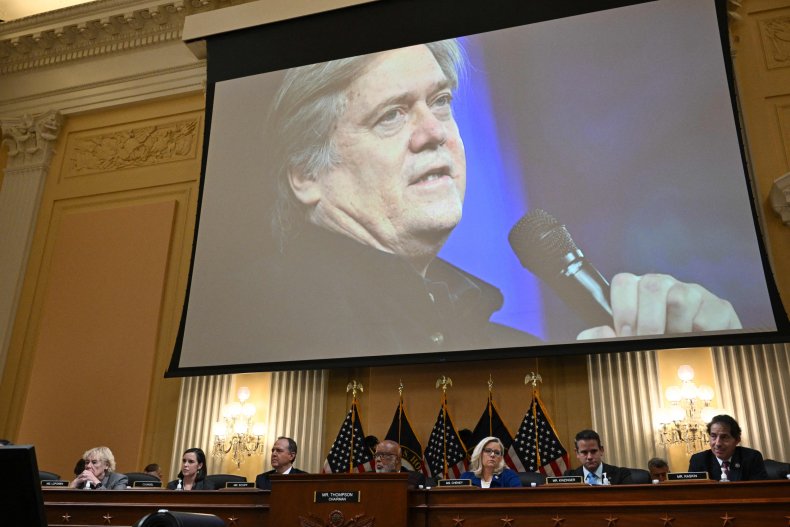 In response to the news, legal experts quickly weighed in. Some described Bannon's decision as a "gimmick" or a "ploy."
"I smell a gimmick to provide a last-ditch defense in Bannon's criminal case and poison the well in the Jan 6 investigation. It's the perfect two-fer!" Barb McQuade, a law professor at the University of Michigan, wrote on Twitter, retweeting a post that included the letter from Trump, and the other that was addressed to the committee.
"Bannon wants his own special treatment from the January 6 committee—going straight to a public hearing where he can grandstand and refuse to answer questions," Tristan Snell, a lawyer and the founder of Main Street law firm, wrote in a tweet. "Wrong. He must be treated as any other witness: private hearing first to determine if he's truly cooperative."
A Steve Bannon 'Ploy'
Glenn Kirschner, a former federal prosecutor, told MSNBC's The Sunday Show that he believed Bannon's decision was a "ploy" to help his defense against the contempt of Congress charges.
"This whole thing feels like a ploy," Kirschner assessed. "Why? Because he's going to claim, 'Oh well, look, now I have dispensation. I have a waiver from Donald Trump. That's why I couldn't testify previously. That's why I have a legal defense to the contempt of Congress charge.'"
Kirschner dismissed the letters as "nonsense" and a "charade."
Joyce Alene White Vance, a former district attorney and a professor at the University of Alabama School of Law, wrote on Twitter that she was skeptical Bannon's offer was made in "good faith."
"Given Bannon's clear statements over time that he wants to burn all of government down there is no reason to treat this like a good faith offer. As with all other witnesses, he should have to speak privately with the committee, under oath, first to test his truthfulness," she wrote. "The Cmte can't evaluate whether Bannon has anything to offer that is worth consuming limited hearing time until they speak with him. Questioners need to consider whether his testimony is relevant, new (or just cumulative) & test his credibility. Doesn't deserve any favors."
In a follow-up post on Sunday, McQuade contended that the January 6 committee should reject Bannon's offer.
"J6C should tell him too late, let DOJ convict him at trial for contempt, and then DOJ can compel his testimony. Statute provides immunity from using his own statements against him, but that's not giving up much. He can still be prosecuted for his role in scheme," she wrote.
Representative Zoe Lofgren, a California Democrat who serves on the committee, told CNN said that she would "expect" Bannon will testify after the committee received the letter, adding that the committee would want him to testify behind closed doors, as has been the case with previous witnesses.
"We got the letter around midnight from his lawyer saying that he would testify, and we have wanted him to testify," Lofgren told CNN on Sunday. "So the committee, of course, has not yet had a chance to discuss it, but I expect that we will be hearing from him. And there are many questions that we have for him."
In Trump's letter to Bannon waiving privilege, he wrote: "When you first received the subpoena to testify and provide documents, I invoked executive privilege. However, I watched how unfairly you and others have been treated, having to spend vast amounts of money on legal fees and all of the trauma you must be going through for the love of your country and out of respect for the office of the president."
Many legal experts have long dismissed the idea that Trump could legitimately claim privilege over Bannon's testimony. Although Bannon served as the chief executive of Trump's 2016 campaign and as a White House official, he left the Trump administration in August 2017. As a result, all the efforts to overturn the 2020 election results and the events of January 6 occurred when Bannon was a private citizen.
Correction July 9 at 6:16 p.m. ET: A previous version of this article incorrectly listed one of the legal experts names as just Joyce Alene. It was corrected to Joyce Alene White Vance.