Steve Bannon Insists Trump Won in 2020, Dubs Mike Pence 'Judas' for Jan. 6
Right-wing strategist Steve Bannon has doubled down on insisting Donald Trump won the 2020 election, dubbing former Vice President Mike Pence "Judas," as the House select committee investigating the January 6 Capitol riot continues to hold publicly televised hearings.
Trump and many of his allies continue to falsely claim that the last presidential election was "rigged" or "stolen" in favor of President Joe Biden. The former president and his supporters have also been highly critical of Pence over his refusal to go along with an unconstitutional plan to reject the electors of several key swing states on January 6, 2021, in a bid to prevent Biden from taking office.
On Friday, Bannon went on Gettr to slam Pence and reiterated discredited claims that Trump actually won in 2020.
"Trump knew he won because he did win—and he was told and shown he did win REPEATEDLY... watch WarRoom from those days of November thru Inauguration day," Bannon posted, referring to his popular right-wing podcast, War Room.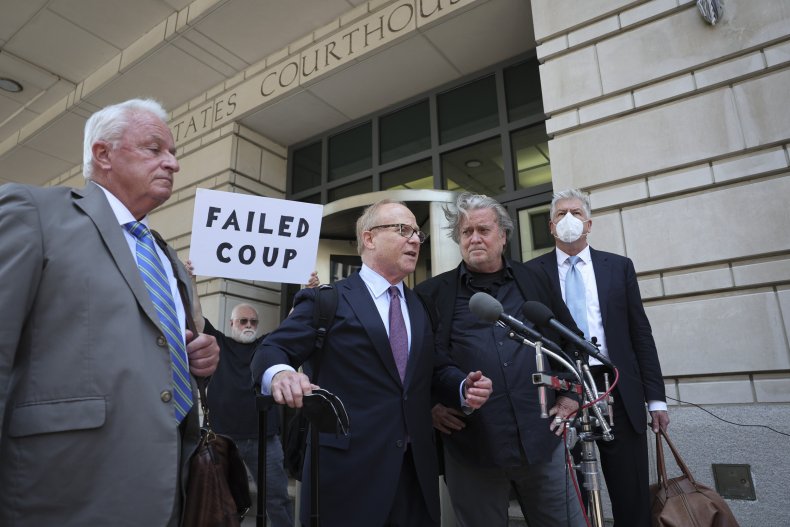 In another post, Bannon shared a tweet from right-wing commentator Jack Posobiec, who wrote: "Cmon @Mike_Pence just start throwing down on Trump. Stop hiding it. You aren't fooling anyone. Man up! Let's do this."
Bannon shared the post on Gettr, writing, "Jack you mean Judas Pence."
A disciple of Jesus, Judas is known for betraying him, identifying him with a kiss during an ambush by authorities in Jerusalem who wanted to prosecute and execute him. The disciple, who was paid 30 pieces of silver for the betrayal, later hanged himself.
Bannon was the chief executive officer of Trump's 2016 presidential campaign and then served in the White House as a chief strategist and senior counselor from January 2017 to August 2017.
He was later indicted for allegedly defrauding donors to a crowdfunding campaign to help build Trump's long-touted border wall on the Mexican border. Trump pardoned Bannon on January 20, 2021, just as he left office. The strategist was subpoenaed by the January 6 House committee but refused to comply. Last November, Bannon was indicted by the Justice Department for contempt of Congress. This week, a federal judge refused to dismiss the contempt charges, so the former Trump adviser is headed for trial next month.
Although Trump and his allies continue to argue that Pence should have complied with their pressure campaign and helped them overturn Biden's election, a former top White House lawyer testified on Thursday that even the key architect of the plot, attorney John Eastman, admitted that it would not withstand legal challenges.
Greg Jacob, a White House legal adviser to Pence, explained that he had multiple conversations with Eastman about the plan. He said that in a January 5 conversation the attorney acknowledged the Supreme Court would unanimously reject his arguments. Notably, three of the judges on the Court were nominated by Trump.
"He initially started, 'Well, maybe you'd only lose 7 to 2,'" Jacob said. "But [Eastman] ultimately acknowledged, 'No, we would lose 9 to 0.' No judge would support his argument."
Newsweek reached out to Pence and Eastman for comment.