Trump 'Will Be Prosecuted' and 'Is Going Down,' Glenn Kirschner Predicts
Former federal prosecutor Glenn Kirschner predicted Saturday that Donald Trump "will be prosecuted" in state and federal court, asserting that the former president "is going down."
Some prominent legal experts have repeatedly floated the possibility that an ongoing probe in Georgia's Fulton County could lead to criminal charges against the ex-president. Trump pressured Georgia's top election official to "find" enough votes to flip the state's 2020 election results in his favor. Many analysts have increasingly suggested that there also appears to be enough evidence to indict Trump at the federal level for his actions leading up to and on January 6, 2021.
Kirschner, who works as a legal analyst for MSNBC and NBC News, on Saturday posted to Twitter a recent segment of him discussing allegations against Trump on The Stephanie Miller Show. The former federal prosecutor argued that the U.S. would become a "banana republic by refusing to prosecute criminal politicians."
"Let me go on record as saying Donald Trump will be prosecuted," Kirschner added. "And I happen to believe that he will be prosecuted both in state court and in federal court."
In his Twitter post, Kirschner swatted back concerns that Trump announcing a 2024 presidential campaign could damper the possibility of a prosecution.
"Let Trump declare he's running for office. Let him declare he's a king, an emperor, a grand poobah. None of it protects him from being prosecuted. Trump is going down," he wrote.
Hundreds of Trump's supporters attacked the U.S. Capitol early last year in an apparent effort to disrupt the formal certification of President Joe Biden's electoral college victory. The violence came after Trump urged his followers to walk to the federal legislative building and "fight like hell" during a nearby rally. The then-president had claimed for months that the 2020 election was "rigged" or "stolen," while pressuring then-Vice President Mike Pence and election officials around the country to help overturn Biden's win.
In Georgia, Trump urged Secretary of State Brad Raffensperger to "find" enough votes to flip the election in his favor. Audio of that phone call was leaked to the press at the time and a grand jury is currently issuing subpoenas and reviewing evidence in an investigation into potential criminal wrongdoing related to that effort to change the election's outcome.
The Justice Department also continues to investigate the events of January 6, although it is unclear whether or not Trump is directly being investigated. The probe has appeared to close in on his closest allies in recent weeks. Attorney General Merrick Garland also gave critics of the former president hope earlier this year by telling NPR that the Justice Department will "hold everyone accountable who committed criminal acts with respect to January 6."
Newsweek reached out to Trump's press office for comment.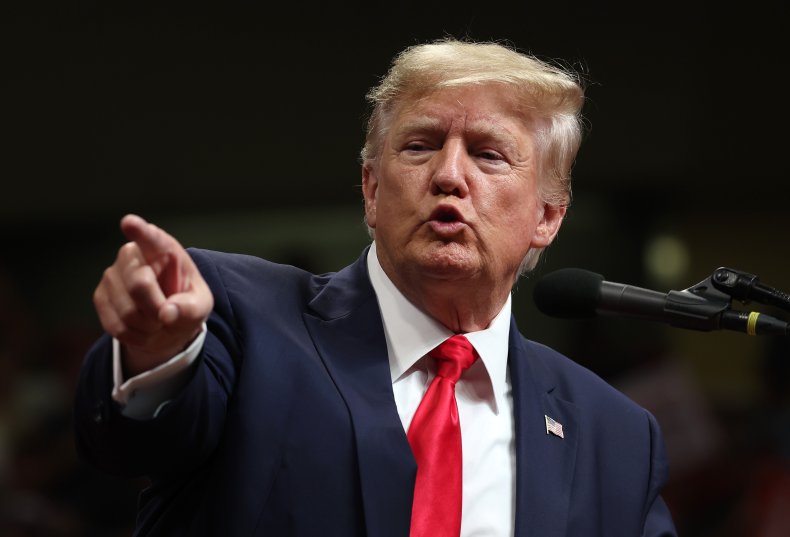 The former president insists he did nothing wrong and continues to claim that the 2020 election results were fraudulent. No evidence has emerged corroborating that allegation.
To the contrary, more than 60 election challenge lawsuits brought by Trump and his allies failed in state and federal courts. Even judges appointed by Trump dismissed the lawsuits. Meanwhile, audits and recounts—including those in states where the election was overseen by pro-Trump Republicans—have consistently reaffirmed Biden's win.
Former Attorney General William Barr, who was widely viewed as one of Trump's most loyal Cabinet members, has repeatedly said there was "no evidence" to support the claims. He also said that he told the ex-president to his face that they were "bulls**t" after he had the Justice Department investigate.
"I thought, Boy, if he really believes this stuff, he has lost contact with—he's become detached from reality if he really believes this stuff," Barr told the January 6 House select committee investigators in sworn testimony.