Trump Made 'Admission' He Knew Jan. 6 Mob Ready to Hurt People: Kirschner
Former federal prosecutor Glenn Kirschner, citing testimony heard Tuesday by the House's January 6 committee, said Donald Trump made an "admission" that he knew a mob of his supporters were there to "hurt" people at the U.S. Capitol the day of the riot.
The testimony came from Cassidy Hutchinson, who served as a top aide to Mark Meadows, Trump's White House chief of staff, and was in the room for many high-profile meetings leading up to the violence on January 6, 2021. In her testimony before the House panel, she said Trump was aware his supporters were armed before encouraging them to go to the Capitol and "fight like hell." He even angrily insisted on leading them to the building but was prevented from doing so.
"When Trump wanted to lead the armed attack on the Capitol, saying, 'they're not here to hurt ME', that's evidence - an admission - that Trump KNEW that the mob was there to hurt the people certifying Biden's win. And he intended to lead them on that mission," tweeted Kirschner, referring to Hutchinson's testimony. The ex-prosecutor has three decades of trial experience and now works as a legal analyst for MSNBC and NBC News.
"So Trump even grabbed the wheel of "the beast" (the presidential limo) in his determination to LEAD the armed insurrection into the Capitol, because, as Trump stated, 'they're not here to hurt ME,'" Kirschner tweeted in another post.
At Trump's "Stop the Steal" rally at the Ellipse, held just before the assault on the federal building, the president insisted that all his supporters be allowed through magnetometers even after he was told they couldn't enter because they had weapons, Hutchinson said. "Let the people in, take the f***ing mags away," he said, according to her testimony. Trump reportedly also said, "They're not here to hurt me."
Hutchinson outlined how Trump reacted when he was told it was not safe for him to go to the Capitol to lead the rioters. "I'm the f***ing president. Take me to the Capitol now," he reportedly said in his presidential motorcade vehicle after his speech at the Ellipse. He then reached for the steering wheel and lunged at the neck of a Secret Service agent in the vehicle, Hutchinson said.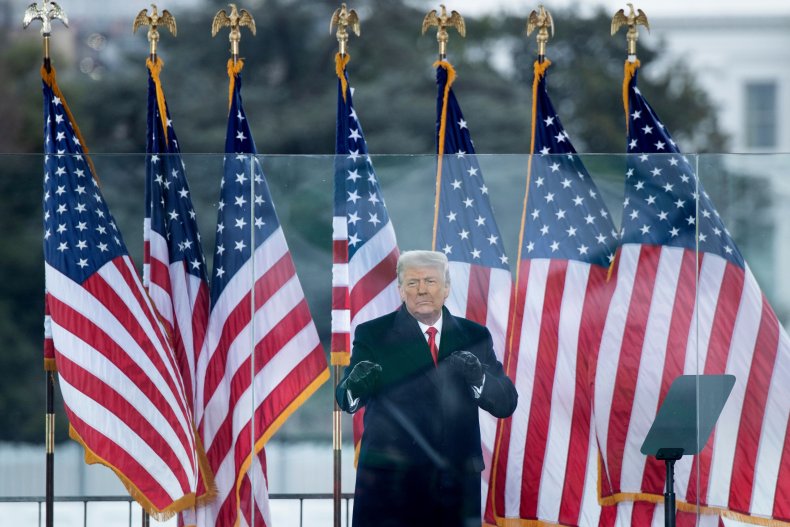 "How much more evidence do we need?! Donald Trump knowingly and intentionally launched an armed attack on the US Capitol and everyone in the Capitol!" Kirschner said in another Twitter post.
Trump released a statement on Truth Social, his social media platform, attempting to discredit Hutchinson's testimony.
"I hardly know who this person, Cassidy Hutchinson, is, other than I heard very negative things about her (a total phony and 'leaker'), and when she requested to go with certain others of the team to Florida after my having served a full term in office, I personally turned her request down," the former president said.
"Why did she want to go with us if she felt we were so terrible? I understand that she was very upset and angry that I didn't want her to go, or be a member of the team. She is bad news!" he added.
Newsweek reached out to Trump's spokesperson for further comment.
Former Trump aide Alyssa Farah Griffin defended Hutchinson and described her testimony as "damning."
"Cassidy Hutchinson is my friend. I knew her testimony would be damning. I had no idea it'd be THIS damning. I am so grateful for her courage & integrity. To anyone who would try to impugn her character, I'd be glad to put you in touch w/@January6thCmte to appear UNDER OATH," Farah Griffith tweeted Tuesday afternoon.
Solomon Wisenberg, a former deputy independent counsel in Ken Starr's investigation that led to President Bill Clinton's impeachment, told The New York Times that Hutchinson's testimony was a "smoking gun." The attorney said that it established a case for Trump's "criminal culpability on 'seditious conspiracy charges.'"
Renato Mariotti, a former federal prosecutor and legal analyst, shared that sentiment on Twitter.
"Testimony that Trump said he didn't 'f-ing care that they have weapons. They're not here to hurt me' and that they would be going to the Capitol later is precisely the sort of 'smoking gun' evidence needed to prove that the person speaking meant to incite imminent violence," Mariotti wrote.
Hundreds of Trump's supporters violently attacked the U.S. Capitol on January 6 to disrupt the formal certification of President-elect Joe Biden's Electoral College victory. That attack came after Trump urged his followers at the Ellipse rally to "fight like hell" to save their country. The rally and assault came after the president had spread misinformation for several months, claiming that the 2020 election was "rigged" or "stolen."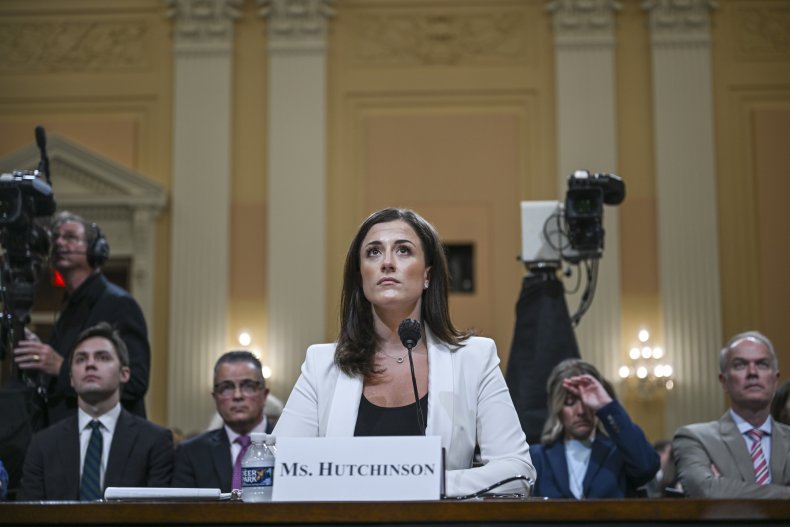 No evidence has emerged corroborating Trump's and his allies' claims of widespread voter fraud leading to Biden's win. To the contrary, more than 60 legal challenges to the 2020 election results failed in state and federal courts. Even judges appointed by Trump dismissed the lawsuits. Meanwhile, audits and recounts—including those in states where the election was overseen by pro-Trump Republicans—have consistently reaffirmed Biden's win.
Former Attorney General William Barr has repeatedly said there was "no evidence" to support the claims. He also said that he told Trump to his face that they were "bulls**t" after he had his Justice Department investigate.
"I thought, Boy, if he really believes this stuff, he has lost contact with—he's become detached from reality if he really believes this stuff," Barr told January 6 committee investigators in his testimony.