Next Stimulus Will Have 'Another Trillion' for 'Kids and Jobs and Vaccines,' Mnuchin Says
Treasury Secretary Steven Mnuchin joined Republican leaders in Congress and the White House on Monday to outline the party's expectations for what kinds of financial assistance the next coronavirus stimulus bill will provide.
Mnuchin said Republicans want to start with a $1 trillion spending goal for the next economic recovery bill, which Mnuchin referred to as "CARES 4.0." The bill comes after months of record spending by Congress as legislators battled to keep American businesses and workers afloat during the shutdowns the coronavirus pandemic caused. "We're focused on starting with another trillion dollars," Mnuchin said. "We think that will make a big impact."
The first bill, which President Donald Trump signed into law in late March, was called the Coronavirus Aid, Relief, and Economic Security—or CARES—Act and included more than $2 trillion in economic relief. A significant chunk of that bill went directly to unemployed Americans in the form of weekly $600 unemployment benefit boosts, which are scheduled to expire at the end of this week.
The new bill will focus on "kids and jobs and vaccines," according to Mnuchin. Republicans also want it to include financial incentives to encourage businesses and schools to reopen, tax credits for personal protective equipment, liability protections for business owners that bring employees back to work and unspecified legislation to help Americans who are still unemployed, Mnuchin said. The Republicans' strategy for the next stimulus bill has the support of Trump and Vice President Mike Pence, he added.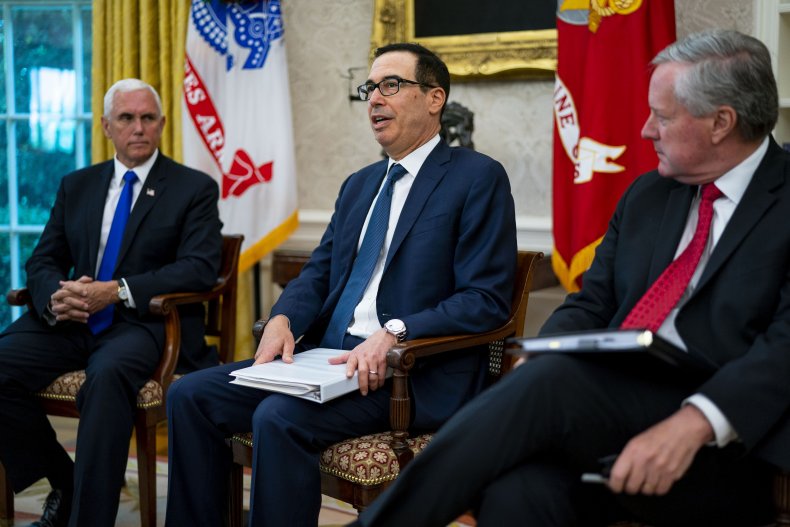 Mnuchin said that encouraging Americans to return to work should be one of the next stimulus bill's main goals. "The number one issue is we have to finish the technical fix on enhanced unemployment," he said. "We're going to make sure that we don't pay people more money to stay home than go to work."
Senate Majority Leader Mitch McConnell of Kentucky and House Minority Leader Kevin McCarthy of California reiterated Mnuchin's point during their meeting at the White House about incentivizing workers to return to their jobs, a perspective many Republican lawmakers shared after the American Action Forum published a study in mid-May that found nearly two-thirds of unemployed Americans were earning more through their enhanced unemployment benefits than they typically do through their normal wages.
White House economic adviser Larry Kudlow said in late May that the White House was looking closely at a return-to-work bonus as one possible strategy to incentivize workers to return to their jobs. Though none of the party members mentioned a return-to-work bonus during the comments they made at the White House on Monday morning, Mnuchin, McConnell and McCarthy all said they want financial incentives and liability protections added to the next stimulus bill for businesses and schools so the U.S. economy can continue reopening.
"We want to make sure that frivolous lawsuits don't prevent schools, universities and businesses from reopening," Mnuchin said.
As Republican lawmakers appeared determined to provide financial assistance to the country's economic reopening and vaccine development efforts, leading Democrats disagreed with their focus for the next stimulus bill.
"Workers and families, not special interests, should be our main focus," Senate Minority Leader Chuck Schumer of New York said in a letter addressed to his Democratic colleagues on Monday. According to Schumer, the next stimulus bill should prioritize helping American individuals survive the financial strain that the pandemic caused and providing more resources to health care professionals.
"This week, Democrats will again highlight the need for the use of the Defense Production Act and a national testing and PPE strategy to give our nation's medical professionals the tools they need to manage the crisis," Schumer's letter said.
Newsweek reached out to Schumer's office for further comment but did not receive a response in time for publication.
Congress returned to Capitol Hill on Monday to discuss the next pandemic stimulus for the first time since the Independence Day recess began earlier this month. In addition to the $600 weekly unemployment benefit bonus that is set to end this week, Congressional leaders will face another timing deadline for stimulus discussions as their August recess inches closer.