Reemployment Bonuses Explained: White House Considers $450 Back-to-Work Payment Proposal
The White House is looking "very carefully" at a proposal to give workers who have received unemployment benefits during the coronavirus pandemic a weekly bonus when they return to the workplace.
The proposal, which was introduced on the Senate floor last week by Ohio Senator Rob Portman, a Republican, suggests giving American workers weekly bonuses worth $450. The bonuses would replace the $600 bonus unemployed Americans currently receive in addition to their state unemployment checks, Portman said.
During two interviews with Fox News this week, Larry Kudlow, the White House's director of the National Economic Council said it was likely a return-to-work bonus like the one Portman proposed would be adopted to encourage Americans to go back to work.
"We've got to reward individuals for coming back to work," Kudlow told Fox News on Friday. "There will be some kind of reemployment bonus. We're not going to go to the $600—that's a disincentive to work," he said, referring to the proposed extension of the $600 unemployment bonus included in the $3 trillion HEROES Act passed by the House of Representatives earlier this month. The act, which has stalled in the Senate, proposes extending the enhanced unemployment benefits for Americans out of work due to the pandemic into 2021.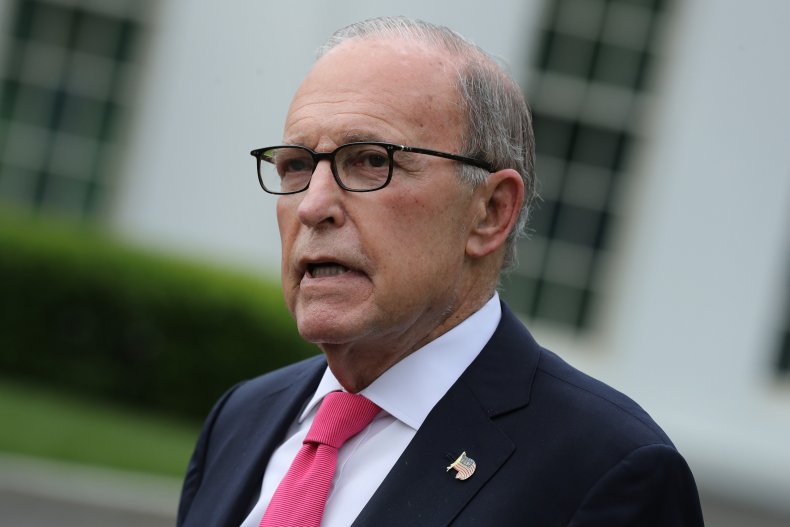 Several Republican legislators have also taken issue with the idea of extending the $600 bonus past its current July 31 expiration date. While discussing the possibilities surrounding a second stimulus package last week, Senate Majority Leader Mitch McConnell said it may be necessary to incentivize American workers to leave their homes and return to work as states continue reopening, especially as COVID-19 remains a concern in the U.S. By Thursday, the Bureau of Labor Statistics reported that more than 40 million Americans had filed for unemployment since the virus began spreading across the country.
According to a recent study by the American Action Forum, about 63 percent of Americans who are out of work as a result of the pandemic earn more with the enhanced unemployment benefits than they do from their normal wages. Citing the study in his presentation to the Senate earlier this month, Portman said it was important for Congress to provide Americans with a financial incentive to return to work.
"When this pandemic began, we were urging folks to stay home, but now that we are slowly and safely reopening, my proposal of providing $450 a week to individuals returning to work would help incentivize those folks that can to return to the workplace," Portman said in a statement to Newsweek. "This proposal would mean they'd receive their wages plus this $450 return-to-work bonus.
"I believe this proposal would ensure that there are as few situations as possible where staying on unemployment is more lucrative than returning to work. I will work with my colleagues to include this proposal in the next coronavirus response stimulus legislation considered in the Senate," he said.
Earlier this week, Kudlow said President Donald Trump was also considering a payroll tax holiday for workers, which he said could boost after-tax income by 7.6 percent. He said future incentives for Americans returning to work were likely to consist of both the kind of payroll tax holiday the president supported and a bonus like that which Portman proposed.
"Senator Portman has a good idea; he understands incentives and disincentives," Kudlow told Fox News on Tuesday. "It's something we're looking at very carefully."