Will There Be a Second Stimulus For Americans? Everything Senate Majority Leader Mitch McConnell Has Said
Senate Majority Leader Mitch McConnell said Thursday there was a "high likelihood" Congress would pass a second economic stimulus package for Americans struggling to make ends meet as a result of the coronavirus pandemic.
Though McConnell said during a Thursday interview with Fox News that a second relief package would likely be needed, he said its size and scope would remain uncertain until legislators had a chance to gauge the full impact of the first package and the speed of local economies' revivals as states reopened.
"Only about half of that money has gone out yet," McConnell said of the relief funding included in the Coronavirus Aid, Relief, and Economic Security (CARES) Act Congress passed in March. "We're not quite ready to intelligently lay down the next step, but it's not too far off."
The $2 trillion CARES Act was the largest economic relief package in U.S. history, and early proposals for a second stimulus package indicate many lawmakers believe a second bill would need to be even bigger. Last week, the Democrat-controlled House of Representatives passed a $3 trillion bill—which they called the "Health and Economic Recovery Omnibus Emergency Solutions (HEROES) Act"—that has drawn criticism from many conservative legislators. According to McConnell, the bill's price tag goes too far.
"It won't be a $3 trillion left-wing wish list that passed the House, that it almost couldn't get all the Democrats to vote for," McConnell said of the possible second stimulus package. "That's not going to pass the Senate; that's not going to become law. We need to work smart here: Help the people who are desperately in need, try to save as many jobs as possible and begin to open up the states."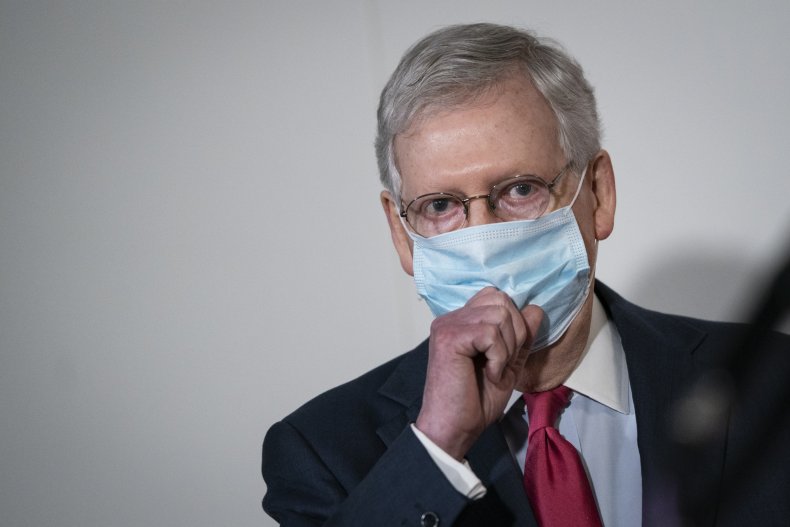 According to a Thursday report from the Associated Press, Republican congressional leaders were discussing the possibility of pulling back unemployment benefits for a second package so Americans would be economically motivated to return to work as states lift pandemic restrictions.
"We do need to continue unemployment insurance; it's extremely important at a time like this," McConnell said. "But to pay people more not to work than to work doesn't encourage resuming your job. That will end in July. We think that, in order to create jobs, we need to incentivize people to go back to work, not encourage them to stay home."
Newsweek reached out to McConnell's office for comment but did not receive a response in time for publication.
A second stimulus package will also likely include liability protections for employers who bring employees back into the workplace. McConnell has been calling for employer protections since late April. Earlier this month, he described the issue as a "red line" for Republican senators who viewed the possibility of a "litigation epidemic" as a potential threat to economic recovery.
"The next bill will need to have liability protections in there," McConnell said Thursday. "Just to narrowly cover the coronavirus—not anything else."
While other Republican senators and Treasury Secretary Steven Mnuchin have agreed there's a strong chance another stimulus package will be needed, the rush that pushed the CARES Act through both legislative chambers has not yet been seen. McConnell said Congress would need to seriously look at what worked and what didn't with the first bill before moving forward with a second.
"I think there's a high likelihood we will do another rescue package, but we need to be able to measure the impact of what we've already done, what we did right, what we did wrong and correct that," McConnell said.
With the Senate scheduled to take a recess for the Memorial Day holiday, action on a possible second relief bill won't resume until after legislators return to the nation's capital on June 1.