HEROES Act Proposes a Second Stimulus Check. But Not Everyone in Congress Wants More Payments
As Congress continues to wrangle over the HEROES Act, a potential second stimulus check amid the coronavirus pandemic is a big subject of interest to Americans.
More than 140 million people have received a stimulus check so far. But polling suggests these economic impact payments are not seen as sufficient by many whose livelihoods are blighted by the COVID-19 outbreak.
The HEROES Act includes a second-round of direct payments among its $3 trillion of provisions. These would amount to around $1,200 per individual, following on from a similar measure in the CARES Act.
However, the GOP has outlined its opposition to the HEROES Act, and it is unlikely to pass through the Republican-dominated Senate.
Despite that, its rejection may not end the chance of further stimulus checks.
In April, President Donald Trump said "we could very well do" a second round of checks. Senate Republicans have alluded to the potential need for another relief bill in the future, just not in the form of the HEROES Act, and not necessarily immediately.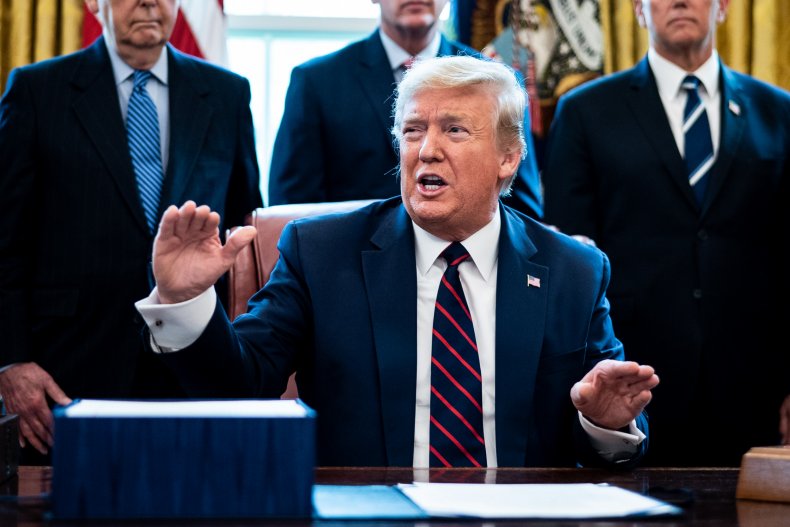 Who supports further stimulus payments?
The HEROES Act passed through the House of Representatives, with its Democratic majority for the most part supporting it. It won the vote 208-199, with 14 Dems and one Republican crossing party lines.
House Speaker Nancy Pelosi, its biggest advocate, argued for the Senate to pass it immediately.
The California Democrat said in a House floor debate last week: "Not to act now is not only irresponsible in a humanitarian way, it is irresponsible because it's only going to cost more, more in terms of lives, livelihood, cost to the budget, cost to our democracy."
Senate Minority Leader Chuck Schumer has also argued in favor of the act passing, leading the charge among Democrats there.
The New York Democrat criticized Republicans who want to pause the action on future payments, saying the delay could cost people their "livelihoods" and deepen the economic crisis.
There were also calls in both chambers of Congress from members who want to see stimulus checks go further than what is in the HEROES Act, expressing their feeling that the initial round of payments did not provide enough support.
Vermont Senator Bernie Sanders along with Sens. Kamala Harris (D-CA) and Ed Markey (D-MA) previously called for monthly payments amid the crisis, suggesting $2,000 to each person with an income below $120,000.
This would run for each month throughout the coronavirus pandemic and three months after.
"As a result of this horrific pandemic, tens of millions of Americans are living in economic desperation not knowing where their next meal or paycheck will come from," said Sanders in a statement.
"The one-time $1,200 check that many Americans recently received is not nearly enough to pay the rent, put food on the table and make ends meet."
Harris said: "The CARES Act gave Americans an important one-time payment, but it's clear that wasn't nearly enough to meet the needs of this historic crisis."
A bill introduced previously by Reps. Tim Ryan (D-OH) and Ro Khanna (D-CA), titled the Emergency Money for the People Act, proposed that every American over the age of 16 be given up to $2,000 every month for a year and $500 per child, up to a maximum of three children.
"The economic impact of this virus is unprecedented for our country. As millions of Americans file for unemployment week over week, we have to work quickly to patch the dam – and that means putting cash in the hands of hard-working families," Ryan said in a statement.
Khanna said: "A one-time, twelve hundred dollar check isn't going to cut it.
"Americans need sustained cash infusions for the duration of this crisis in order to come out on the other side alive, healthy, and ready to get back to work."
Polls suggest the public is in favor of receiving further payments, too.
Of 2,000 Americans surveyed by OnePoll towards the end of last month, 82 percent felt a further stimulus check payment was necessary.
In an earlier poll, conducted by Morning Consult for Money, 60 percent of 2,200 respondents said the initial stimulus checks would make a difference but not for as long as was needed, indicating the desire for a second round.
Who is against stimulus payments?
As the cost of federal spending throughout the pandemic continues to mount, there have been voices against further cash injections.
Sen. Lindsey Graham, (R-SC) is among those to speak against further checks, raising doubts over the benefit of a second round.
"The real stimulus that's going to change the trajectory that we're on is going to be the economy, not government checks," he previously told a virtual town hall, The Hill reported.
Sen. Ron Johnson (R-WI) said he had not been "a real big supporter" of the first round of stimulus payments, indicating he would be against further measures, stating: "This isn't your classic recession."
Other prominent Republicans have spoken against further stimulus checks now, though they have not ruled out such action in the future.
This would likely come within a GOP-led proposal package, however, not in the form of the HEROES Act passing.
Senate Majority Leader Mitch McConnell has spoken of taking a "pause" to evaluate the impact of the previous spending before implementing further measures.
"I think I can speak for our conference by saying we're not ruling that out but we think we ought to take a pause here, do a good job of evaluating what we've already done," he said earlier in May.
House Minority Leader Kevin McCarthy, a California Republican, said the HEROES Act was being used by Democrats as an "opportunity to enforce their socialism."
Senate Republican Conference Chairman John Barrasso, of Wyoming, said the HEROES Act was "bloated" and a "payoff" for Pelosi's "liberal constituents."
"So let me state the obvious. What Nancy Pelosi is proposing will never pass the Senate."
He also spoke of evaluating the CARES Act to look at what measures worked, to assess what is needed in future.
The HEROES Act also had opposition in the House from some moderate Democratic reps who said Senate Republicans were not likely to pass the bill and felt that cross-party work was needed to produce a viable package.
Newsweek has contacted the lawmakers mentioned in this report for comment.
Coronavirus continues to spread throughout the U.S. with more than 1.5 million infections in the nation since the start of the outbreak, according to Johns Hopkins University data.
There have been more than 91,000 deaths, while the figures estimate some 289,392 people have recovered.
The graphic below, from Statista, shows the nations with the highest number of confirmed cases.