As HEROES Act Stalls in Senate, Millions Pin Hopes on Second Stimulus Check
Democrats have questioned GOP suggestions of a pause on a further coronavirus aid package, as millions await news of a second stimulus check to assist them through the pandemic.
Republicans have hinted they will likely pass a future round of such support, but have suggested waiting to see what is required, as businesses begin to open up again across the U.S.
This hesitation has been condemned by Dems eager to push their $3 trillion HEROES Act through the Senate, having passed it in the House last week.
The Republican majority in the Senate has pushed against the bill, while it has been suggested President Donald Trump could veto it even should it manage to pass.
Criticizing the delay, Senate Minority Leader Chuck Schumer tweeted: "Economists are warning inaction could worsen the economic crisis into another Great Depression.
"Without action—Fed Chair Powell said we risk a prolonged recession with unemployment reaching 20% or even 25%
"Yet Sen. McConnell said GOP still wants a pause
"What planet are they on?"
Schumer referenced recent comments from Jerome Powell, who told CBS News peak unemployment may come in the next couple of months.
House Speaker Nancy Pelosi also spoke of the risk of further job losses as she called for the Senate to pass the HEROES act.
"Let us again honor our heroes who are fighting the fight, our healthcare workers, our first responders and the rest who risk their lives to save lives and now may lose their jobs because of state and local budgets going down the drain," she told MSNBC.
As Schumer previously called the Republican "pause" a "riverboat gamble," his colleague Sen. Debbie Stabenow (D-MI) also touted "urgency."
Hitting out at Senate leader Mitch McConnell, she said: "Mitch McConnell may not feel a sense of urgency but on behalf of the American people, we do. And the Senate needs to act now."
High-profile Republicans have talked down the need for further stimulus spending in recent days.
Asked about another package, House Minority Leader Kevin McCarthy (R-CA) told CNN: "I don't see the need right now."
Senate Majority Leader Mitch McConnell previously said the time for immediate action could come, though he did not think it had arrived yet.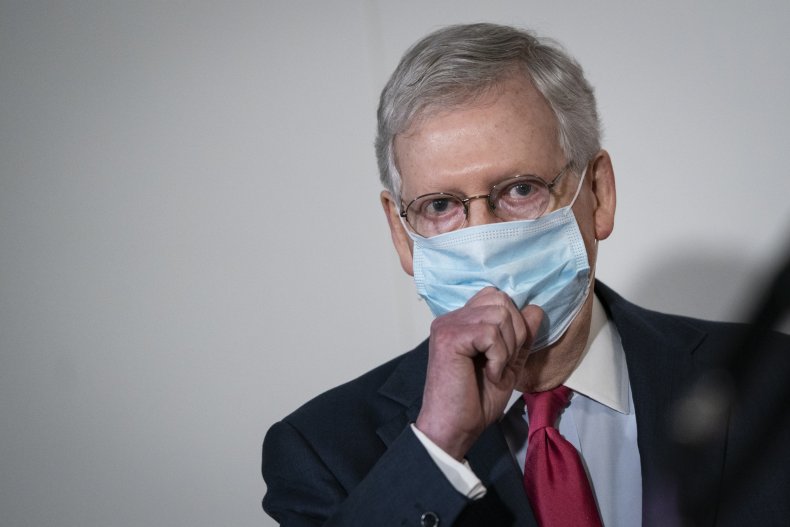 On Tuesday he told reporters there was a need to assess what had already been done, with the way forward to be discussed in the next couple of weeks.
The HEROES Act would see measures such as $1 trillion in state and local aid and Americans receive a second check of around $1,200 for individuals and up to $6,000 for families.
More than 140 million Americans have already received stimulus payments, worth around $239 billion in total, provided through the CARES Act.
Recent polling shows that many Americans feel further such payments are needed amid the pandemic.
Of the 2,000 Americans surveyed by OnePoll towards the end of last month, 82 percent felt a further stimulus check payment was necessary.
Some 58 percent of those asked said the federal government should provide further financial support to those who have lost their jobs due to coronavirus.
In an earlier poll conducted by Morning Consult for Money, 60 percent of 2,200 respondents said the initial stimulus checks would make a difference, but not for as long as was needed.
As well as stimulus payments, the HEROES act also includes an expansion of the $600 per-week federal unemployment payments, however Sen. Lindsey Graham (R-SC) has indicated Republicans will not back extending those, stating Trump has indicated he feels it is "hurting" economic recovery.
However, despite HEROES Act opposition, the president has been noncommittal over his support for further stimulus in some form. Senate Republicans have eluded to discussions on that matter in coming weeks.
The discussion over further stimulus comes with more than 36 million Americans having filed for unemployment benefits amid the coronavirus pandemic.
Newsweek has contacted McConnell, Schumer, Pelosi and the White House for comment.
There have been more than 1.5 million cases of coronavirus in the U.S. since the outbreak began, with more than 90,000 fatalities linked to COVID-19, according to Johns Hopkins University. Its stats suggest around 289,000 people have recovered from the virus.
The graphic below, from Statista, shows the worst-hit states as of May 19, with New York suffering the highest number of cases.