Republicans Signal Another Stimulus Will Come—But Don't Expect Help Anytime Soon
Although Republicans continue to pump the brakes on another stimulus package, there are growing indicators from GOP lawmakers on Capitol Hill that future action will almost certainly be required.
"We don't know when or exactly how big, but I think everybody believes that there will be future things we have to do to get the economy back," said Sen. Roy Blunt (R-Mo.), the No. 4 Republican.
But the effects of anything Congress does pass will likely not be felt until July or August, with potential legislation still weeks away from being approved. And the details of what Republicans and President Donald Trump would want included are still to-be-determined as no concrete plan is currently in the works.
Still, some GOP senators said following a meeting with Trump on Tuesday that there is growing acceptance among their party conference that more economic relief is almost inevitable.
Senator Todd Young (R-Ind.), also a member of leadership, told reporters that "responsible provisions and proposals"—rather than the "far-left liberal wish-list" that House Democrats passed in the form of a $3 trillion package on Friday—"need to be incorporated in our next round of response."
"Some preliminary discussions about what comes next" have taken place, according to Senate Majority Leader Mitch McConnell. But the Kentucky Republican remained unmoved from his stance they need to further examine what sort of federal relief is needed as businesses reopen their doors to paying customers. "We'll discuss the way forward in the next couple of weeks," McConnell added.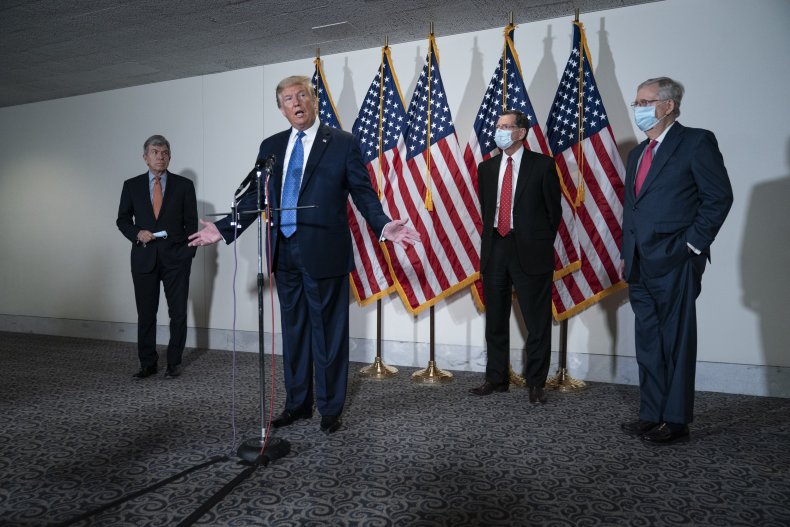 The increasing willingness from Republicans for another stimulus comes in the wake of more than 36 million Americans filing for unemployment benefits and a tough recovery road ahead, even with states resuming business as usual. The GOP lawmakers' preference for a more reserved response than their Democratic colleagues is a preview of the political battle to come.
Congress has already appropriated a total of about $3 trillion in its response to the coronavirus pandemic, the source of hesitation from Republicans to dole out more funding. House Democrats went ahead with a proposal of their own last week, passing a massive $3 trillion bill with more defectors from their own party than support from across the aisle. Republicans have made clear there is no viability for such a mammoth bill.
Federal Reserve Chair Jerome Powell testified to senators Tuesday that there is "the risk of longer term damage to the economy" without more aid.
Trump has so far been noncommittal to another stimulus. At times, he has echoed Republicans in Congress to advocate for a pause in spending. At other moments, the president has suggested they need payroll tax cuts, infrastructure projects and would even be open to a second round of individual checks.
Meeting with GOP senators behind closed doors for lunch on Tuesday, Trump danced around the subject, according to two lawmakers who were in the room.
"I asked him specifically whether he felt we need to do another bill and what, in his opinion, should be in it. He gave a very careful, artful answer, which tells me he's not ready to say," said Sen. John Kennedy (R-La.), who noted his description of Trump side-stepping his answer was not a criticism.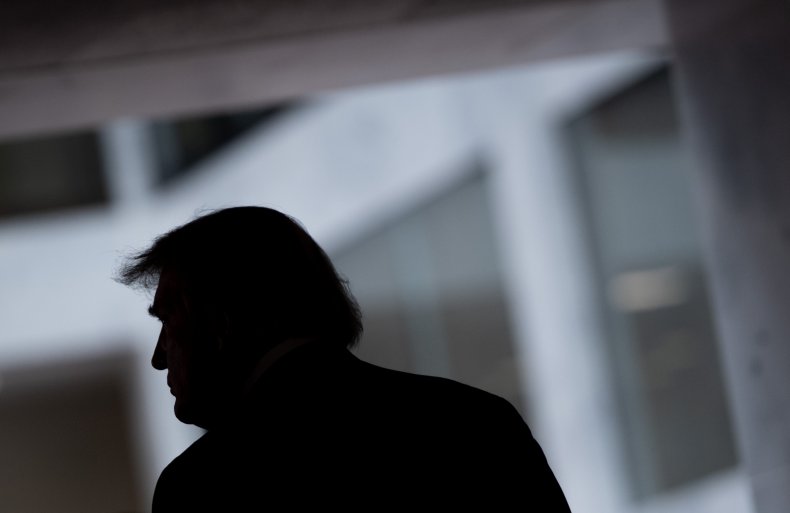 Senator Kevin Cramer (R-N.D.) said that based on Trump's demeanor, "he thinks we're taking the right pace: Let it play out and see how it's going."
Senators are preparing to embark on a week-long recess for Memorial Day and will not return until the first week of June. "After we get back," Cramer said, "we'll take a look and see what we can do and keep focused on the things that are necessary and helpful."
Technical changes to some of the programs already implemented are under more immediate consideration by lawmakers, such as extending the loan forgiveness period under the Paycheck Protection Program to give businesses an extra eight weeks to spend their funding and rehire staff.
Another potential change is to allow states more flexibility with the $150 billion allocated to them under the $2.2 trillion CARES Act for budget shortfalls, an idea from Kennedy that has so warm received a lukewarm response from the White House.
At the center of debate over another relief package is more state and local funding to meet those deficits. House Democrats carved out $1 trillion for the municipalities in their relief measure passed Friday. But amid the debate—which is particularly playing out among Republicans, who are split on the issue—groups of bipartisan lawmakers in both chambers are pushing for $500 billion.
Federal Reserve Chairman has warned of a potential "prolonged" recession and unemployment in the aftermath of the virus. He has urged the federal government to consider taking more steps, like approving additional aid to states, to thwart long-term economic damage.
"The Republican 'pause' is a riverboat gamble where American workers will in all likelihood pay the cost of Republican inaction with their homes, their families and their livelihoods," Senate Minority Leader Chuck Schumer (D-N.Y.) told reporters. "What planet are they on?"