Why Some Democrats Bucked Their Own Party to Oppose a $3 Trillion Relief Package
The latest economic stimulus package narrowly passed by the House on Friday was a tiptoeing act for Democratic leadership, not because they tried to craft a $3 trillion piece of bipartisan legislation—neither Republicans nor the White House were consulted—but because they struggled to get members of their own party on board.
As a result of the inability to appease the entire caucus, some moderate and liberal Democrats crossed the aisle to join Republicans to vote against the proposal that includes another round of stimulus checks, state and local aid, an expansion of unemployed benefits and rent and mortgage relief.
Fourteen Democrats ultimately voted no: Pramila Jayapal (Wash.), Kurt Schrader (Ore.), Kendra Horn (Okla.), Abigail Spanberger (Va.), Elaine Luria (Va.), Conor Lamb (Penn.), Susan Wild (Penn.), Cindy Axne (Iowa), Abby Finkenauer (Iowa), Ben McAdams (Utah), Joe Cunningham (S.C.), Jared Golden (Maine), Sharice Davids (Kan.) and Xochitl Torres Small (N.M.). The final vote was 208-199.
For moderates, which includes all but Jayapal, the vote was a particularly difficult one. They characterized the $3 trillion bill as "bloated" with "extraneous," non-related pandemic items tucked into its 1,800 pages. These members' concerns reverberated the loudest, given they are part of a larger group of mostly first-term lawmakers who flipped districts won by President Donald Trump and are considered the most vulnerable this November.
"Unfortunately, many Members of Congress—including some in my own party—have decided to use this package as an opportunity to make political statements and propose a bill that goes far beyond pandemic relief and has no chance at becoming law, further delaying the help so many need," Spanberger said in a statement.
Axne cited "Washington gamesmanship" and "unrelated wastes of taxpayer dollars" for why she "could not in good conscience" support the legislation. "I will always stand up to anyone—even my own party—when it comes to doing what's right for Iowa."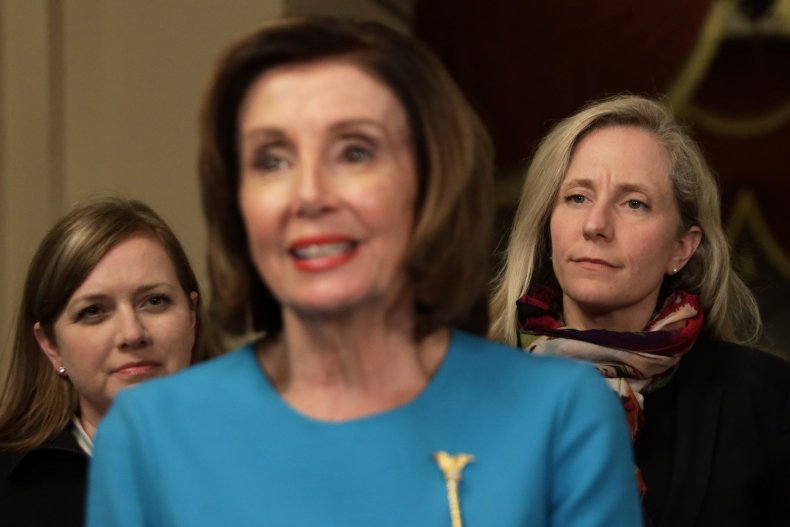 The proposal's political viability, moderates noted, is nonexistent in the GOP-controlled Senate; Majority Leader Mitch McConnell (R-Ky.) will not consider the measure. The lack of bipartisan negotiating was another unsettling factor for moderates. Horn labeled the partisan bill a "disservice to the American people."
"I would strongly prefer this to be a bipartisan bill, to have negotiated a bipartisan approach. And that's what my constituents want and expect," Rep. Elissa Slotkin (D-Mich.) told Newsweek. "I am disappointed that that's not the process that we followed." She was one of several undecided Democrats just hours beforehand but chose to vote for it.
There were areas of agreement in moderates' and liberals' gripes with the legislation. Neither approved of the provisions to allow lobbying groups to receive money and a repeal of the cap on deductions for state and local taxes (known as SALT), which overwhelmingly benefits high-income earners.
"It's certainly a bill that a lot of people are not very enthusiastic about," Rep. Alexandria Ocasio-Cortez (D-N.Y.) conceded to Newsweek, donning a face mask with the words "Medicare for all."
But for liberals, their main sticking point was they felt the bill failed to provide enough help for the more than 36 million people now unemployed. The lone progressive lawmaker who opposed the measure was Jayapal, co-chair of the Congressional Progressive Caucus. She pushed for the inclusion of her own initiative that would have the federal government temporarily pay workers' salaries rather than private companies.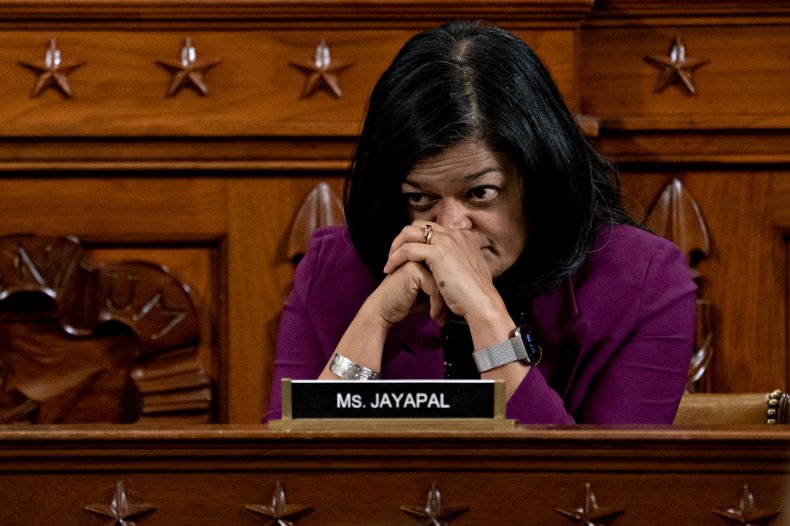 "It's not that I'm asking for more money. I'm just saying we need to direct it in the right way," Jayapal told reporters. "It's a great message for Democrats to be the party of keeping people in their jobs. That's a great message, it's not a progressive message, it's just the right message."
Her request to leadership for the vote to be postponed until next week so the caucus could meet and discuss the bill was denied.
House Speaker Nancy Pelosi (D-Calif.) is known for the tight grip she wields on the caucus and her ability to navigate the sentiment among her members on even the most divisive political issues, like impeachment. Friday evening, she remained near the door of the House floor during votes to court any potential Democratic defectors. In caucus-wide letters in recent days, she repeatedly quoted Federal Reserve Chairman Jerome Powell in a push to get the stimulus across the finish line.
"Additional fiscal support could be costly, but worth it if it helps avoid long-term economic damage and leaves us with a stronger recovery," Pelosi wrote, citing Powell. "This tradeoff is one for our elected representatives, who wield powers of taxation and spending."
Ocasio-Cortez voted for the bill, despite the firebrand liberal that she is and having several quarrels with it, such as the lack of recurring stimulus payments or paycheck guarantees, not enough health care relief and the inclusion of aid for lobbyists. She said her moderate colleagues had "legitimate concerns." And like many of her fellow Democrats, she too was undecided just hours before the vote.
"I think that there are provisions in this bill that I support on their own, but I don't necessarily think they should be in here," Ocasio-Cortez told Newsweek. She cited the stipulation that would give the marijuana industry access to banking. "It's really about not just the price tag but where the money is going and how effectively it's being spent."
Updated May 16, 2020, 11:24 AM ET, to correct the misidentification of Congressman Kurt Schrader (Ore.) as '"Kim Schrier" from an earlier version of this story.