2020 NFL Draft Order: Which Teams Are More Likely to Trade Picks?
Each year, the NFL Draft rolls into town amid a flurry of trades as teams look to move up the pecking order to snap up players they believe can turn the fortunes of their franchises around or trade down to accumulate picks.
This year is no different. Already one of the most anticipated drafts in years due to caliber of the players available and the fact sport fans have been starved of any form of live sports for the last five weeks, trade rumors have added various layers of intrigue on the 2020 NFL Draft.
The Cincinnati Bengals hold the first overall pick and, barring a major plot twist, they will use it to select LSU quarterback Joe Burrow on Thursday night to make last season's Heisman Trophy winner their new franchise quarterback. While the Bengals decision is set in stone, the picture is a lot blurrier for the teams picking next, with conflicting reports of franchises looking to trade in both directions.
Bearing in mind trade rumors will continue right up until the draft gets underway at 8 p.m. ET on Thursday night, here's a round-up of which teams may deal their picks away. In the meantime, here's a reminder of the first round draft order as of the time writing.
Washington Redskins
Washington holds the second overall pick and is expected to draft Ohio State edge rusher Chase Young. Blessed with a rare mixture of explosiveness, power and versatility, Young is widely considered the best football player in the draft and has reportedly already spoken with Redskins head coach Ron Rivera.
In a press conference with local media earlier this month, Washington's new coach indicated he wasn't prepared to trade down, but subsequently spoke effusively about Alabama quarterback Tua Tagovailoa.
Washington selected quarterback Dwayne Haskins with the 15th overall pick and could still follow the footsteps of the Arizona Cardinals and select two quarterbacks in the first round in consecutive drafts—the Cardinals picked Kyler Murray with the No. 1 overall pick last year after using the 10th overall pick on Josh Rosen 12 months earlier.
On Tuesday, NFL Network reported Washington was entertaining offer for its No. 2 pick and on Wednesday ESPN's Josina Anderson indicated a team had already laid out a "complete deal" for the pick.
Detroit Lions
The Lions hold the No. 3 overall pick but have emerged as a prime candidate to trade down. Last week, Detroit general manager Bob Quinn told reporters he had fielded calls for the pick and would continue to do so up until Thursday night. Unlike the Miami Dolphins and the Los Angeles Chargers—two of the teams picking immediately after the Lions—Detroit does not necessarily need a quarterback and may be confident of landing Ohio State cornerback Jeff Okudah later in the first round.
The top cornerback in the draft, Okudah would address the Lions' issues in the position.
New York Giants
The Giants are in a similar position to the Redskins, as they used their No. 6 pick last year to draft Duke quarterback Daniel Jones. As such, the G-Men appear unlikely to select another quarterback in the first round, particularly given the glaring holes they have on both sides of the football.
Earlier this week, Giants general manager Dave Gettleman told NFL.com the team had closely monitored Oregon quarterback Justin Herbert. That, however, sounds like a massive smokescreen given Gettleman has never traded down in seven drafts as general manager.
Miami Dolphins
The Dolphins are arguably the most intriguing trade candidate ahead of the draft. For months, the franchise has seemingly been intent on using their No. 5 pick on Tua Tagovailoa but on Wednesday NFL Network Ian Rapoport suggested Miami may trade up to land an offensive tackle and shore up an offensive line that ranked as the league's worst last season.
Miami could also trade up to avoid waiting until No. 5 to land Tagovailoa, but that may be a risk considering neither the Lions nor the Giants—the two teams picking before the Dolphins—need a quarterback. Furthermore, concerns over the Alabama quarterback's fitness persist as travel restrictions in place because of the coronavirus pandemic have prevented teams from assessing Tagovailoa, whose final season at Alabama ended prematurely because of a serious hip injury.
The Dolphins are also monitoring Oregon's Justin Herbert, who may well be the second quarterback off the board, should Tagovailoa's fitness be considered too much of a risk.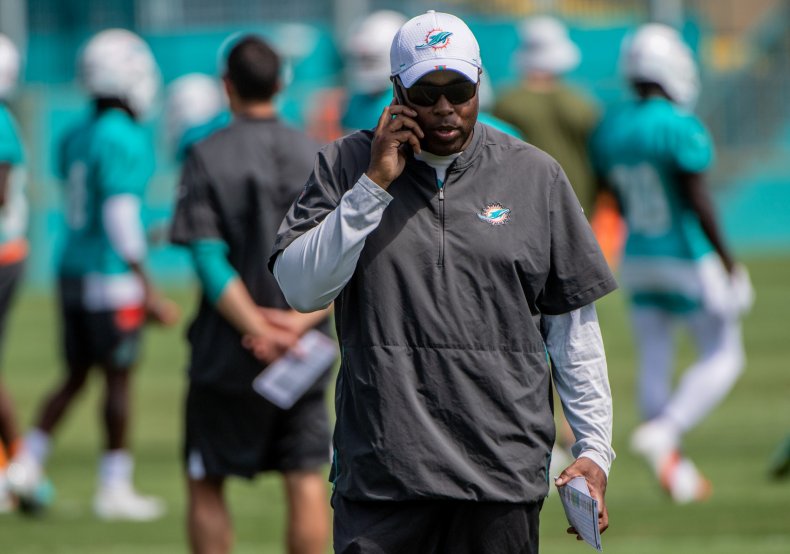 Carolina Panthers
The Panthers hold the No. 7 pick and NFL reported on Wednesday that new head coach Matt Rhule is considering trading down to accumulate picks. Carolina's pick would be coveted by teams needing a quarterback should Justin Herbert or Tua Tagovailoa be available.
Of course, Carolina could also stay put and look to land an offensive tackle like Iowa's Tristan Wirfs of Louisville's Mekhi Becton.
Arizona Cardinals
Much like the Panthers, the Cardinals could also trade down. Arizona holds the No. 8 overall pick but has no second round picks after giving away its selection to land DeAndre Hopkins last month and NFL insider Tom Pelissero reported the Cardinals could trade down to increase their picks haul.
Atlanta Falcons
The Falcons don't pick until No. 16 and NFL Network Ian Rapoport told NFL Total Access on Wednesday that Atlanta has held talks to several teams holding a top-10 pick about trading up in their quest to land a cornerback.
Minnesota Vikings
The Vikings hold the No. 22 and 25 picks and are open to offers to move in both directions.
"I've had calls already, opportunities of people trying to trade up, and I've also had teams that are in front of us that wanted to trade back," general manager Rick Spielman was quoted by ESPN. "I think it all depends how the draft board unfolds on Thursday.
New England Patriots
For the first time in 20 years, the Patriots go into the draft knowing their rookies will not share the field with Tom Brady next season. New England has 12 picks—the second-most in the draft, behind the Dolphins' 14—and holds the No. 23 in the first round.
The Patriots need offensive weapon and a draft stacked with quality at wide receiver bodes well for Bill Belichick, a master in finding hidden gems in the later rounds. New England's coach is traditionally reluctant to trade up, but could he be tempted to look for a replacement for Brady, after the six-time Super Bowl champion signed for the Tampa Bay Buccaneers last month?
Thursday night could a long way to shape the Patriots' immediate post-Brady future.