For the second year in a row, the first overall pick of the NFL Draft looks a fait accompli before league commissioner Roger Goodell has even welcomed fans to the event. Also for the second year in a row, the first pick is set to be a quarterback.
Twelve months ago, the Cincinnati Bengals selected Heisman Trophy winner Joe Burrow with the first pick. On Thursday night, bar a surprise of enormous proportions, Clemson quarterback Trevor Lawrence will be the first name off the board, joining the Jacksonville Jaguars. Lawrence led the Tigers to a national title and two further appearances in the College Football Playoff in three seasons as a starter.
Two other signal callers should follow Lawrence at the draft in Cleveland, with the New York Jets and the San Francisco 49ers both expected to select a quarterback. Unless the Jets decide to surprise the entire NFL, they will use their second overall pick to select Brigham Young star Zach Wilson, whose stock has soared over a stunning 2020 season. In his junior year, Wilson passed for 3,692 yards, 33 touchdowns and just three interceptions.
Just as Lawrence is expected to spearhead coach Urban Meyer's revolution in Jacksonville, Wilson is tipped to be the man to lead the Jets in the Robert Saleh era. He should be a great fit for the play-action-heavy scheme new Jets offensive coordinator Mike LaFleur will bring to the Big Apple.
If the identity of the first two names is all but set in stone, the same cannot be said about the third pick. Ohio State's Justin Fields and North Dakota State's Trey Lance are arguably more talented players than Mac Jones, but most reports and mock drafts over the past two months point towards San Francisco selecting the Alabama quarterback Jones instead.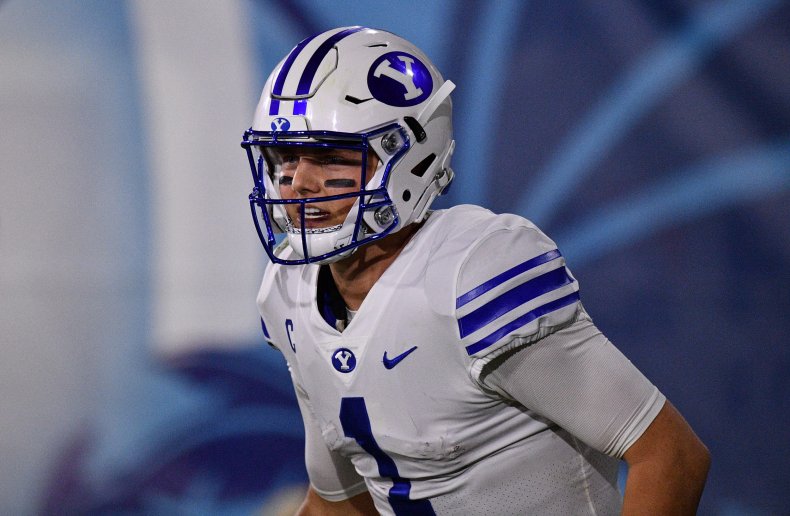 The 49ers mortgaged a large chunk of their future by trading up to No. 3—they sent a first and third-round selection in this year's draft, along with first-round picks in 2022 and 2023, to Miami in exchange for the third overall pick—and their choice will have an enormous impact on the rest of the draft.
Although less spectacular than Fields and Lance, Jones has all the traits of a quarterback who could thrive in Kyle Shanahan's offense. A pocket passer who reads the game well, he passed for 4,500 yards, 41 touchdowns and four picks last year, as he made the most of Alabama's stacked receiving corps.
Speaking of Crimson Tide wide receivers, Jaylen Waddle and Heisman Trophy winner Devonta Smith shouldn't have to wait long to hear their names called. ESPN and NFL Network both have them to be selected in the top 11, while The Ringer has Waddle as high as the No. 6 pick. Last year Alabama became the first college team to have two wideouts selected in the top 15 of the NFL Draft. Waddle and Smith are both blessed with incredible speed and should be high on the list of receivers-needy teams such as the Dolphins and the New York Giants.
Neither, however, is expected to be the first wideout called by Goodell. That honor will in all likelihood fall to Ja'Marr Chase, whose stock remains sky-high despite him sitting out last season.
With the first three teams committed to a quarterback, Chase should be one of the first skill players off the board—and the Bengals could be tempted to reunite him with Burrow, his former teammate at LSU. This idea gained momentum earlier this month when Duke Tobin, Cincinnati's director of player personnel, hinted that the team consider offensive linemen projected to go in the second and third round as potential starters.
If Tobin decides pairing Burrow with a potentially elite receiver is more urgent than protecting the quarterback—who took a beating in his rookie season, which was cut short by a serious knee injury—Oregon tackle Penei Sewell could find himself joining the Los Angeles Chargers, where he will play with another second-year quarterback, Justin Herbert.
By far the best tackle in the draft, Sewell is a consensus top 10 pick and would provide a long-term solution for the Chargers at a crucial position.
The Atlanta Falcons are expected to select Florida tight end Kyle Pitts as the first player off the board after the trio of quarterbacks. The Falcons remain committed to Matt Ryan and look unlikely to draft a quarterback, a choice that should be made easier by the fact Pitts is a rare talent who should be an instant starter for them.
As for Fields and Lance, their futures remain up in the air. Once considered a shoo-in for No. 2, Fields' stock has plummeted in certain quarters, with growing concerns over his throwing mechanics. NBC's Chris Simms has Fields, who took Ohio State to the College Football Playoff last year, falling all the way down to 32 in his latest mock draft. ESPN and The Athletic have him going to the New England Patriots with the No. 15 pick and to the Falcons at No. 4 respectively.
Lance played just one game last season following his first year as starter in 2019, but is considered to have enormous upside. Both The Ringer and ESPN have him going to the Denver Broncos with the No. 9 overall pick.
Here's the complete draft order for teams picking in the first round.
2021 NFL Draft order
Jacksonville Jaguars
New York Jets
San Francisco 49ers (from Miami Dolphins via Houston Texans)
Atlanta Falcons
Cincinnati Bengals
Miami Dolphins (from Philadelphia Eagles)
Detroit Lions
Carolina Panthers
Denver Broncos
Dallas Cowboys
New York Giants
Philadelphia Eagles (from Miami Dolphins via San Francisco 49ers)
Los Angeles Chargers
Minnesota Vikings
New England Patriots
Arizona Cardinals
Las Vegas Raiders
Miami Dolphins
Washington Football Team
Chicago Bears
Indianapolis Colts
Tennessee Titans
New York Jets (from Seattle Seahawks)
Pittsburgh Steelers
Jacksonville Jaguars (from Los Angeles Rams)
Cleveland Browns
Baltimore Ravens
New Orleans Saints
Green Bay Packers
Buffalo Bills
Baltimore Ravens (from Kansas City Chiefs)
Tampa Bay Buccaneers
Uncommon Knowledge
Newsweek is committed to challenging conventional wisdom and finding connections in the search for common ground.
Newsweek is committed to challenging conventional wisdom and finding connections in the search for common ground.
About the writer
Dan Cancian is currently a reporter for Newsweek based in London, England. Prior to joining Newsweek in January 2018, he was a news and business reporter at International Business Times UK. Dan has also written for The Guardian and The Observer.