Chad Kelly: Is the Quarterback From Ole Miss a Can't-Miss?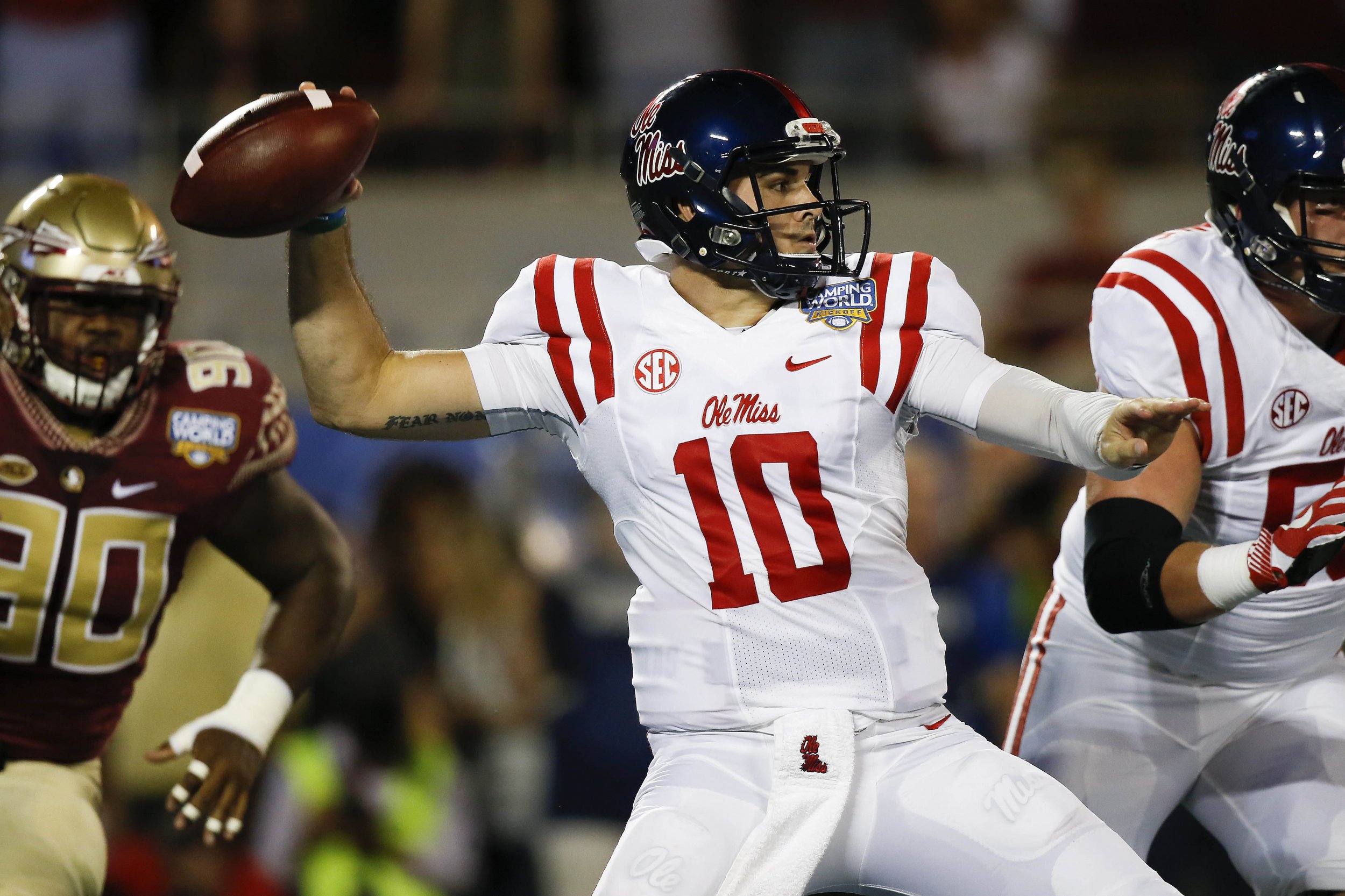 As the final selection in the 2017 NFL draft, University of Mississippi quarterback Chad Kelly now finds himself in the same company as Ronnie McAda and Chandler Harnish. As one of three quarterbacks in the past eight seasons to beat the University of Alabama in Tuscaloosa, Kelly is also in the same coterie as Heisman Trophy winners Cam Newton and Johnny Manziel. Which group is a better predictor of his success in the NFL?
On Saturday, the Denver Broncos selected the 6'2" Kelly with the final pick in the seventh round, 253rd overall. That dubious distinction earned Kelly the title of "Mr. Irrelevant," an unofficial designation that comes with an annual week of festivities in Newport Beach, California (there are worse places to spend a few days as a punch line). McAda and Harnish, former quarterbacks at Navy and Northern Illinois, respectively, are two previous Mr. Irrelevants who never played a down in the NFL.
Kelly is hardly irrelevant. Last autumn he was the total offense leader in the Southeastern Conference—which is perennially loaded with more future NFL talent than any other in college football—before suffering a torn ACL and meniscus late in the season. He led the Rebels to an upset of Alabama in Tuscaloosa in 2015, the only defeat the Crimson Tide would endure en route to the national championship. And Kelly is the nephew of Hall of Fame quarterback Jim Kelly. Chad Kelly has a first-rounder's physical attributes, but a first offender's disposition. He's as likely to toss a touchdown as he is a tantrum.
Related: Why the Rams should have become the Billings Bighorns
Kelly enrolled at Clemson—he and fellow quarterback Deshaun Watson, who was taken 12th overall in the NFL draft, were teammates for nearly four months—but was dismissed from the team for petulance after Kelly threatened to quit and play lacrosse if he was not named the starter. At the time, Clemson coach Dabo Swinney, who has since led the Tigers to a pair of national championship contests, said, "He has a pattern of behavior that is not consistent with the values of our program. I hope he will mature."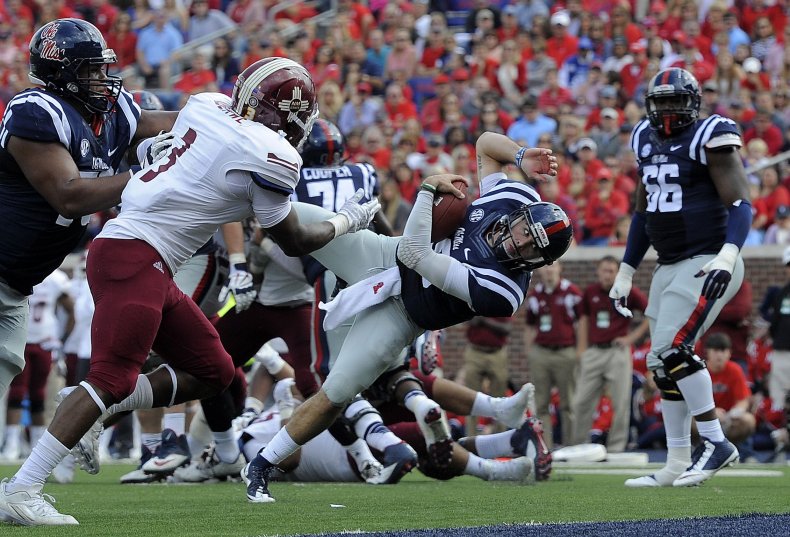 Later that year, in December, Kelly was involved in an incident at a bar in his hometown of Buffalo. After a dispute with a pair of bouncers, Kelly allegedly said that he would "get an AK-47 and spray this place." One month later he pleaded guilty to a charge of disorderly conduct (it was slightly awkward last Saturday when an NFL Network anchor described Kelly as a "gunslinger").
Before drafting Kelly last Saturday, Broncos general manager John Elway, the first player chosen in the 1983 NFL draft, phoned Kelly's uncle, who was the 14th player selected that year. "He's a good kid," Jim Kelly told Elway, a fellow Hall of Famer. "That's all I need," Elway replied.
While draftniks might not describe Kelly in precisely these terms, Kelly is a Mitch Trubisky in a leather jacket with a motorcycle. He has many of the same physical and intangible attributes as the North Carolina passer who was selected second overall in the draft by the Chicago Bears, but his off-field behavior and, admittedly, that knee injury put him into a high-risk class.
Nevertheless, in nearly two full seasons in Oxford, Mississippi, Kelly engineered wins over six Top 25 opponents. He threw 50 touchdown passes and averaged 309 yards passing per game. He can spin it, as the hotshots say. And he can play with anyone.
Last season, Kelly put Ole Miss out in front of both No. 4 Florida State and No. 1 Alabama by double digits before the Rebels succumbed to both foes in the second half.
In the past 25 years, as the NFL has reduced its number of rounds in the draft from 12 to seven, more often than not Mr. Irrelevant has made the roster. Kicker Ryan Succop, the 2009 Mr. Irrelevant, will embark on his ninth NFL season in September, having connected on 82% of his field goals and 99.1% of his extra points. More than 25% of the players on rosters in 2016, in fact, started out as undrafted free agents.
Kelly will make an NFL roster, and most likely with the franchise that drafted him, the Broncos (yes, Chad will be hanging). He may even be, as the final pick of the draft, the steal of the draft. Even NFL fans with short memories will recall another quarterback from a Magnolia State school, Dak Prescott, who had a decent rookie season. Kelly played at Ole Miss; the Broncos are gambling that he's a can't-miss.
Chad Kelly: Is the Quarterback From Ole Miss a Can't-Miss? | Sports