NFL Great Jim Brown Backs Donald Trump: 'I Find Myself Pulling for the President'
Former Cleveland Browns legend Jim Brown has thrown his support behind President Donald Trump, who he feels has been unfairly singled out by the media.
The Pro Football Hall of Famer admitted some of Trump's policies deserved criticism but insisted the treatment the media reserved for the president had convinced him to support Trump.
"I should be criticizing Trump on every level because he does certain things that call for criticism but when I look at television I see all these announcers become experts and they're pointing the fingers and they're not doing a doggone thing but pointing their fingers, I find myself really pulling for the president," Brown said on The JT The Brick Show on Fox Sports Radio.
A number of high-profile athletes, from LeBron James to Stephen Curry, have strongly criticized Trump, and Brown admitted his support for the President was unlikely to win him any friends.
"That would make me very unpopular in the black community, very unpopular with a lot of Americans [...] but I think that there are certain good things that are coming out of this Presidency because we've never seen anything like it," he explained.
"I mean there's confusion. A lot of people are retiring. A lot of people are giving their opinions and we have to really dig deep down inside to come with the right kind of an answer."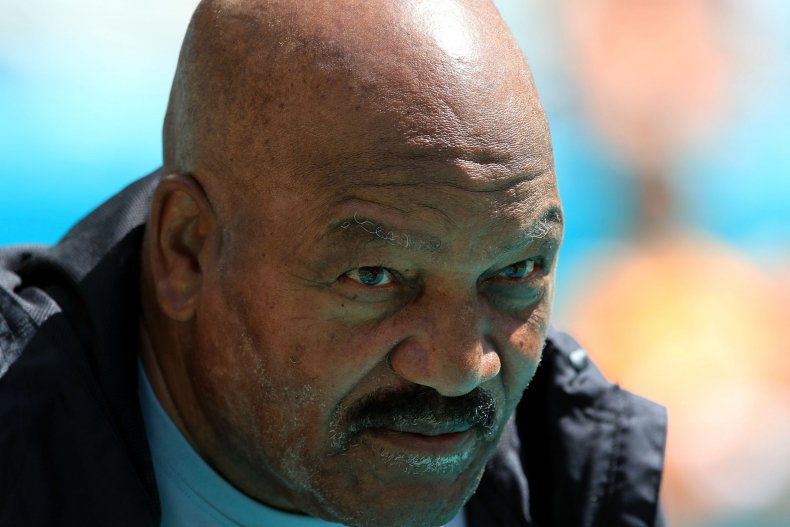 In his first 18 months at the White House, Trump has repeatedly blurred the lines between politics and sport, particularly with his stance over anthem protests in the NFL.
Late last month, Trump called for NFL Commissioner Roger Goodell to crack down on NFL players who take a knee during the national anthem.
In a tweet, the president noted that the executive makes $40 million a year and demanded that he "make a stand" and kick out players who continue to kneel in protest.
A few days later, Dallas Cowboys owner Jerry Jones admitted Trump brought up the issue far too often for the sake of everyone in the NFL and Rodgers believes the league should just ignore the president's repeated attempts to wade into the debate.
Brown, who met with the then president-elect in Trump Tower a month after the 2016 election, has previously spoken out against players who choose to take a knee.
The Hall of Fame running back said he had too much respect for the flag and "would never kneel," adding he wished players followed his example.
"I am not going to denigrate my flag and I'm going to stand for the national anthem," the 82-year-old was quoted as saying by Fox News earlier this month before the HBO premiere of Hard Knocks, which this season focuses on the Browns.
"I'm fighting with all of my strength to make it a better country, but I don't think that's the issue. Because what is the top side? Are you not going to stand up? This is our country, man."
At a rally in Virginia on Tuesday, Trump attacked ESPN after the broadcaster's decision to stop showing the anthem before its Monday Night Football broadcast this season.
"You're proud of our country, you're proud of our history, and unlike the NFL, you always honor and cherish our great American flag," Trump said.
"It was just announced by ESPN that rather than defending our anthem, our beautiful, beautiful national anthem and defending our flag, they've decided that they just won't broadcast when they play the national anthem. We don't like that."