NFL Has Shown 'Black Lives Don't Matter' to League With New National Anthem Policy, BLM Says
Black Lives Matter has condemned the decision to fine teams if players refuse to stand for the national anthem, arguing that the move demonstrates that "black lives don't matter" to the National Football League.
The new policy comes after a number of NFL players chose to "take a knee" during the national anthem last season to protest against police brutality and police shootings of unarmed black men, following the lead of former San Francisco 49ers quarterback Colin Kaepernick in 2016.
On Wednesday, NFL Commissioner Roger Goodell announced that the league would be introducing the new rule, adding that anyone who does not wish to stand must stay in the locker room until the "Star-Spangled Banner" is over or risk their team being fined.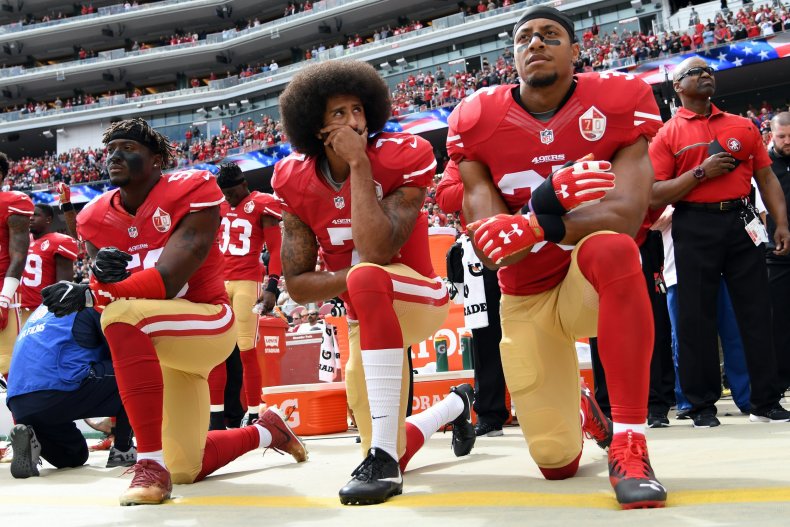 Newsweek subscription offers >
Black Lives Matter of Greater New York President Hawk Newsome called the decision "disheartening" and compared the new rule's conditions to those imposed during slavery.
"The fact that the NFL owners did not seek a diplomatic solution to this problem is very disheartening," Newsome said in a statement to Newsweek. "This was a great opportunity for an American institution to show empathy with African-Americans' cry for justice. However, they have failed to live up to their social responsibility."
"You would imagine that the NFL would have been understanding of the issue of racism and police brutality," Newsome said, adding, "seeing as though they make their fortunes off of the backs of black men from communities that are filled with the oppression that is a result of systemic racism."
"Black men work on their fields. and they have no sympathy for their sufferings," Newsome said. "Similar to slavery, the NFL's actions today forced their players to abide by their rules or face harsh consequences."
Newsweek subscription offers >
The NAACP was also critical of the move, saying in a statement, "Instead of coming together to address an issue disproportionately plaguing the African-American, the NFL owners have chosen to bury their heads and silence players."
"Players cannot disconnect from the aggression African-Americans face every day," the civil rights organization said.
The decision was, however, welcomed by President Donald Trump, who has long railed against the "take a knee" movement.
"I think that's good," Trump said of the decision in an interview with Fox News, which took place on Wednesday, but aired on Thursday.
"I don't think people should be staying in locker rooms, but still I think it's good," he said, adding, "You have to stand proudly for the national anthem. Or you shouldn't be playing, you shouldn't be there. Maybe you shouldn't be in the country."
Related: Trump wants MS-13 members out of U.S., suggests kneeling NFL players should also leave
The NFL had resisted Trump's calls last year to see players punished for protesting but had said players "should" stand for the "Star-Spangled Banner."
The U.S. leader had previously called on fans to boycott NFL games if the league refused to crack down on the anthem protests, while Black Lives Matter had also called for a national boycott of the NFL when Kaepernick was snubbed by the league's 32 teams.
The player went unsigned for the 2017 season and has since filed a grievance against the NFL.
"When Black Lives Matter Greater New York called for a national boycott of the NFL until Colin Kaepernick was signed, we knew that the league would lose revenue. It was our most sincere desire that they would come to their senses," Newsome said. "Instead they reaffirmed that Black lives don't matter to them."
Goodell said on Wednesday that it was "unfortunate" that on-field protests "created a false perception among many that thousands of NFL players were unpatriotic. This is and never was the case."
The NFL Players Association said in a statement it was not consulted in the development of the new policy and argued that players have shown their patriotism "through their social activism, their community service, in support of our military and law enforcement, and yes, through their protests to raise awareness about the issues they care about."
The union vowed to review the policy and "challenge any aspect of it that is inconsistent with our collective bargaining unit."
NFL Has Shown 'Black Lives Don't Matter' to League With New National Anthem Policy, BLM Says | U.S.