NFL Holdouts 2019: Will Ezekiel Elliott and Melvin Gordon Report for Week 1?
The NFL preseason gets underway on Thursday and the regular season kicks off a month later, but a number of high profile players are yet to report to training camp.
Seeing big-name stars opting to hold out for a new, lucrative deal is neither new nor surprising and as Michael Thomas' case shows it can be highly rewarding.
The New Orleans Saints' wide receiver did not join his teammates at training camp two weeks ago, but has since penned a five-year extension worth $100 million with $61 million guaranteed.
The deal made the 26-year-old the highest-paid receiver in the league, a remarkable improvement considering Thomas was in line to make $1.15 million this year.
While the wide receiver has sorted his future, four other NFL stars—Ezekiel Elliott, Jadeveon Clowney, Trent Williams and Melvin Gordon—are yet to report to their respective teams.
Elliott told Pro Football Talk that he would not join the Dallas Cowboys training camp unless he got a new deal, and has kept his word. Elliott has averaged 1,349 rushing yards per season in Dallas, scoring 28 rushing touchdowns in three seasons, making the Pro Bowl in two of those years.
The Cowboys can afford to keep the former Ohio State star waiting a bit longer as he has a fifth-year option on his rookie contract. However, a deal is expected to be reached sooner rather than later and bookmakers believe Elliott will suit up in Week 1 when the Cowboys host the New York Giants.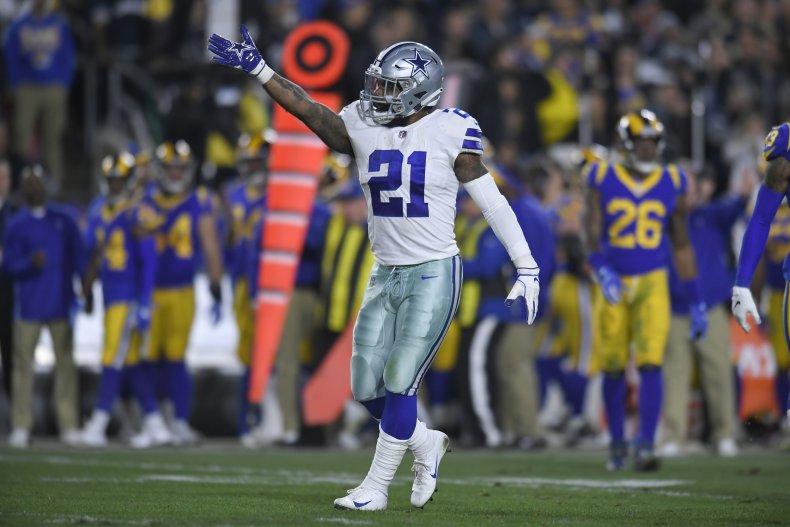 According to odds compiled by BetOnline, Elliott is 1/2 (-200 in moneyline terms) to play in the opening game of the season and 3/2 to sit out. The fourth overall pick of the 2016 draft is also 1/3 to report to his current team first, compared to Gordon who is 2/1 to return to the Los Angeles Chargers instead.
Last month, ESPN reported Gordon told the Chargers he would not report to training camp until he got a new contract and has stuck to his words so far. The first-round pick of the 2015 draft has amassed over 3,600 rushing yards since entering the league, with his yards-per-carry rising from 3.8 to 5.1 last season.
Unfortunately for him and for the Chargers, Gordon has only played the full 16 regular season games just once. He's due to make $5.6 million in the final year of his rookie contract, more than what he's made in his first four years in the league combined and the Chargers have a strong back-up at running back in the shape of Justin Jackson.
Gordon is 2/1 to be available in Week 1 when the Chargers host the Indianapolis Colts and 1/3 to sit the game out.
The same odds apply to Trent Williams' chances of playing in the Washington Redskins' opener on the road against the Philadelphia Eagles. Unlike Elliott and Gordon, Williams' quarrel with his current franchise isn't of financial nature as he is the NFL's fourth-best paid left tackle and is due to make a combined $23.5 million over the next two seasons.
According to The Washington Post, Williams wants to be traded after growing frustrated with the franchise medical staff after suffering a major health scare. Earlier this year, Williams underwent surgery to remove a growth on his head, which had doctors worried could be malignant.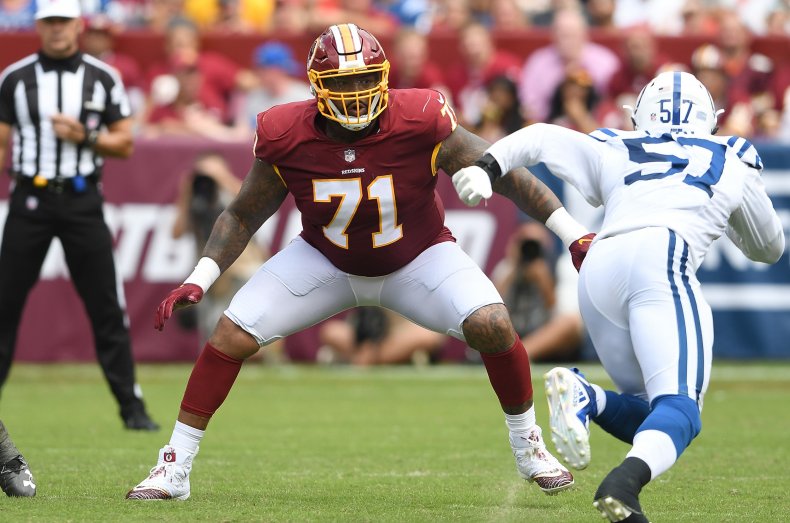 Clowney's circumstance also differs from that of his colleagues, as he was franchise tagged by the Houston Texans and will make $15.9 million this year.
The franchise tag for a defensive end is $17.1 million, while for a linebacker is $15.4 million and given Clowney can play both positions, it is not surprising to see the Texans have used the latter on the former South Carolina student.
The three-time Pro Bowler now finds himself in the same scenario Le'Veon Bell faced last season. He can either sign the tag—he has until November 12 to do so—or he can sit out the entire campaign.
On Monday, NFL Media's Ian Rapoport suggested Clowney plans to report to after the Texans' third preseason game on August 24. Bookmakers expect him to suit up in Week 1 and Clowney is 2/5 to play against the Saints and 17/10 to sit the season opener out.