Will London Get an NFL Team? 'Nothing Stopping Us' Setting Up U.K. Franchise, Says League
The NFL's annual foray in London came to an end on Sunday, but league executives remain convinced football will soon be able to call the British capital home for longer than just four weeks each year.
The league feels it has done everything it can to pave the way for a franchise to be established in London, now all it needs is an owner willing to relocate his team across the Atlantic.
"There is nothing blocking us from having a franchise in London, but we have to get all our ducks in a row," Chris Halpin, head of NFL International and the league's executive vice president and chief strategy and growth officer, tells Newsweek.
"We need to have an owner who wants to relocate a team here, but that is out of our control."
Whether London could feasibly host a franchise permanently has been at the forefront of NFL's expansion plans since Wembley Stadium hosted its first regular season game in 2007.
A lot has changed in the intervening 12 years, with Britain rapidly developing into a key international market for the league.
NFL research estimates the number of NFL fans in the U.K. to be at approximately 15 million and the four games played in London over the past five weeks drew in a combined attendance of just over 289,000—an average of 72,260 fans per game.
To put the figure into context, according to Pro Football Reference data that would make London the seventh-biggest market this season in terms of average attendance behind Dallas, New York—for both the Jets and the Giants—Green Bay, Denver, Kansas City and New Orleans.
It is no wonder then that the NFL considers London a prime destination for expansion.
"The fan base is here, the demand for tickets is here and the speed at which sellouts happen is incredible," Halpin adds.
"The British fanbase is extremely knowledgeable, they have become so sophisticated in the way they consume football and we have two great stadiums."
The new Tottenham Hotspur stadium hosted its first NFL game last month, joining Wembley and Twickenham as the third London venue to stage a regular season game.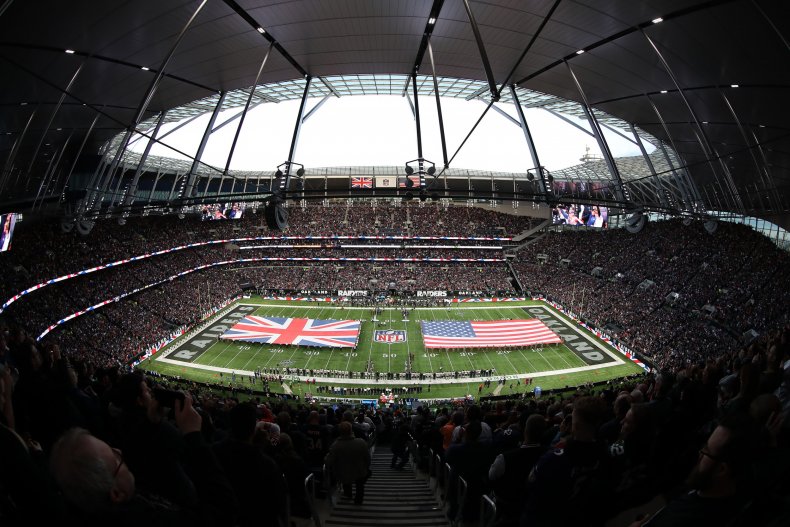 Unlike its two counterparts, however, Spurs' shiny new home has been designed with the NFL in mind and is the first NFL-purpose built stadia anywhere outside of the U.S.
"You walk in here and you just see it, it's state-of-the-art, it's top-notch," Chicago Bears coach Matt Nagy told reporters when asked about his impression of the new arena after the Bears lost to the Oakland Raiders in Week 6.
"You talk about doing things the right way, I mean, it blows you away. It's phenomenal, absolutely phenomenal."
Receiving a seal of approval from players and coaches is a crucial part of what Halpin describes as the NFL's five-point checklist to determine if a particular city is ready to host a franchise.
Aside from stadiums that provide the kind of experience that meets the NFL's standards in terms of both security for players and clubs and fan experience, the league must feel backed from a political and commercial standpoint.
Given NFL commissioner Roger Goodell last year hailed the "extraordinary" political support for the project—London mayor Sadiq Khan has been a vocal supporter of the NFL moving to the British capital—and that sponsors are queuing up at the door, both boxes appear to be safely ticked.
League executives are also eager to ensure the local fan base is strong enough to support not just ticket sales but media consumption around the sport.
Again, the most recent figures paint a very promising picture as far as the NFL is concerned.
League data shows that overnight TV viewership in the U.K.—including Sky Sports' RedZone show—rose 32 percent year-on-year in 2018, while the broadcaster has seen its weekly ratings double over the past decade.
Streams of NFL programming on BBC's on-demand iPlayer service, meanwhile, have increased by 150 percent from 2017 to 2018.
Viewing figures have been helped by an unexpected ally in the shape of Britain's most viewed sports competition, the Premier League.
"Our games align very well with the Premier League schedule," Halpin explains.
"The Premier League is over by the time our games kick off at 1 p.m. ET [the game on the latest Sunday slot for the Premier League kicks off at 11:30 a.m. ET] and there's almost no sport on TV by then, so it provides a great lead-in for our games."
This chart, provided by Statista, shows how attendance figures for NFL games at Wembley have increased over the past five years.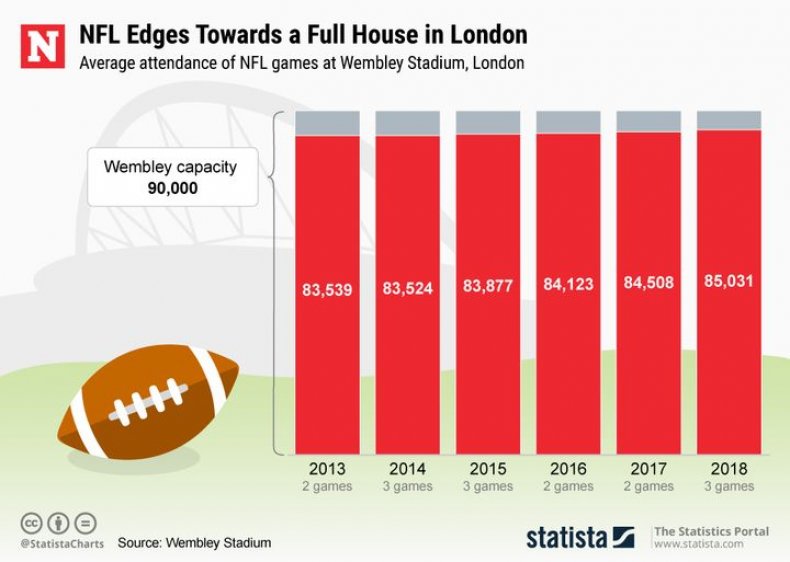 Which team could move to London?
The fifth point on Halpin's list—finding an owner willing to relocate—is the main issue still standing between London hosting four games a season and becoming the permanent home of a franchise.
Last year, Jacksonville Jaguars owner Shad Khan was on the verge of purchasing Wembley Stadium, only to pull out of the deal after a fierce backlash, which saw the Football Association coming under severe criticism for floating the idea of selling what is still considered English soccer's most prized asset.
The Jaguars' trip to London on Sunday to take on the Houston Texans was the franchise's seventh, two more than any other team.
As the owner of Championship outfit Fulham, Khan is already a major player in London's sporting landscape but the NFL has been non-committal over which team may move to London.
To minimise transatlantic trips, an expansion franchise would in all likelihood play eight home games in a row, followed by eight straight road games or vice versa.
Halpin suggests the nature of NFL scheduling makes it relatively easy to predict which West Coast teams would have to fly to London during the regular season, but concedes the playoffs would prove to be a logistical challenge.
"Given the timings of our playoffs games, should upsets happen late in the game we could have a scenario in which the London team is hosting a playoff game with just a week's notice and potentially with kick-off scheduled for 11:30 p.m. GMT," he explains.
"In that scenario, how to get both teams over here and set up the event would be a big question."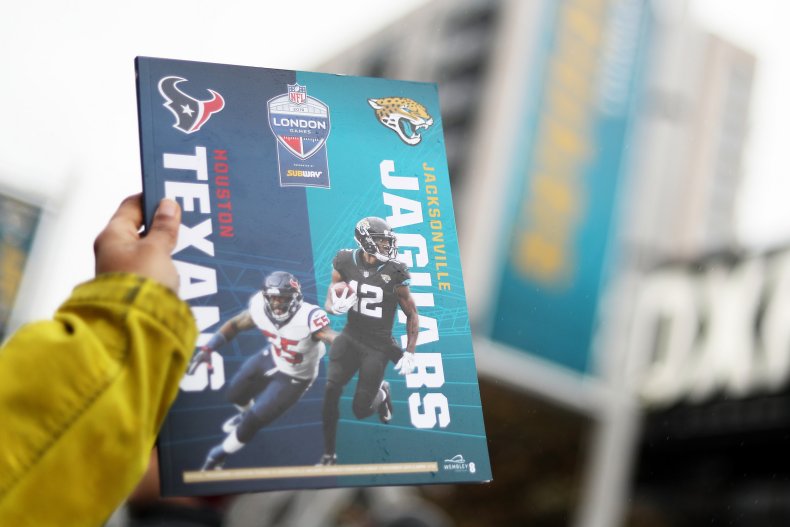 The need for a loyal fan base
If scheduling playoff games in London would represent a major logistical headache for the NFL, a scenario in which the London-based franchise fails to reach the postseason would be concerning for different reasons.
As attendances in Cincinnati and Miami have shown this season, fans will only tolerate a struggling team for so long before voting with their feet.
Once the novelty of an NFL team in London wears off, would fans snap up tickets if the franchise was failing?
Halpin acknowledges establishing a loyal fan base is critical to develop a franchise in London.
"We can't control performances for any team but one of the advantages we have in the NFL because of our model is a fair amount of parity and turnaround quickly one way or the other," he says.
"The odds of a team relocating to a different market and being consistently poor are low in our model. That being said, we want to make sure that any team that relocates has a fan base strong enough to sustain ticket sales even when they are not winning."
One of the most striking aspects of traveling to the games held at Tottenham Hotspur Stadium and Wembley this year was the sheer variety of NFL jerseys on display.
The eight teams that played in London were obviously well represented, but so were the Kansas City Chiefs, New England Patriots, Green Bay Packers—to date the only one of the current franchises yet to play across the Atlantic—and many others.
Expecting fans of any of those franchises to adopt the Jaguars—or whichever may relocate to Britain—as their own team may seem fanciful, but the NFL believes the two aren't mutually exclusive.
"If we have a London team you'll end up with a deeper fanbase for that particular team and with continued fan bases for other teams, whose fans will go and watch their team play on the road [against the London-based team]," Halpin explains.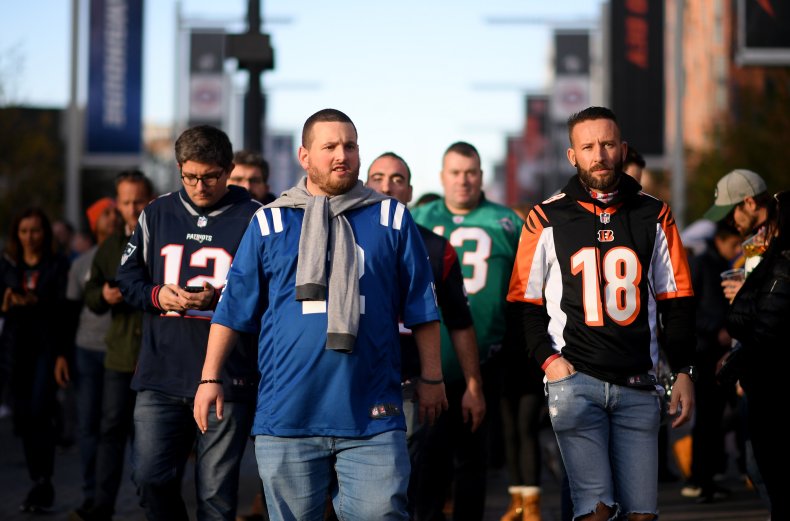 A springboard to Europe
Britain may be on the verge of leaving the European Union, but establishing a team in London would be pivotal for the NFL's expansion in Europe.
Germany is one of the biggest overseas markets for the league—The Athletic suggested last month it may replace Mexico City as host of the only non-U.K. international game from next year—and between eight and 12 percent of tickets sold for the London games were snapped up by fans in Germany.
Halpin explains that while the NFL will benefit from greater exposure to Europe by having a franchise in London, the British economy will also reap the benefits.
"A permanent British franchise is a getaway for Benelux, Germany and Scandinavia and investment in London will bring an increase in tourism, which is something the local authorities are very excited about," he says.
Halpin admits that when the idea of a moving a franchise to London was first floated there were "grumbles" from both players and coaches, who were less than excited about the prospect of relocating across the Atlantic for eight weeks a year.
A number of issues, such as a change in the working conditions and the impact taxes could have on the salary cap, will have to be addressed and potentially included in the new collective bargaining agreement—which expires after the 2020 season—if a franchise was to move to London.
The NFL, however, remains optimistic those points can be ironed out and Halpin suggests players and clubs have come around to the idea of plying their trade outside the U.S.
"Players want to be global athletes and they're more culturally attuned and are very focused to build their global brands, as are their sponsors," he explains.
"They view this as an opportunity and if done right, spending a portion of their season in the U.K. can be a real positive."