What Will the 2020 NFL Season Look Like? Super Rugby Might Give Us Clues
The wheels of professional sports are slowly beginning to move again as America gradually emerges from the novel coronavirus pandemic-enforced lockdown, but the prospect of allowing fans back into stadiums and arenas may be shelved until next year, leading epidemiologists have told Newsweek.
The PGA Tour and NASCAR have both resumed, while the NBA, MLS and NHL have set return dates and even the MLB season may eventually get underway if players and owners ever resolve their ongoing feud.
The four main European soccer leagues will all be back up and running by the end of the month—the English Premier League, Germany's Bundesliga and Spain's La Liga have already resumed—while the NFL expects to begin the season in September as planned, with college football getting underway a month earlier.
The common denominator to all of the events is the lack of fans, which has been accepted as a non-negotiable requirement to get sports back underway.
Last month, Miami Dolphins owner Stephen Ross suggested spectators may be allowed in the stadiums by the time the NFL season kicks off, while outdoor sporting venues in Texas have been able to operate at reduced capacity since May 29.
Earlier in May, Ohio State's athletic director Gene Smith suggested the Buckeyes could welcome between 20,000 to 22,000 fans while adhering to social distancing measures put in place by the U.S. Centers for Disease and Prevention (CDC) and up to 40,000 to 50,000 spectators if "guidelines are relaxed."
Experts, however, believe reality will be drastically different.
"Given the evidence of rising numbers of cases in over 20 states in the last week, I suspect that it is going to be many months and potentially not until next year that we will have fans attending sporting events," explains Dr. David Hamer, a professor in the Boston University School of Public Health and infectious disease physician at Boston Medical Center.
In the unlikely event selected venues may be allowed to operate at reduced capacity, a return to packed houses remains extremely remote until a vaccine is found.
"I could imagine letting limited numbers of local fans into sporting venues if distancing, safety, and hygiene protocols are followed when public health metrics indicate low risk locally," explains Andrew Brouwer, a research scientist and epidemiological modeler at the University of Michigan's School of Public Health.
"But that experience will be very different. It's likely that sporting events will not return to normal until after widespread uptake of a SARS-CoV-2 vaccine."
According to official figures, the average attendance in the NFL for home games during the last regular season stood at 66,648 fans—the lowest since 2004 but still an enormous risk in the coronavirus age.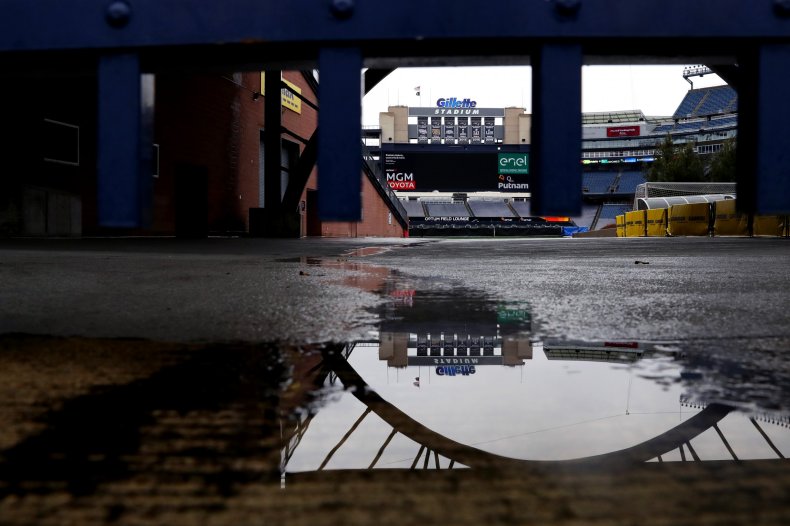 Given the size of the crowds and the duration of games, football, more than other sports, represents fertile ground for COVID-19 to spread.
"Full stadiums would be far too risky in the U.S. this fall given current levels of virus circulation," says Jennifer Dowd, an associate professor at Oxford University.
"Sadly this is a perfect recipe for super-spreading events. Not only would super-spreading events be dangerous and lead to more hospitalizations and deaths, but bigger outbreaks could require a need for return to stricter measures and delay our ultimate return to normal life."
There are, however, reasons to be mildly optimistic. Last week almost 20,000 fans packed into the Forsyth Barr Stadium in Dunedin, New Zealand, as the Otago Highlanders took on the Waikato Chiefs in the opening round of the country's Super Rugby Aotearoa competition. A day later, the Blues defeated the Hurricanes in front sold-out crowd of 43,000 fans at Eden Park, Auckland.
In the week New Zealand Prime Minister Jacinda Ardern declared the country coronavirus-free, New Zealanders were allowed to toast the return to normality by watching their beloved national game in stadiums. The celebrations, however, were short-lived.
Barely a week since the country's health officials declared on June 8 there were no longer any active cases of COVID-19, New Zealand reported three new cases—two sisters who returned to New Zealand from the U.K. and were permitted to leave isolation on compassionate grounds despite not being tested, and a man who flew to Auckland from Pakistan via Doha, Qatar, and Melbourne, Australia.
As things stand, spectators are expected to be allowed to attend the second round of Super Rugby games, which are scheduled for this weekend.
Speaking to Newsweek last week Brian Cox, a research associate professor at the University of Otago, warned the dynamics could swiftly change in the event of a new cluster of cases.
"If a new case arises, that is not due to a breakdown of quarantine and for whom all contacts are unable to be quickly identified and isolated, major restrictions are likely to be put back in place," he explained.
"I expect all large gatherings would then again be prohibited and games played with empty stadiums, or cease if economically unviable."
While New Zealand's coronavirus-free run may have lasted only a week, the return of Super Rugby was significant from a sporting standpoint, given the high-contact nature of the sport.
Much of the discussions surrounding the return of professional sports have centered around the risk poised by players being in close proximity with each other, given airborne droplets are thought to be the main route of transmission.
That, explains Dowd, means sports such as football, basketball, and hockey are "likely riskier for transmission among players".
Hamer adds: "Football, basketball and hockey are all concerning because there is a lot of close contact between players. This poses a definite risk for spread of SARS-CoV-2."
Soccer was immediately adopted as the benchmark for sports looking to resume, but when it comes to basketball, hockey and football in particular, rugby offers a far more accurate comparison.
On the same weekend Super Rugby resumed in New Zealand, the Australian Football League season began in Australia, two weeks after the country had welcomed back its National Rugby League competition—games in Australia have been held behind closed doors.
Both Super Rugby and the NRL have adopted solutions U.S. leagues are likely to follow to a certain degree.
In New Zealand, players have their temperature taken daily, while medical treatment is strictly timetabled, while NRL teams have implemented strict "biosecurity protocols".
Players in both leagues have been isolated in "bubbles" similar to what the NBA will employ when the season resumes next month in Orlando, Florida. The NFL, however, has ruled out adopting a similar strategy.
"We do not feel it's practical or appropriate to construct a bubble," Dr. Allen Sills, the NFL's chief medical officer, said on Wednesday on a conference call with members of the media.
"Anyone who tests positive will be isolated until medically appropriate to return."
In response to John Harbaugh's complaints that the NFL's protocols and requirements were "humanly impossible" to follow, Sills acknowledged the standards could change, as the league adopted to an ever-changing scenario.
"We're going to do everything we can do," the Baltimore Ravens said during a radio interview last week.
"We're going to space, we're going to have masks. But, you know, it's a communication sport. We have to be able to communicate with each other in person. We have to practice."
Super Rugby and the NRL have set an important precedents for high-contact sports and it "will be wise", Dowd says, for the NFL, NBA and NHL "to follow and learn from these teams and their procedures."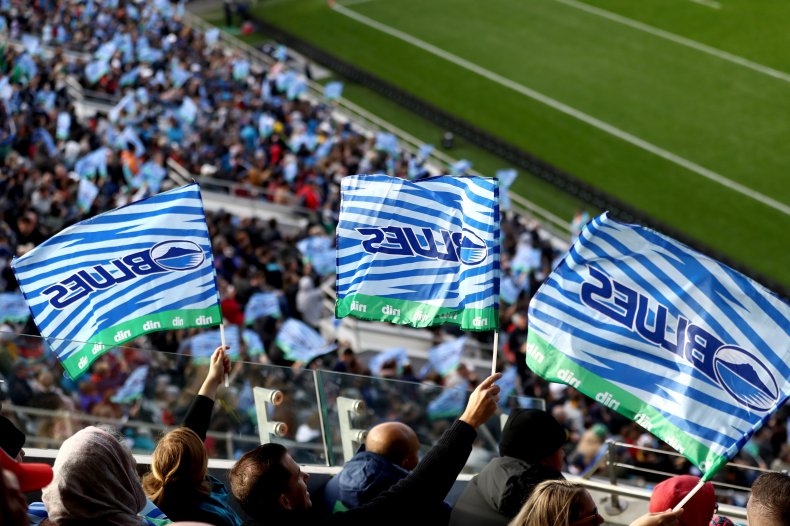 There are obvious caveats, however. The low level of contagion in New Zealand and Australia means "we won't necessarily know which procedures were most effective, if there is no virus circulating for players to catch."
More importantly, the two nations operate on a completely different playing field compared with the U.S.
According to Johns Hopkins University figures, the two Antipodean countries have a combined 8,900 cases of coronavirus, while the U.S. have the highest tally in the world with 2.16 million.
Sports may soon return, but not as we know them.