Miami Dolphins Owner 'Planning to Have Fans in the Stadium' During NFL Season
Miami Dolphins owner Stephen Ross believes fans will be allowed into stadiums once the NFL season begins, despite the novel coronavirus pandemic.
While the NBA and the NHL have been forced to suspend their respective seasons and the MLB had to push back Opening Day indefinitely, football has gone through the two-month nationwide lockdown relatively unscathed.
The NFL plans to begin the season as scheduled on September 10 and earlier this month released a full 256-game schedule for the regular season. So far, it has been widely accepted that the 32 franchises will have to play behind closed doors to meet social distancing measures.
Ross, however, insisted he expected fans to be in the stands come Week 1.
"I think there definitely will be a football season this year," he said during an interview with CNBC on Tuesday morning.
"[The] real question is, will there be fans in the stadium? Right now—today—we're planning to have fans in the stadium."
Ross added that the Dolphins were preparing themselves for different scenarios and had taken into account the possibility of playing in front of fans, as well as behind closed doors.
"We all miss our sports," Ross said. "The NFL, I think, will be ready to go. I know we're all looking forward to it. I know I am."
While the NFL is yet to make a formal decision over whether the regular season—or at least parts of it—will be played behind closed doors, it seems almost inevitable that fans will have to be content watching games on TV for the foreseeable future.
Florida is among the states that have lifted restrictions on professional sports. Earlier this month, Gov. Ron DeSantis went as far as suggesting professional teams that can't resume operations in their home states would be welcome in Florida.
"All professional sports are welcome here for practicing and for playing," he said at a news conference in Tallahassee on May 13.
"What I would tell commissioners of leagues is, if you have a team in an area where they just won't let them operate, we'll find a place for you here in the state of Florida."
Earlier this month, Dolphins chief executive Tom Garfinkel revealed the franchise had put together plans to ensure fans could be allowed into Hard Rock Stadium, while observing social distancing measures.
"We would have times to come in for security at different gates so people would be separated out, in terms of when they enter the stadium," he said during an appearance on Good Morning America on May 4.
"We would exit the stadium much like a church environment, where each row exits so people aren't filing out all at the same time in a herd."
The prospect of playing football behind closed doors has monopolized the conversation within NFL circles in recent weeks. On Friday, Los Angeles Rams star Aaron Donald slammed the proposal, saying fans were a crucial component of live sports.
"You need fans to play a game," the two-time NFL Defensive Player of the Year told reporters on a conference call. "I don't see how you could play a game without no fans."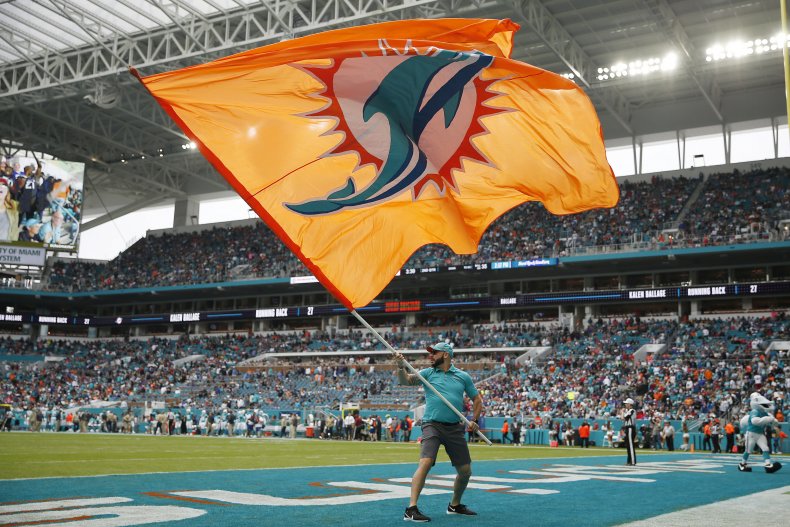 Broadcasters, meanwhile, have already drawn up contingency plans to mitigate the lack of fans in the stadiums.
"I think FOX and these networks have to put crowd noise under us to make it a normal viewing experience at home," FOX Sports NFL play-by-play caller Joe Buck told Sirius XM's Andy Cohen Live show earlier this month.
"It's pretty much a done deal. I think whoever is going to be at that control is going to have to be really good at their job and be realistic with how a crowd would react."
Health experts have stressed social distancing measures are non-negotiable as the U.S. looks to avoid a second wave of the virus during the fall.
Last week, Dr. Robert R. Redfield, the director of the Centers for Disease Control and Prevention, said that while states were ready to reopen, the threat of a second wave of infection coinciding with the traditional flu season in the fall loomed large.
As shown in the Statista graphic below, as of Tuesday morning, over 1.66 million cases of coronavirus have been reported in the U.S., by far the highest tally of any country in the world.
Over 98,200 deaths have been recorded in the U.S. and over 379,000 people have recovered, according to Johns Hopkins University, which has been tracking the outbreak using combined data sources.
More than 346,800 people have died globally since the outbreak of coronavirus was first identified in Wuhan city, in China's central Hubei province, late last year. There have been over 5.52 million confirmed cases globally.