The NFL has set its schedule for times and TV channels for its divisional playoff games, otherwise known as the second round. The games were set prior to the Cleveland-Pittsburgh game on Sunday, which was the final game of the league's inaugural "Super Wild Card" weekend.
The divisional round is set now for both the AFC and the NFC..
Here are the games and times set for the NFL playoffs 2021 Divisional Round:
(All times ET)
Saturday, January 16
NFC: 4:35 p.m. No. 6 Los Angeles Rams at No. 1 Green Bay Packers (FOX, FOX Deportes)
AFC: 8:15 p.m. No. 5 Baltimore Ravens at No. 2 Buffalo Bills (14-3) (NBC, Universo)
Sunday, January 17
AFC: 3:05 p.m. 6 Cleveland Browns at No. 1 Kansas City Chiefs (14-2) (CBS, CBS All Access, ESPN Deportes)
NFC: 6:40 p.m. No. 5 Tampa Bay Buccaneers at No. 2 New Orleans Saints (FOX, FOX Deportes)
The wild card weekend was, indeed, wild, with the very first game coming down to a Hail Mary pass, two No. 5 seeds knocking off No. 4 seeds, and both No. 6 seeds advancing with wins over division rivals.
The Cleveland Browns on Sunday night ended an excruciatingly-long streak of no playoff wins with their 48-37 win at the Pittsburgh Steelers.
Three quarterbacks from the 2018 NFL Draft class—Cleveland's Baker Mayfield, Buffalo's Josh Allen and Baltimore's Lamar Jackson—all earned their first playoff wins and now represent three-fourths of the AFC. The other? Patrick Mahomes of the Kansas City Chiefs, who was taken in the 2017 draft.
The upcoming weekend will also feature two of the all-time greatest with Tom Brady and his Tampa Bay Buccaneers taking on Drew Brees and the New Orleans Saints. The other NFC divisional game will have Green Bay's Aaron Rodgers hosting the Los Angeles Rams, guided by Jared Goff—for now.
Here are the results from the Super Wild Card Weekend:
AFC
No. 2 Buffalo 27, No. 7 Indianapolis 24
No. 6 Cleveland 48, No. 3 Pittsburgh 37
No. 5 Baltimore 20, No. 4 Tennessee 13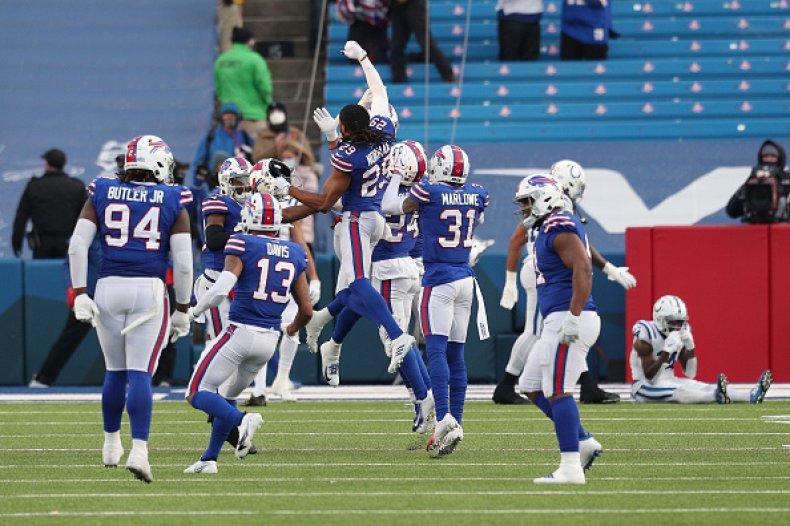 NFC
No. 2 New Orleans 21, No. 7 Chicago 9
No. 6 L.A. Rams 30, No. 3 Seattle 20
No. 5 Tampa Bay 31, No. 4 Washington 23
The Kansas City Chiefs have the No. 1 seed in the AFC, and the Green Bay Packers have the top seed in the NFC. They automatically advanced to the divisional rounds against the lowest-remaining seed after the Super Wild Card weekend.
Here are the playoff dates:
Wild Card
January 9-10
Divisional Round
January 16-17
Conference Championships
January 24
Super Bowl LV
Raymond James Stadium
Tampa, Florida
February 7
Uncommon Knowledge
Newsweek is committed to challenging conventional wisdom and finding connections in the search for common ground.
Newsweek is committed to challenging conventional wisdom and finding connections in the search for common ground.
About the writer
Scott McDonald is a Newsweek deputy night editor based in Cape Coral, Florida. His focus is assigning and writing stories across all topics, from news to politics, business, weather, sports and international news. Scott joined Newsweek in 2018 after a lengthy career of print journalism in Texas, including The Dallas Morning News, where he was a sportswriter, and he's a voter for the Heisman Trophy. He has been a newspaper editor-in-chief and also a newspaper publisher. He is a graduate of The University of Texas at Austin. You can get in touch with Scott by emailing s.mcdonald@newsweek.com. Languages: English