NFL Playoffs Super Wild Card Round 2021: Games, Schedules and How to Watch
The NFL playoffs for the 2021 season kickoff with the first round, which is called the Super Wild Card weekend. There will be two games Saturday, three on Sunday and a Monday night playoff game for the first time ever.
The top seed in each conference receives a bye. The Tennessee Titans won the AFC's top spot while the Green Bay Packers clinched the NFC's top seed, and both of these teams will get a weekend of rest before hosting a divisional round game the following weekend.
Cincinnati quarterback Joe Burrow and his outstanding rookie receive, Ja'Marr Chase, will make their NFL playoff debut in the weekend's first game when they host the Las Vegas Raiders, who won a wild game last Sunday night in overtime to grab the final playoff spot. The Raiders are 2-0 all-time against the Bengals in the playoffs. Their last postseason meeting was in 1991, and the Bengals have not won a playoff since 1990.
The Nickelodeon channel will air Sunday afternoon's game pitting the San Francisco 49ers against the Dallas Cowboys. CBS will have the traditional broadcast as well, but the Nickelodeon version will have slime-filled end zones during touchdowns and cartoon special effects throughout the game. These teams have met seven times in the playoffs, with Dallas winning five of those.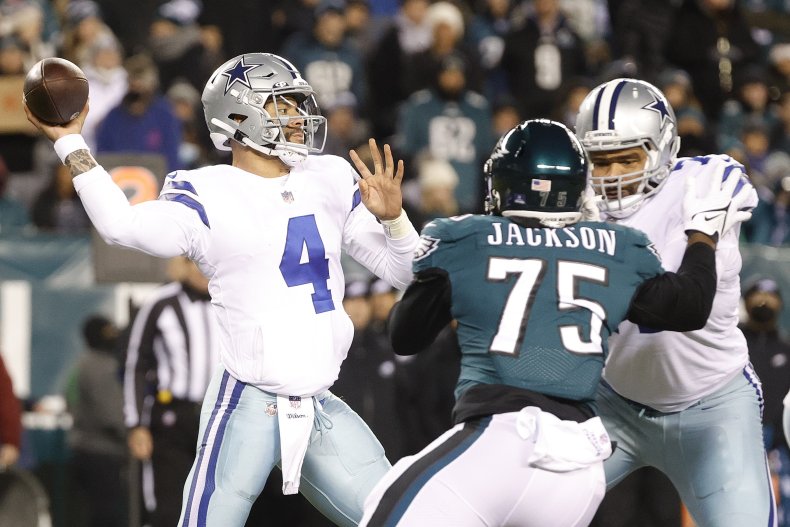 Here is this weekend's schedule of six games Saturday through Monday.
NFL Playoff Schedule (All times ET)
Saturday, Jan. 15
Las Vegas at Cincinnati, 4:30 p.m.
TV: NBC
National Radio: Westwood One
SIRIUS: 82 (LV), 85 (Cin.), 88 (National)
XM: 225 (LV), 226 (Cin.), 88 (National)
SXM App: 816 (LV), 806 (Cin.)
New England at Buffalo, 8:15 p.m.
TV: CBS
National Radio: Westwood One
SIRIUS: 82 (NE), 81 (Buf.), 88 (National)
XM: 225 (NE), 227 (Buf.), 88 (National)
SXM App: 821 (NE), 803 (Buf.)
Sunday, Jan. 16
Philadelphia Eagles at Tampa Bay Buccaneers, 1:05 p.m.
TV: FOX
National Radio: Westwood One
SIRIUS: 82 (Phi.), 81 (TB), 88 (National)
XM: 225 (Phi.), 226 (TB), 88 (National)
SXM App: 826 (Phi.), 829 (TB)
San Francisco 49ers at Dallas Cowboys, 4:30 p.m.
TV: CBS/Nickelodeon/Prime Video
National Radio: Westwood One
SIRIUS: 82 (SF), 81 (Dal.), 88 (National)
XM: 225 (SF), 226 (Dal.), 88 (National)
SXM App: 827 (SF), 808 (Dal.)
Pittsburgh Steelers at Kansas City Chiefs, 8:15 p.m.
TV: NBC
National Radio: Westwood One
SIRIUS: 82 (Pit.), 85 (KC), 88 (National)
XM: 225 (Pit.), 227 (KC), 88 (National)
SXM App: 826 (Pit.), 815 (KC)
Monday, Jan. 17
Arizona Cardinals at Los Angeles Rams, 8:15 p.m.
TV: ESPN/ABC
National Radio: Westwood One
SIRIUS: 81 (Az.), 83 (LAR), 88 (National)
XM: 226 (Az.), 225 (LAR), 88 (National)
SXM App: 800 (Az.), 818 (LAR)
Here are the playoff dates:
Super Wild Card Round
January 15-17
Divisional Round
January 22-23
Conference Championships
January 30
Super Bowl LVI
February 13
SoFi Stadium
Inglewood, California